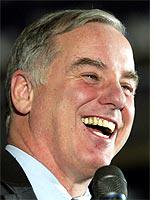 MADISON, WIS.—If the "Wisconsin or bust" primary began as the bargaining stage of the Dean campaign's death, as one staffer told me, then by Election Day, everyone had settled comfortably into acceptance. It's not quite right to say that those in attendance at Howard Dean's primary-night rally at the Madison Concourse hotel appeared resigned in the face of their candidate's defeat. It's fairer to say that Dean's impending withdrawal from the presidential campaign felt irrelevant to the entire affair, as if it had already happened. Staffers openly discussed future plans—What are you doing tomorrow? Wanna party with me in New York this weekend?—in the press filing center. Hardly anyone watched the returns come in on CNN. In contrast to the sober yet chaotic feel of Wesley Clark's campaign in its death throes, what was almost certainly Dean's final presidential campaign event (other than his withdrawal speech) had a celebratory, even self-congratulatory air. They came to praise Caesar, not to bury him.
Dean knows how to give only one kind of speech, a victory speech, and that's what he delivered. You have "really worked hard to change this country and change this party," he told his assembled supporters. "And guess what? You have succeeded." It was a victory for a movement, not a campaign. "You have already written the platform of the Democratic Party for this election," Dean said. "A year ago, the Democrats were falling all over each other to vote for the war in Iraq. They sure don't talk like that now." Dean also claimed credit for getting the Democrats to stand up to "reckless budget deficits," "huge tax cuts," and "the president's education policies, which leave every child behind."
But the change in the Democratic Party, Dean declared, would be illusory if he and his supporters did not continue to challenge the Democratic establishment. "We together have only begun our work," he said. In what sounded like a shot at John Kerry, he continued: "The transformation that we have wrought is a transformation of convenience, not of conviction, and we have to fight, and fight, and fight until it becomes a transformation of conviction."
What does this mean, exactly? No one's certain. Other than Dean himself, "I don't think anyone but Roy Neel knows" what's going to happen next, an aide told me. But it's wrong to think that it means that Dean will continue campaigning. Instead, the smart money is that when Dean drops out of the presidential race, he will likely announce that he and his supporters will remain active in the campaign by transforming Dean for America into a political action committee or a 527 group, something that would allow him to try to become a power broker in Democratic politics.
If Dean dislikes Kerry as much as he is reported to, and if he really thinks John Edwards would be a superior nominee, then he's right to get out of the race quickly. I'm not convinced that Edwards is more electable than Kerry—with apologies to my colleague Will Saletan, so far the evidence for Edwards' electability is that he keeps losing elections—but a two-man race is Edwards' only chance. CNN and the Los Angeles Times will do voters a disservice if they invite Dennis Kucinich and Al Sharpton to their Feb. 26 debate. Kerry cited the fact that Kucinich and Sharpton were still in the race to dodge a question from Anderson Cooper about the prospect of a head-to-head debate with Edwards. But CNN shouldn't be asking Kerry whether he's going to debate Edwards one-on-one. They should be telling him.
One final thought about Tuesday's results: Isn't it possible that Matt Drudge, and not NAFTA, was the factor that led all those undecided voters to break for Edwards at the last minute? If a Wisconsin voter knew one thing about Kerry, a Dean staffer told me, it was that there was a rumor that the senator had an affair with a younger woman. It was all over local radio, not to mention the fact that Rush Limbaugh was flogging it for three hours each afternoon. Yes, the woman has denied it. Yes, there's no evidence for it. And yes, there is evidence that Drudge got the facts wrong in his report. But just because a rumor is unsubstantiated doesn't mean that voters aren't affected by it. Live by electability, die by electability. If the entire rationale of your campaign is that you can win in November, voters would be completely justified in rejecting you because of a rumor, even one that they believe is untrue, if they think that other voters might not vote for you because of it.
I can't quantify Drudge's impact on the campaign, but his rumor-mongering is the simplest explanation for the closeness of the race. I find it hard to believe that the independents and Republicans casting ballots for Edwards harbor deep anti-NAFTA feelings, while the Democrats voting for Kerry are ardent free traders.
The Internet couldn't win the presidency for Dean. But it's possible that the Internet almost lost Wisconsin for Kerry.
---