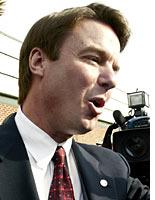 COLUMBIA, S.C—I despise undecided voters. They're the picky eaters of electoral politics. Offered a wide-ranging menu, they still can't find anything to their liking. More often than not, they've never sampled goat cheese or John Edwards, but they dismiss both without a coherent explanation. I hate eating with these people, and discussing politics with them is even worse. So it comes with some consternation that upon my arrival in Charleston, less than a week before the South Carolina primary, my grandfather tells me he has yet to settle on a candidate.
My grandfather, Leon, is an 80-year-old retired dentist who worked his entire career without a hygienist. Like most South Carolinians, he attends religious services regularly—almost daily at Charleston's Orthodox synagogue—and he alternates his TV viewing between cable news and Atlantic Coast Conference basketball. I considered schlepping him four-and-a-half hours upstate for the debate co-hosted by Furman University Thursday night in Greenville. Ever the Low Country loyalist, my grandfather reminded me not fewer than three times that the College of Charleston lobbied hard for the event but lost out to a prevalent anti-Charleston sentiment that's fermented in the state for years. Ultimately we decided that the flurry of town meetings and cafeteria stop-bys in and around Columbia on Friday presented a better opportunity to observe the candidates. We set out for the capital at 6:30 a.m.
Leon's Democratic affiliation is more visceral than a matter of policy preferences. He's never forgiven state Republicans for Jew-baiting Democratic Rep. Max Heller out of office in 1978, dirty work attributed to Carroll Campbell and Lee Atwater. He distrusts Republican courts on matters of church and state, finds Kenneth Lay's conduct unspeakable, the prescription drug plan not worth the paper it's written on, and the 2002 campaign against Georgia Democratic Sen. Max Cleland despicable. Yet Leon finds a measure of comfort in the present administration's hard line in the Middle East and could find himself tempted, in extraordinary circumstances, to pull the lever for Bush.
Leon has narrowed down the field to four candidates: Wesley Clark, John Kerry, John Edwards, and Joseph Lieberman. Leon's heart is with fellow moderate Lieberman, but his head tells him that his vote carries more weight with one of the perceived front-runners. (My grandmother, the Savannah native, is squarely in the Edwards camp, seduced by the senator's familiar drawl and agile locution.) We start the morning at Benedict College, where rows of folding chairs have been pitched on the perimeter of the foyer of the Fine Arts Building. Though it's his first event of the morning, Clark is running more than a half-hour late. My grandfather mulls the possibility of giving his vote to the day's most punctual candidate. So far, at 0915 hours, the general is 30 over par—a dubious showing for a military man.
My grandfather is particularly weary of Clark. The campaign cancelled its Wednesday event at the Charleston Visitors Center, where Leon showed up in the freezing cold (29 degrees Fahrenheit in Charleston is the stuff of News 7's WeatherWatch '04). But Clark's résumé, distributed by staffers prior to Clark's speech, impresses Leon, even as the general-lieutenant comment last week put off the naval lieutenant junior grade. Still, I know my grandfather well enough to detect boredom. What of the outsider stuff? I ask him. It makes sense on paper, he tells me, "but you have to have someone who knows the system to make it work. I'm not sure he knows it."
The Kerry event at the University of South Carolina's student union has the electricity of a sexy campus concert. Red velvet ropes snake through the second floor. Bouncers block access to the auditorium and want really compelling reasons—for both press and voters—as to why admittance is warranted. Once the Kerry press secretary ushers us inside (tailing candidates without official press credentials is like being a vagrant at a cocktail party), we assume our place behind the rope. The effervescence of the traveling press—the dozens or so cameras, the army of pens—isn't lost on Leon. Neither is an undercard that includes Fritz Hollings, Jim Clyburn, and former College of Charleston President and 2002 Democratic Senate nominee Alex Sanders, a Leon favorite. Kerry plays up the "band of brothers," his traveling troop of veterans that includes the gunman from his tour of duty in Vietnam. Kerry glides through the narrative of his service, punctuated in the background by fist-pumps from Max Cleland. Like Clark, Kerry follows a lengthy treatise on veteran affairs with an indictment of the Bush administration's unwillingness to combat job losses in economically depressed South Carolina. It's a slight modification of his "Benedict Arnold" company spiel, peppered with a manufacturing/textile flavor.
Later, my grandfather comments that the fact that Clark is playing to a tiny space at Benedict College while Kerry gets the USC expanded parquet hall says a lot about their respective candidacies. "It's an amateur versus professional," he says. He hadn't given a lot of thought to Kerry prior to last Tuesday, but "everyone loves a winner"—and for a Duke grad who's accustomed to Final Fours nearly every year, Leon wants a smooth offensive into the general election. "Kerry's a pro."
Our only shot at Edwards comes at a "People's Forum" at a stately hall where a few of the candidates take questions from ordinary citizens. The format couldn't be less favorable for Edwards, who's at his best when he can warm up an audience with a spot of the personal before linking his life story to his overall message. Instead, he's given anywhere from 45 seconds to a minute to answer questions such as, "My community lost 900 textile jobs last year and will lose another 150 next year. Do you have a full plan to help communities that have been left behind by globalization?" Before Edwards can deliver his I-was-born-in-a-mill-town refrain, time's up. Nevertheless, Edwards handles a question from the mother of a soldier killed in Iraq with Clintonesque empathy, though he doesn't have the time to present an exit strategy. Leon has been leaning Edwards since Iowa. He likes the way the local boy articulates and handles himself, finds him alive where Clark seems sleepy and Kerry, on occasion, aloof. That hasn't changed. Leon recognizes the lousy format and insists that Edwards made lemonade out of lemons.
Joe Lieberman has nothing to prove to my grandfather, a fellow Orthodox Jew and hawk. Though Lieberman didn't participate in the public forum today, he's scheduled to do a stop-by at the S & S Cafeteria in the Richland Fashion Square Mall. We arrive early to get a prime booth near the entrance of the restaurant. Leon is deciding between the veal parmesan and the trout. I've never known him to opt for fish over a breaded parmesan dish of any sort (Leon doesn't keep kosher outside the house), but he calls an audible and requests a limp piece of trout. Though he denies it, I can't help but wonder if he wants to be lookin' kosher in case Joe the Jew stops by our table, and Leon wants to invite him to the Charleston minyan at the nation's oldest Orthodox synagogue in continuous service.
We sit down, scarf down our meat and threes, and wait. Then we wait some more—five refills worth of Joe-nerous dawdling while we watch the door for the Lieberman advance team. Leon is disappointed, though a sophisticated enough political observer to understand that this happens in the course of campaign scheduling. Joe apparently operates on Jewish Standard Time. There are worse crimes. We depart, regretful that we settled for the S & S over the legendary Lizard Thicket across the road, whose fried okra is a source of gastro-fantasy for the both of us.
I've failed in my mission. Heading into the weekend, Leon remains one of the 20-odd percent of South Carolina's Democratic voters who are undecided. He's ruled out Clark, but he continues to grapple with front-runners Edwards and Kerry and sentimental favorite Lieberman. My grandfather isn't all that different from those I've met who are more engaged in the process. He'll gladly compromise in favor of the most electable guy.
Now just tell him who that is.
---