Today's slide show: Yeouli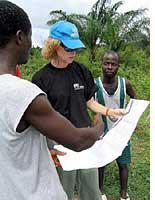 YEOULI, IVORY COAST, Nov. 12, 2003—I hadn't bargained on getting wet. When I met Anne Dolan, the head of the field office of the U.N. High Commissioner for Refugees in Tabou, she had warned me that Yeouli, the village we planned to visit, was not accessible by car, and we would have to hike a couple of miles to reach it. No problem, I said. She hadn't mentioned the part about wading through muddy water up to our knees.
"It's not a body of water, so there shouldn't be any schisto risk," Dolan says blithely, as we prepare to enter one of the massive puddles that cover the path. She is referring to the dreaded schistosomiasis, a disease endemic to Africa that is transmitted by tiny worms that live in fresh water and can enter a person's body through the skin. If not caught promptly, the worms cause irreversible organ damage. I force a smile and try hard not to think about the phrase "irreversible organ damage" as I slog through the first puddle.
Yeouli is one of the principal entry points for Liberian refugees fleeing across the Cavally River into southwestern Ivory Coast. But because frequent rains render the dirt road to the village impassible by vehicles, it is rarely visited by humanitarian organizations. Dolan hasn't been to the village in several months, so she is anxious to find out how the refugees there are faring. She also knows that government authorities have been planning on moving the entire village to firmer ground, and she is eager to see the new site—in part because the UNHCR must make a critical decision about whether to invest any money in the old village or simply wait until the new one is built.
To reach the head of the trail that will take us to Yeouli, we take one of the UNHCR's white 4x4s and bounce along badly pitted dirt roads for about 40 minutes. The journey takes us through massive palm plantations. The fronds of row upon row of neatly planted palm trees filter the morning light into a kaleidoscope of green. Dolan says Liberian refugees often find work on these plantations, but because of their tentative legal status, they sometimes have trouble getting paid.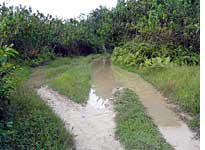 A little ways past the village of Gozon, the road becomes too muddy for us to continue by 4x4, and so we get out and begin our walk. Even in places where it isn't completely flooded, the path is slick. My hiking boots, initially purchased for a trip to Iceland, don't seem to provide much traction on this wet African soil, and I fall twice, meaning that I am pretty dirty by the time we arrive in Yeouli, and I am forced to waste precious drinking water trying to clean off.
We enter the village through a large clearing, at either end of which sit rectangular wooden frames strung with netting. Yeouli may not have electricity or running water, but it has soccer. Across the soccer field, a herd of goats eyes us impassively from its perch atop the stone sepulchers of the village graveyard. A young man we encounter at the edge of the clearing leads us to the center of the village, where a semicircle of wooden benches is hastily set up. Here the village chief and other elders assemble to greet us. We are offered cola nuts, water, and a kind of alcohol made from fermented sugar cane. Dolan says we should take the cola nuts to show we are accepting the villagers' hospitality. These are no fun to eat—they are tough, bitter, and turn your teeth red—but we each chomp into one. We pretend to drink the water so as not to offend and politely decline the cane juice. Then Dolan introduces us and gives the villagers a chance to present their grievances.
The village chief—who by custom speaks a tribal dialect and addresses Dolan only through a translator, even though he knows French—complains that there isn't sufficient food for the villagers and the refugees. He also says that primary education is lacking and that a new latrine and water pump that the UNHCR and the International Rescue Committee had promised have not yet been built. A member of Yeouli's Liberian refugee committee, 29-year-old Elijah Kuma, voices many of the same concerns. "It is only by the grace of God that we have not gotten cholera," he says in pleading for help building new latrines. Dolan says she is aware of Yeouli's food shortage, and she promises to hold a meeting back in Tabou to discuss the village's problems.
For Dolan, though, the good news is that, unlike in some neighboring villages, both the refugees and the villagers here report that relations between the two groups remain cordial. "There is no problem with the Liberians at all," says Klah Lazarus, a 27-year-old Ivorian villager. "I don't think they are a burden on the village. They help out doing work and sometimes they help with the planting." Lazarus says that there are about 400 Liberians currently in Yeouli, with six to nine new arrivals every day or two. This sounds like a lot, but 25 Liberian refugees were crossing into Yeouli every day back in May when the fighting in southeast Liberia was at its height. Lazarus estimates that more than 1,000 Liberians have passed through Yeouli on their way to other villages in the area or the large transit center outside of Tabou. He also tells us that Liberian rebels sometimes cross the Cavally here to buy items from the village market, but so far the rebels have never brought their guns with them or harassed the refugees.
We take a tour of the site for the new village, a 15-minute walk from the old. Kuma helps serve as tour guide. His story is typical of most of the Liberians I speak to. He has been in the village for seven months, having fled with his wife and five children from the Liberian town of Plebo, where he was working as a pharmacist. Kuma and his family walked for eight hours to reach the Cavally, and then crossed over to Yeouli by canoe. Now he tries to earn money working on the palm plantations or clearing brush for the village's sugar cane fields. This is the second time Kuma has been a refugee. During the first Liberian civil war in 1990, he escaped to Ghana where he lived for eight years before returning home. He says he won't go back again until U.N. peacekeepers arrive in the eastern border region and there are free and fair elections. It is a sentiment echoed by every Liberian I speak to in Yeouli. They won't go back until the blue helmets arrive.
The Ivorian government selected the location of the new village, and a schoolhouse and several homes have already been built there. (The school is awaiting the arrival of a teacher before classes can begin.) The new site is on drier ground, so the villagers can use mud bricks to construct their houses rather than the bamboo they were frequently forced to use in the old village. But Dolan is dismayed to discover that no new access road is planned, so it will remain difficult to bring in humanitarian aid. That's why Dolan thinks it is actually a good sign when Kuma tells us that many of the Liberians in Yeouli are currently off in the bush trying to gather food or out working on the palm plantations. "At least they are finding some way to feed themselves," she says. "Because they can't count on food aid here." Dolan thinks food aid is dangerous anyway, since it quickly breeds dependence. After seeing the distended bellies of some of the children in the village, I am less sure.
A few hours later, as we try to dry our feet at the UNHCR office in Tabou, Dolan says conditions in Yeouli were better than she expected. "All in all, the relations between the Ivorians and Liberians were peaceful," she says. "And they really do get fewer resources than the other villages because of that road."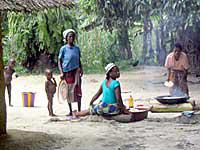 Dolan says there are 45,000 Liberian refugees in this corner of Ivory Coast, the majority of them in small villages like Yeouli. But despite the tremendous need, she does most of her planning on a month-to-month basis. She is reluctant to start any long-term programs—like vocational training—because she hopes that as U.N. peacekeepers move beyond Monrovia into rural areas throughout Liberia, more and more Liberians will choose to return home.
But she is also worried about the political situation here in Ivory Coast. Like many Westerners I've met since arriving in Abidjan six weeks ago, she isn't optimistic about the prospects for peace. "I just want to get as many Liberians as possible back across the Cavally so that they are ready to host the Ivorians when the war starts up again here," she says. It is a chilling postscript to my visit to Tabou. Returning to my hotel, I learn that a summit in Ghana that many had dubbed "the last chance for peace" in Ivory Coast has ended without a major breakthrough.
---