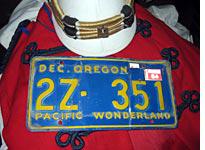 A 1964 movie called The Yellow Rolls Royce tells the story of three successive owners of the same luxury vehicle. Perhaps it's time for a remake called The 1960 Chrysler DeSoto. It would tell the story of one automobile's 40-year journey from Oregon to the main presidential palace in Baghdad.
As Chatterbox reported earlier this week, a license plate with the tag number 2Z-351 turned up, heavily caked with dust, in one of Saddam Hussein's many garages. Although quite obviously not high on its list of priorities, the plate and how it got there is a mystery to the U.S. Army. Chatterbox attempted and failed to trace the plate through the Oregon DMV; he was told it wasn't in the computerized files.
Rightly unsatisfied with this outcome, several other media outlets had Oregon DMV spokesman David House look up the Oregon plate in the written records. House determined that the plate was attached to a 1960 DeSoto whose registration expired in December 1983. (Kudos to the many sharp-eyed readers who pointed out to Chatterbox that the plate's design and its "Pacific Wonderland" motto were a dead giveaway that the plate was issued in the 1950s or 1960s. Apparently Chatterbox could have learned this himself by logging onto this Web site.) The mystery of the "84" sticker persists.
House further determined that the owner of this 1960 DeSoto was one Richard Foley, who informed the Oregon DMV in December 1987 that he had sold the car prior to 1985. "There's no way," said House, "to know when the car and the plate were separated from each other after December of '83."
Finally, House passed along that on Foley's last Oregon driver's license, which expired in 1997, he listed his residence as Seaside, Ore., in the state's northwest corner.
Upon learning all this, a nationally syndicated radio program called The Lars Larson Show (produced by KXL News Radio in Portland) asked its listeners if anyone knew of a Richard Foley from Oregon who owned a 1960 DeSoto in the early 1980s. This apparently turned up a young man named Rick Foley who said the man in question was his father, who is currently serving time in Duluth Federal Prison Camp. Chatterbox has not yet reached Rick Foley, and so can't confirm that this is true. He has, however, requested an interview with the Richard Foley at the Minnesota prison.
And there our story, for the moment, ends.
---