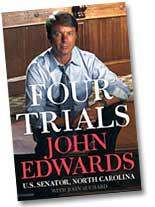 Four Trials, John Edwards' new book (written with John Auchard), is a lot like Edwards' presidential campaign appearances: On the plus side, it's affecting if a little bit corny, and in parts it's enthralling. But it's also thin on policy, focused on a past that bears little relation to the candidate's merits, and filled with eye-rolling paeans to the virtues and dignity of "regular people." And like the Edwards campaign, it's headed for the remainder bin before you know it.
The book is organized around four narratives about depositions, cross-examinations, and closing arguments—fairly well-written and not uninteresting. But what's really new here is Edwards' willingness to talk about his son Wade, who died in a car accident at the age of 16. Edwards is said to refuse all media questions about Wade, and as far as I know, he never mentions him on the campaign trail. To take just one example, at a Nov. 5 debate in New Hampshire I saw Edwards say, in an eminently confusing answer for those who don't know his life story, "We have four kids. We have a daughter who is in college, then we have a five-year-old, Emma Claire, and a three-year-old, Jack." He added, "They are simply the joy of my life." But he said nothing about the missing fourth (and oldest) child, Wade. His death is the real trial that underpins the entire book.
Wade shows up as early as Page 14, where Edwards mentions his birth in 1979. A subsequent chapter opens with a two-page account of Wade's healthy birth, to contrast it with the birth of Jennifer Campbell, a girl who developed cerebral palsy because of a botched delivery. (A few pages later, Edwards observes that his "beautiful son," 6 years old, was "born only three months after Jennifer, but at the Salvation Army, I was already coaching him in basketball"). We learn that "Elizabeth and I have vacationed without our kids only once—a three-day trip to Charleston when Wade was thirteen months old."
Slightly more than midway through the book, Edwards devotes two paragraphs to a description of Wade. At 10 years old, he was "already a fine writer, a nut for the UNC Tar Heels basketball team, and forever asking me questions about the cases I was working on. He was far and away the most fastidious Edwards in the household, and the first among us to master a computer. Wade had a calmness. … It was something more than the levelheadedness I had—there was a bit of a preacher's composure in my son."
The actual account of Wade's death and its immediate aftermath is very short, not even two full pages. But you see it coming pages before, when Edwards writes: "How could I not be an optimist, and how could I not be happy? My days were so often full of activity aimed at something I knew to be good. I was stubborn, for I thought that with enough work, study, imagination, honesty, and sure goodwill, you could make anything and everything better. Of course I learned that some things can never be made better. Some things can never become right again."
It's compelling stuff. Wade takes a job as a gofer in Edwards' law firm, and, one summer, father and son climb Mount Kilimanjaro together. In 1996, a Voice of America essay contest names Wade one of its 10 finalists for an essay about Election Day, and the Edwards family heads to Washington, D.C., as Wade's entourage. (This is two years before Edwards' election as senator.) They visit the White House and shake hands with Hillary Clinton. Wade meets North Carolina's senior Sen. Jesse Helms and gets a photo taken of him sitting at his desk. Later, Wade wins another award for a short story, and he says he wants to be a lawyer at his dad's firm.
On April 4, 1996, a strong wind blows Wade's Jeep Grand Cherokee off I-40 East, on the way to the Edwards family beach house on the Carolina coast. The passenger lives, but Wade doesn't. "Nothing in my life has ever hit me and stripped everything away like my son's death. That moment, those days, belong to our family," Edwards writes. "But because it was and is the most important fact of my life, and because I understand that I am now a public figure, I will say a few things about our son and our loss." After Wade's death, Elizabeth and John establish a foundation in his name, and they receive a touching letter from a student Wade knew in fifth grade. Edwards concludes: "The shards of a broken promise were everywhere: all over our house, on the television and the radio, on the neighborhood streets where he and I had jogged, and in the office I no longer visited. This has not changed in the seven years since Wade died, and I don't ever expect it to change. I do not fight it; it is the undercurrent of my life." Six months after Wade's death, Edwards returns to work.
In the book's afterword, Edwards semi-apologizes for writing about Wade: "When I began to think about this book, I did not know how much I would say about Wade, or particularly about his death, and I thought it would be best not to say that much about it. But as I attempted to explain my life as an advocate and as a man, I found it impossible not to speak of him. As much as anyone is—as much as my other children, Cate, Emma Claire, and Jack, as much as my parents, my grandmother, and my wife—Wade is who I am." He concludes the book, "I have learned two great lessons—that there will always be heartache and struggle, and that people of strong will can make a difference. One is a sad lesson; the other is inspiring. I choose to be inspired."
---