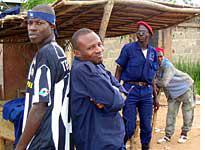 MAN, IVORY COAST—The crowd at Quatron Blue is young and hip. The men in their track suits and floppy hats, gold rings flashing from their fingers, watch as the women in their tight jeans and halter tops grind on the dance floor. The DJ spins reggae, R&B, and hip-hop. There are beers and blunts and whiskey. This could be a club in Harlem or Hyde Park or North Philly. But Quatron Blue isn't in any of those places. It's in Man, a city nestled in the green mountains of western Ivory Coast, and all the young men in the club are rebel soldiers, dancing to forget the war.
There is a lot to forget. The worst fighting of Ivory Coast's civil war occurred near Man, where the rebels made an alliance with Liberian soldiers hardened by their experiences in Sierra Leone and their own country's brutal 13-year conflict. The Liberians, particularly those under the command of Sierra Leonean warlord Sam Bockarie, raped and pillaged their way across much of the west. But after a cease-fire was signed with the government in the spring, Bockarie and his teenage thugs became a political liability to the rebels. So, in May, the Ivorian rebels turned on their Liberian allies and chased them out of Man and other western cities. Bockarie himself was killed under mysterious circumstances. (Some say Charles Taylor had him whacked to prevent him from testifying against him in Sierra Leone's special war crimes court. Others say an Ivorian rebel, Cherif Ousmane, was sent from Bouaké with orders to kill Bockarie.)
My host for the evening is an articulate and charismatic 28-year-old rebel who goes by the nom de guerre 'L'Étudiant," or "the student" in French. He's head of communications and civil affairs for Les Forces Nouvelles' Western Command Zone. He arrived in Man this summer, part of the force sent to take control of the city after the Liberians were kicked out. L'Étudiant earns his name from the fact that he was formerly a leader in the Ivory Coast's powerful student federation, an important breeding ground for Ivorian politicians. But student politics here are no less contentious than politics in the country as a whole. In fact, some say the conflict and political violence that led to the current civil war first manifested itself on the nation's university campuses. And in early 2000, L'Étudiant—who supported the opposition Rally of Republicans—wound up on the losing side of a battle for control of the student federation against a 30-year-old philosophy graduate named Jean-Yves Dibopieu, who supported President Laurent Gbagbo's political party, the Ivorian Popular Front. (I had met Dibopieu in Abidjan before coming to Man and was appalled by his uncompromising and hateful rhetoric. If he represents the future of Ivorian politics, then the country is in deep trouble.)
In some countries, losing such a student election would simply be a matter of hurt pride. But in Ivory Coast, it became a matter of life and death. L'Étudiant was forced to go into hiding as attacks against northerners on university campuses escalated and death squads roamed Abidjan at night hunting prominent opposition politicians. He soon joined the rebellion and went for military training outside the country (he won't say exactly where, but it was probably in Burkina Faso). "We are not happy to take weapons against our brothers," L'Étudiant says. "But it is a question of saving our lives."
I look around Quatron Blue and try to envision the future of Ivory Coast. All the young men in the club bobbing their heads to the pounding beat are just one step away from becoming the gangsters whose style they imitate from rap and hip-hop videos. They make their money by extorting taxes from the people of Man and demanding tolls from passing vehicles. The fact that they do this under sanction from the rebellion hardly makes it more legitimate. The women make their money from prostitution mostly. If peace and disarmament comes, what jobs do these young men and women have to go back to? The unemployment rate in Ivory Coast was estimated at 13 percent before the war, and the rate of underemployment is far higher than that. Most university graduates can't find work. So, what will L'Étudiant and his fellow rebels do when the war ends?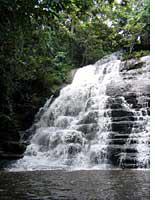 The next afternoon, L'Étudiant takes me to see Man's famous waterfall, "La Cascade." It is located in a bamboo forest, halfway up a steep mountain road. As we walk along the trail toward the sound of crashing water, dozens of crimson and yellow butterflies flutter up from the forest floor and flit around us. It is a beautiful scene and one that drew hundreds of tourists before the war. There are no tourists here anymore, but sitting by La Cascade, it is easy to imagine peace returning to this troubled land. I ask L'Étudiant whether he thinks there will be more fighting. He doesn't answer at first. He just closes his eyes and seems to be listening, as if he could hear the answer in the rushing water. Then he looks at me. "I don't want to go to war again," he says. "Because we have lost too many things, and I want to get on with my studies."
---