Housing Secretary Mel Martinez announced yesterday that he will vacate his Cabinet post at the end of this week, apparently to run for Bob Graham's Florida Senate seat. (Graham, a Democrat, is retiring.) The statement President Bush released about Martinez's departure noted with approval the Catholic relief program ("Pedro Pan") that brought Martinez, as a child, from Cuba to the United States. Tellingly, Bush did not mention any programs that Martinez created or administered during the three years he was parked at the Department of Housing and Urban Development. That was entirely appropriate, since Martinez didn't do anything worth remembering. Martinez wasn't even particularly successful at cutting HUD's budget. Although he made a run at various programs—including, ironically, Section 8, a housing voucher program invented by Republicans—Martinez was easily rebuffed by Congress. In the end, HUD programs were trimmed only at the margins.
Martinez is the Mr. Cellophane of the Bush cabinet. "Mister Cellophane" is a song in the musical Chicago, sung by Amos Hart, the hapless and inconsequential husband of Roxie Hart, a publicity-seeking floozy jailed for killing her lover. (To hear a snippet, click here and scroll down to the 16th track.) Amos calls himself "Mr. Cellophane"
'Cause you can look right through me,
Walk right by me
And never know I'm there …
You could make the case that the Bush Cabinet's true Mr. Cellophane is Anthony Principi, secretary of veterans affairs. But Chatterbox never really accepted the idea that the Department of Veterans Affairs—what we used to call the Veterans Administration—was a real Cabinet-level department. You could argue that HUD has a long history of harboring Mr. Cellophanes, because the place is a migraine-inducing tangle of audit-resistant subsidies working at cross purposes. President Reagan famously once failed to recognize his own HUD secretary, Samuel Pierce. But Pierce, at least, was famous for being obscure. Martinez isn't even that.
It is of course wildly unfair to say so, but what really clinches Martinez as a Mr. Cellophane is his astounding physical resemblance to John C. Reilly, the Oscar-nominated actor who played Amos Hart and sang "Mister Cellophane" in the movie version of Chicago. Check it out: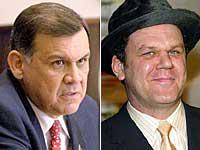 Why hasn't this eerie resemblance been noted in the press? Because the press hasn't paid Martinez any attention. Why hasn't the press paid Martinez any attention? Because he's Mr. Cellophane.
---