In July we released some long-awaited changes to our home page. As it turned out, some of our readers were prepared to wait even longer. Although we received a number of laudatory e-mail messages from fans of the new setup, there was also a strong and consistent negative reaction to a couple of the design changes we made. It's taken a while, but we've responded. And this time, we think we've got this baby right.
One of the reforms we introduced in July was reducing the number of stories listed on the home page. Where we had traditionally offered a full week's worth, we cut back to the arbitrary number of 35. We thought we had some good reasons for doing that. Because we now publish much more than we used to, a full week's listing, in reverse-chronological order, can fill up eight full screens and take several seconds to download over a dial-up connection. But the overwhelming response from readers was that they still wanted to see the full week's worth of Slate stories listed in one place, scrolling be damned. So … it's back!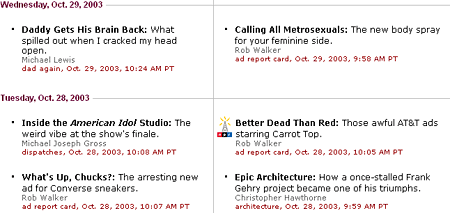 Another change our readers didn't much take to was the introduction of a two-column layout (necessary for us to accommodate new ad sizes across the MSN network). Many of you didn't like to have to scroll several screens down one column, then scroll to the top of the page again to follow the second column. Ungrateful wretches … I mean, we've listened, and we've heard you! So for version 2.0, we have created defined subsections for each day of the week. This should make finding a specific day's stories much easier. In July we failed to give a proper debutante ball for a change that readers really do seem to like: the multiday tabs that now allow you check out the previous days' covers. The cover is one of the best things about Slate, and editors had long lamented that the covers were lost to history after a mere 24 hours up on the site. By clicking the tabs for previous weekdays, you can see what we featured on our home page over the course of a week. This, as we say in Redmond, is "way cool." Check it out: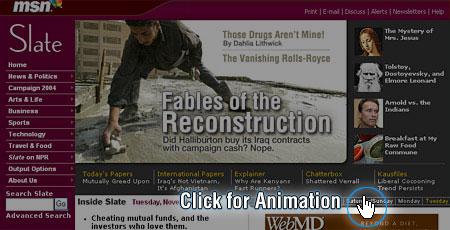 Two other changes worth mentioning: Our editors have a great time writing headlines like "Spam I Am" or "Decline of the Wes," but sometimes their clever puns fail to indicate to the rest of us what the article is actually about. To solve that problem, we've added a subheadline to the table of contents. And finally, many Slate stories now turn into radio pieces by way of our collaboration with National Public Radio on the newsmagazine show Day to Day. We have added a cute little "button" that indicates which stories we've adapted for radio—and takes you directly to a page where you can click and listen to the segment.
So, we thank you for your feedback, which has helped us get our redesign right the second time around. If you have additional feedback, please don't hesitate to keep it to yourself.
---