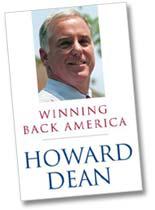 Here's a quick guide to the good parts of Winning Back America, Howard Dean's campaign book to be published Dec. 3 (complete with a cover picture of the candidate trying his damnedest to look sunny):
Chapter 1: "I'm a Regular Guy." Dean touches on his family's roots and his childhood in New York City, and he makes passing mention of his Rhode Island prep school, but he says he "really grew up in East Hampton on eastern Long Island." His "idyllic childhood" involved being outdoors, riding bikes, a duck pond, fishing, sailing, and baseball. His dad wouldn't buy him a uniform for his baseball team because he thought it was a waste of money. The chapter concludes, "At heart, I'm a country person."
Chapter 2: Howard Dean, Farmer. Devoted to Dean's summer jobs as a teenager. Dean writes two sentences about working as a sailing-camp counselor but an entire page about his work on a cattle ranch in Florida. There he earned "agricultural minimum wage," cleared land, dusted crops, and in a yearning-macho voice worthy of Apocalypse Now's Col. Kilgore, he remembers "feeling the cool mist of the herbicide on my bare chest as the plane went over."
Chapter 3: "Unlike George W. Bush, I Had Black Roommates at Yale." Bush went to Yale, too, but his senior year was Dean's freshman year, 1968. "The gulf between our experiences was much larger, though; it was as if we were a generation apart," Dean writes, referring to the changes wreaked both by "the phenomenon of the sixties" and the increasing diversity of the Yale student body, including more Jews, more public school students, and in 1969, women.
Chapter 4: Howard Dean, Ski Bum. Dean's post-college years before medical school. He skis in Colorado (living in a cabin "in a little place called Ashcroft"), where he pours concrete and washes dishes to pay the bills. He becomes a teacher by virtue of a strange snap judgment after missing a plane to Bogotá, Colombia: "I've taken many hundreds of flights in my life, and this is the only time that's ever happened. I realized that there was a reason I missed the plane. I cut short my intended trip, went home, and decided to get to work." After teaching for a year, he takes a job on Wall Street. He decides he's too careful with other people's money to be a good broker, and that he doesn't really like New York City.
Chapter 5: Med School and Judy. Contains one of the more intriguing sentences in the book: "I didn't really get to be a happy person until I went to medical school." Dean's explanation for this is that he didn't work hard enough at Yale, and "If I'm directionless and coasting, I'm not happy." He meets his future wife, Judy Steinberg. He doesn't get into any of his top three choices for his medical residency. The University of Vermont was choice No. 4, and he moves to Burlington in May 1978.
Chapter 6: Dean Enters Politics. Is Dean a moderate Republican in disguise? He compares himself to his Republican father, a "fiscal conservative" who was "not particularly liberal on social issues, but he wasn't particularly conservative either. Today he would be considered a moderate, business-oriented Republican; he wanted the budget run properly. In that way, I am very much my father's son." Dean on why he's a "pragmatic Democrat": "I was friendly with the younger, more liberal Democrats because they were my age, but I didn't vote with them. I didn't relate to their political sensibilities."
Chapter 7: The Vermont Statehouse. A woman tells him, "You're going to do really well here, but you've got to get over this chip on your shoulder that tells you to fix somebody's wagon if they cross you."
Chapter 8: Governor. "Our telephone number remained in the book." Dean cuts marginal tax rates to improve Vermont's economy, but he insists he didn't engage in the "outrageous tax cutting that went on in some of the states." He also cuts spending programs over the objections of liberal Democrats. On one occasion, he visits Congress to talk about health care: "Bob Michel, the House minority leader, was there. He was a wonderful person. Newt Gingrich was there. He's not a wonderful person."
Chapter 9: More of the Vermont Miracle. Here's Dean's illustration of the "striking difference" between Republicans and Democrats: "When the Democrats controlled the National Governors Association (I was chair of the NGA from 1994 to 1995), we used to fight against our own party when it passed legislation that harmed the states. When the Republicans took over, however, they took orders from the G.O.P. in Washington, with few standing up for the people they represented. … Most Republican governors caved to the right-wing Republican White House because they were fearful; the folks in the White House are more than willing to threaten them."
Chapter 10: Pre-President Dean. He defends the Bush daughters: "I know that several thousand kids every year get caught with fake IDs." And he defends his wife's decision not to participate in his presidential campaign: "The notion that the wife is going to be dragged along in the wake of her husband's career is something that should have been left behind decades ago." Six sentences on religion, including "I'm a fairly religious person though I don't regularly attend church or temple," "I pray just about every day," and "I also believe that good and evil exist in the world, and I thoroughly disapprove of people who use religion to inflict pain on others."
Dean's favorite books: All the King's Men, To Kill a Mockingbird, and Ken Kesey's Sometimes a Great Notion; also Barbara Ehrenreich's Nickel and Dimed and David McCullough's Truman ("It is one of the books that has had the most impact on me in the last ten years").
Dean ranks the presidents: 1) Washington; 2) Lincoln; 3) FDR; 4) a four-way tie between Jefferson, Truman, TR, and LBJ, despite Vietnam. We also learn Dean's weight, about 167 pounds. And don't tell Arianna, but he drives a Ford Explorer.
Chapter 11: The Chapter Most Worth Reading. Dean on the execution of his brother Charlie by communists in Laos in 1975 and on the death of his father in 2001. His parents thought Charlie was CIA: "There was speculation that Charlie was in Laos because he was working for the CIA and I think my parents believed that to be the case. Personally, I don't think he was employed by the U.S. government in any capacity, but we'll probably never know the answer to that question." Dean admits that he has spoken to counselors about his brother's death, and the chapter ends, "I'm sure that, had he lived, he'd be the one running for president and not me."
The second half of the book is campaign boilerplate: True believers will nod in approval, but you've heard this stuff before.
---