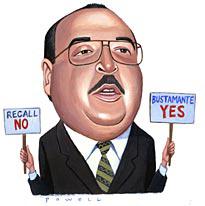 Cruz Bustamante's campaign for California governor boasts what is no doubt the most unwieldy URL in the short history of online politics: www.noonrecallyesonbustamante.com. It's an appropriately awkward name for an awkward campaign with an awkward candidate. Much has been made of the Bustamante campaign's shortcomings, both its message and its messenger: a short, bald, round guy (who bears more than a passing resemblance to the actor Jon Polito) declaring that the recall of Gov. Gray Davis is an undemocratic power grab by election-stealing Republicans while simultaneously participating as a contender in said power grab. Bustamante's campaign slogan is basically, "Vote for me, I'm the worst-case scenario candidate!" Is he running for governor or insurance commissioner?
The Bustamante campaign appears to be the result of a late-night bar bet among political consultants: How many contradictions can dance on the head of a candidate? Bustamante is against the people who organized the recall effort (they're "hijacking democracy") but not the people who signed the petitions ("they're not part of some kind of a conspiracy"). He's opposed to the recall (or at least the "recall process"), but he hasn't endorsed Davis ("I think the governor can praise himself"). And it's not clear what exactly Bustamante dislikes about the recall process. He's not categorically opposed to ballot initiatives designed to thwart the results of the most recent election: He's declared that, if as governor he couldn't get his economic plan through the duly elected legislature, he would do an end-run around that whole electing-representatives process by putting his plan on the ballot for the voters to decide directly.
But paired with the carefully scripted ordinariness of his Unfrozen Caveman Politician persona (key talking points: "I'm a regular guy" and "I wasn't the smartest kid in the class"), Bustamante's message is providing him with a serious chance to become California's next governor. Though he was locked in a statistical tie with Arnold Schwarzenegger in a couple of polls last week, over the weekend the Los Angeles Times released a poll showing that Bustamante was leading the race with 35 percent to Schwarzenegger's 22 percent—well outside the poll's 3 percent margin of error. (Of course, there's a 5 percent chance that the poll is just wrong, but that's true with every poll.)
The secret of Bustamante's success so far is his ability to be both anti-recall and anti-Davis at the same time. By differentiating between the process of the recall and the person of the governor, Bustamante has managed to promote an unspoken campaign message that's effectively, No on Recall, No on Davis, Yes on Bustamante. On Meet the Press last week, Bustamante trumpeted his "different style" and "different way of doing things" than Davis. Later in the week, when reporters told him that his budget solutions sounded similar to Davis', Bustamante made subtle jabs at the governor to distinguish himself: "I've been in the Legislature. I understand the way budgets work. I believe I have a certain style and an ability to bring people together." The "No on Recall, No on Davis" strategy was never more apparent than when National Public Radio's Alex Chadwick asked Bustamante on the Slate-NPR radio show Day to Day, "Would you honestly prefer that Gray Davis survived this recall rather than becoming governor yourself?" Bustamante niftily dodged the question by ignoring the subject of Gray Davis while insisting that the "recall process is bad."
Quietly campaigning against Davis is old hat for Bustamante. During his 2002 campaign for re-election as lieutenant governor, Bustamante employed the slogan, "Leading California's new leaders." (If Bustamante was leading the new leaders, who was Davis leading?) During that campaign, Bustamante aired a TV ad that mentioned a Davis administration scandal over a $95 million software contract with Oracle, signed after Davis cashed a $25,000 campaign check from an Oracle lobbyist. The ad's narrator intoned, "Cruz Bustamante followed his conscience when he thought others were wrong." Bustamante told the Los Angeles Times of Davis, "He's an independent person—and so am I." Even after their joint re-elections, Bustamante continued to distance himself from the governor. He told the Sacramento Bee, "I'm not his yes man, and I don't know that it's helpful for a lieutenant governor to be the yes man."
The animosity between the two men dates to 1999, when they had a falling out over the Davis administration's strategy on Proposition 187, the voter initiative—since declared unconstitutional—denying government services to illegal immigrants. But to Bustamante's unquestionable dismay, Davis is now showing signs that he wants to kiss and make up. In the convoluted political logic of the recall election, the down-ticket candidate (Bustamante) is Davis' only chance at generating enough turnout among Democratic voters to withstand the recall. (If down-ticket candidates rely on the "coattails" of candidates higher on the ballot, what do up-ticket candidates rely on? Collars?)
The most damaging moment to Bustamante's campaign came not when Schwarzenegger declared that he would be back, but when Davis said Sunday on CNN's Late Edition, "Cruz is my friend." Bustamante's political reputation is as a nice guy, but he doesn't want to be friends. Being friends with Davis is an obstacle to getting a shorter URL: www.governor.ca.gov.
---