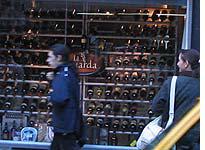 Don't tell Alfredo Matilla that the Argentine economy is foundering. Sitting in his office in Mendoza, Argentina's wine Mecca in the foothills of the Andes, the export director for Bodega La Rural sees only black. Wine exports to the United States were up 30 percent for his medium-priced labels during the first six months of 2003, and 60 percent for the vineyard's top-shelf products. This year, he expects to ship 420,000 bottles of wine stateside, the most in his company's history.
He has Argentina's devalued currency to thank for his success. The sinking peso has made Argentine products cheaper worldwide, allowing domestic producers to make a dent in international markets they were previously priced out of. In April, Argentina posted a $426 million trade surplus, a sharp contrast to the country's $326 million deficit in March 1999. For Argentina's wine producers, this means they can challenge the supremacy of the Chilean wine industry, which for a decade has been winning over U.S. consumers in search of good, inexpensive wine.
This is good news for U.S. oenophiles, because Argentine wine is a heck of a lot better than the Chilean stuff. The best the country has to offer is Malbec, a grape grown mostly in the high-altitude region of Mendoza. It's far smoother than Cabernet Sauvignon, slightly fruitier, and can be consumed even when relatively young. In recent years it has become the flagship grape of the domestic wine industry, and Argentines down large quantities of the stuff in trendy restaurants around Buenos Aires.
Malbec did not always have such a fine reputation. The grape was first grown in France in the 18th century, but it was disparaged by French and English wine drinkers and given the pejorative name "mal bec"—French for "bad beak." Malbec was brought to Argentina by immigrants during the first half of the 19th century, and it found a home in Mendoza. For decades, a handful of Argentine families (such as the Rutini, Catena, and Lopez clans) have been developing new fermentation technologies to improve the quality of Malbec, and in recent years the wine has been winning blind taste competitions in Europe.
Most of these improvements took place under the radar screen of the average American wine drinker, since the strong peso made it expensive for U.S. wine merchants to import large quantities of Argentine wine. At the same time, wine producers in Mendoza devoted little energy to marketing their products globally, focusing instead on a domestic market that ranks fifth in the world in terms of per capita wine consumption.
With its large population of Italian and Spanish immigrants, Argentina has always been a wine-guzzling nation, and Argentines still drink 95 percent of the wine grown in their homeland. In contrast, Chile has never had a large middle class for domestic producers to sell to, and Chilean wineries were forced years ago to aggressively market their wines abroad. This is why a bottle of Chilean Concha y Toro is now a staple in the apartments of recent U.S. college graduates.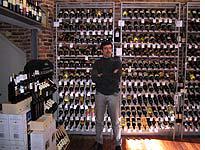 The economic reality in Argentina is changing these dynamics, albeit slowly. The boom in U.S. tourism to Argentina since the peso devaluation has also boosted sales among wine merchants in Buenos Aires. Fernando Morlesin, the owner of a slick wine shop in downtown Buenos Aires, says more Americans than ever are flying home with bottles of Malbec to impress their friends with.
These figures are probably just a small indicator of things to come. It will take some time for Argentina's wineries to develop enough of an export culture and infrastructure to make them widely available in the United States—and to bring down the Chilean wine behemoth. This is why some of Argentina's biggest vineyards have chosen to not to slash prices significantly—using higher profit margins instead to increase their budgets for marketing and promotion in the United States.
At Bodega Catena Zapata, for instance, the winery hasn't cut prices at all, but this year is projecting a 50 percent increase over 2002 in exports to the United States. Flush with cash, the company plans an aggressive campaign to raise awareness of its wines in the United States, which will likely come in the form of advertising and free tastings. So, next time you walk by a wine store in New York or San Francisco and some Mendoza winery is offering to ply you with some of their best Malbec at no cost, take them up on it. Consider it your own personal sacrifice to help the Argentine economy.
---