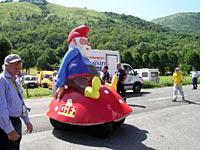 Forget about Lance Armstrong, Jan Ullrich, and Tyler Hamilton, too. For a very large portion of the millions of people who lined the route of this year's Tour de France, the real stars of the event came down the road hours before those cycling big shots. There's the GiFi gnome, thankfully recovered from its decapitation on a mountain pass; Banania's horrifyingly racist African astride a bike and topped with a fez; and the upper body of the Terminator keeping an eye on the road ahead where hostesses hired by an off-track-betting company belly dance atop sports cars. With them are countless mechanical wonders. A yellow pyramid that rolls down the road under its own power races ahead of a sedan-sized brioche. Grocery carts the height of a two-story house are topped up with yards-long frozen pizzas. And mineral water bottles the size of large trucks (underneath that's what they are) parade past.
The 100th anniversary of the Tour de France has unleashed of torrent of high-minded talk about its cultural role in French life. Forget that, too. The Tour de France is as crassly commercial as it gets. And the crowd, for the most part, loves it. The pre-race publicity caravan, or junk train, takes advantage of their status as the world's largest captive audience to toss out trinkets and leaflets. It is one of the Tour's greatest throwbacks to the past.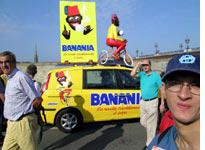 With a time trial (an individual race against the clock) coming tomorrow, and Sunday bringing the final, largely ceremonial, race into Paris, today was last time this year's Tour de France offered what most people think of as a bicycle race: a bunch of guys racing down the road together until one of them crosses a finish line to win. And once the armada of press cars escaped a prolonged tour of Bordeaux's rusting industrial zone, it was apparent that few spectators wanted to miss their last chance. The 125-mile trip up to St. Maixent-L'Ecole had none of the terrifying mountains of the past couple of weeks. The race route didn't even offer any substantial hills after leaving the vineyards near Bordeaux and Cognac behind. And with tomorrow's time trial likely to decide whether or not Armstrong takes his fifth overall title, Stage 18 wasn't even particularly important. But none of that stopped the kind of crowds normally associated with epic stages from lining nearly every inch of the route.
Like most reporters, I drive the route ahead of the race. Besides allowing me to experience the last couple of hours of racing through television's all-seeing eye, it also means that I spend much, much more time looking at the Tour's spectators than its riders. There are, of course, many ways to categorize them. Nationality is an obvious one. Today's crowd was, unusually, dominated by French fans. The license plates on the cars they carefully tucked under trees to avoid the afternoon sun is one piece of evidence. But the clearest sign was the number of people holding handwritten signs or banners spotted with red dots and bearing the name of Richard Virenque. (We also passed a donkey carrying a pro-Virenque sign on its back.) Virenque is an unlikely hero. He was the leader of a team sponsored by watchmaker Festina that was at the center of the 1998 drug scandal. Virenque turned his adamant denials into a book called My Truth. When it looked like serious jail time might be in the offing, Virenque quickly released Version 2.0 of his truth.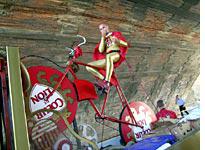 The rehabilitation of Virenque was helped, in part, by numerous appearances on the TV show Vélo Club. Immediately after racing for, say, six hours; several riders have the dubious honor of stepping onto its set, which is erected daily near the finish line. Part talk show, part sports show, Vélo Club guests have to endure the wisdom of its flamboyant host, Gerard Holtz (tonight he told us that one of the top finishers got there by "going very fast"). More important for Virenque's reputation, however, is the dismal state of French cycling. Bernard Hinault's victory in 1985 was the last the French have seen. Even worse, the host nation hasn't even had a potential winner for years. Virenque, however, has tied up this year's King of the Mountains prize (it comes with a red polka-dotted jersey), even though he did so mostly by picking up lots of points on inconsequential climbs. Needless to say, neither Holtz nor French fans in general are going to question Virenque's methods.
The other broad Tour fan category is the insane. While there is, unfortunately, no competition to pick the craziest spectator (nor a special piece of clothing for them to wear), Didi Senft would certainly be a top contender. Ten years ago, he left Germany to cheer on a now retired Italian rider who liked to call himself the Devil. As one naturally would, Senft slipped into a devil costume, made himself a trident, and chased the riders while unleashing a maniacal, perhaps satanic, cry. Senft has added gigantic homemade bicycles to his display (as well as the number 100 on the top of his trident this year) and generally can be found about 13 miles from the finish every day. (By the way, his costume seems to be made of a very unbreathable kind of nylon, and Senft sleeps in his Volkswagen panel van at night, so if you happen to find yourself around 13 miles from the finish, steer well clear of him.) Senft's success as a madman has predictably spurred imitators and rivals. Most years there's a roadside angel, and several of Satan's spawn have come and gone. The past couple of days, a new devil, reputedly Australian, has appeared. He sports red bikini briefs with a bunch of plastic grapes tied to the crotch.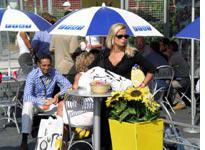 Finally, like every sporting event on Earth, the Tour de France has discovered the wonders of the corporate guest. Rather than maintain a roadside vigil to see the race (the cops shut the road hours before the Tour appears), they float above it in helicopters and are chauffeured up to the riders by former racers. But today's start in Bordeaux was an example of how the Tour may love corporate guests too much. A vast amount of space was devoted to the Village Départ, a closed area that was once a haven for riders and reporters but is now overrun by corporate visitors, while the stage for the riders' daily sign-in, a popular ritual that's open to the public, was squeezed into a space not much bigger than a few bus stops. Give me the GiFi gnome and the kids that wave at him over the VIPs any day.
---