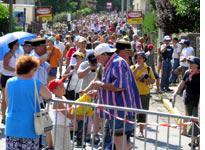 If you're one of the 7,000 or so people who officially tag along with the Tour de France (in my case as a journalist), you soon discover that a disturbingly high number of hoteliers couldn't come up with any name for their places other than "Hotel de France." When this year's Tour reached Ax les Thermes, a hot springs town in the Pyrenees, its Hotel de France dragged out a 20-year-old racing bike; slapped on some red, white, and blue bunting; and hung the result above the front door. It was in the hotel's dining room that the group of reporters I travel with ran into Udo Bolts. This year marks both the 100th anniversary of the Tour de France and the 12th time that Bolts has made the three-week trek on his bicycle. But tonight at least, Bolts isn't in the mood for celebration. "All the old traditions are dying," he says. "The race is getting too big. It's not fun anymore."
It's hard to imagine that much fun was ever to be had from riding more than 2,000 miles across wildly varying terrain and through nearly every kind of weather (it sometimes even snows). But the lost traditions Bolts mourns at least made his job—for most of the 198 riders who started this year, the Tour is very much their work—tolerable. Gone, he complained, is a long-standing pact not to crank up to full speed at the beginning of each of the 20 or so races that make up the overall Tour. And the "autobus," an informal system of cooperation between riders to make sure non-climbers like Bolts finish mountain races within the daily time limit, has similarly descended into Darwinian chaos.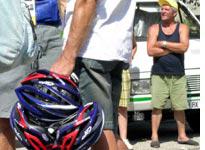 For Bolts it doesn't matter much. At 37, he's well past his prime, and he's retiring this fall. But the organizers' sometimes forced celebrations of the Tour's broader traditions (they suffer from the same sports pomposity that inspires the NFL to count Super Bowls with Roman numerals) can't entirely hide the fact that their handling of events from the recent past has left cycling's biggest show on less than sound footing for its second hundred years. Much to the organizers' relief, the drug scandals of 1998 are fading from public view. But the hidden aftereffects they left behind are far from vanquished.
Ostensibly, the Tour de France is run by Jean-Marie Leblanc. He's a race director in the Tour's classic tradition. After a modest career in racing, Leblanc became a reporter and later editor at L'Equipe, the French daily sports paper. (It's the postwar successor to the newspaper that started the Tour as a circulation stunt in 1903.) Before Leblanc's era, L'Equipe and the Tour maintained a relationship that gives conflict of interest a whole new meaning. Leblanc's most famous predecessor, Jacques Goddet, directed the Tour for decades while simultaneously running the newspaper that covered it most closely.
Goddet would arrive at the Tour dressed in khakis and wearing a pith helmet, as if planning to colonize some forgotten African nation. Leblanc wears the Tour's standard-issue green blazer. The effect is more McDonald's manager than conqueror. But Leblanc  revels in the race's past. When I once sat with him for a lengthy interview, he began with a recitation of banal praise for the Tour and its role in French life from Charles DeGaulle.
Since Leblanc took over in 1989, however, the Tour has increasingly come under the control of corporate MBAs, and television has become much more important. For the Amaury Group, which owns both L'Equipe and the Tour, by the late '80s the race was more valuable as a device for selling TV rights than for boosting newspaper sales. Leblanc's influence fell further after the nightmare of 1998. That year the race almost ground to a halt after a series of police raids showed that the Tour was something of a growth market for makers of genetically based drugs. In the aftermath, the Tour lost it status as an independent entity within Amaury. It's now another bunch of cubicles at the Amaury Sport Organization, an outfit that, among other things, puts together horse races and golf tournaments. Leblanc's most likely successor is a former bank manager.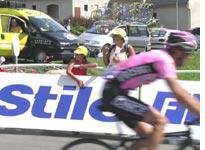 When reporters suggest to Leblanc that cycling hasn't exactly graduated from its drug rehab program, he usually gets red-faced and suggests we just like writing about drug scandals. Speaking for myself, I'm finding the endless drug story tedious. But while there may have been improvements, it's pretty hard to accept that everything's now swell. At the end of last year's Tour, French police stopped the wife of the rider who placed third overall as she was heading home. In her luggage was a fairly extensive pharmacy. As his wife stewed in jail for a few months, Raimondas Rumsas insisted that the stuff was all for his ailing mother-in-law. Well, maybe not everything. Though he tested negative for enhancers after the 2002 Tour, Rumsas failed a drug test earlier this year. In a bit of de-Stalinization, he vanished from last year's podium photos that appeared in the 100th anniversary booklets handed out by ASO.
The other fact that Leblanc likes to raise in the Tour's defense is that its TV ratings and the spectators along its route have not only rebounded from a post-scandal slump but also set new records. What those numbers hide, however, is a long-term and very worrisome problem. When I stopped at a bike shop in the suburbs of Pau this week, the owner was worried about cycling's future as a sport. Before 1998, he sold about 30 children's racing bikes every July. The total for this month currently stands at zero. Parents, he said, don't want their kids in a sport with an image like cycling's. Those numbers that Leblanc recites are partly inflated by growing foreign interest in the Tour—most obviously from Americans lured by Lance Armstrong's four wins. But the Tour de France can't survive financially without a base in its homeland. Nostalgia for traditional childhood trips to the Tour lures out many French spectators or at least prompts them to turn on the television. Fortunately for Leblanc, he won't have to rustle up the crowds after today's French kids grow up.
---