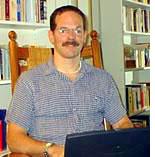 Slate's Scott Shuger died on June 15, 2002—one year ago this week. As many Slate readers remember, Scott created our "Today's Papers" column and wrote it for four years before handing it off to his chosen successor, Eric Umansky. After Sept. 11, Scott—a former naval officer—was Slate's first military correspondent, covering the war in Afghanistan and the fight against terrorism. You can read Michael Kinsley's obituary for Scott here and a collection of some of our favorite Scott articles here.
We have missed Scott terribly this year. He was a warm, funny, argumentative, curious, generous colleague. And the magazine has suffered from his absence: With his military background, keen eye, and guts, he would have been the perfect person to cover the Iraq War and its aftermath. (Scott, in fact, tried to be an embedded reporter before anyone had ever heard of embedding. He spent much of late 2001 and early 2002 trying to persuade the Pentagon to embed him with a special forces unit in Afghanistan.)
We're pleased to announce that Slate is establishing the Scott Shuger Internship, a paid summer job for a promising student. The first Scott Shuger intern will be Avi Zenilman. Avi, who graduated from his Baltimore high school this week, worked as an unpaid intern in Slate's Washington office this spring. He did so well—writing eight stories, including a wonderful "Diary" of a trip to Israel—that we have asked him to inaugurate the Shuger internship this summer.
One of Avi's duties will be writing the occasional Today's Papers: He's preparing by reading some of Scott's old columns.
If you'd like to know more about Scott Shuger or the Scott Shuger Internship, please e-mail plotz@slate.com.
---