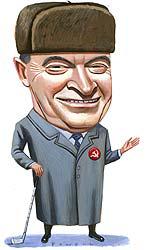 When Bob Hope was born 100 years ago today, the world was a substantially different place. Coal had not yet been discovered. Some people still walked on their hands. Most important, there was a void in the world that didn't allow human laughter. Before Bob Hope, the world was a pit of human sorrow. Now, laughter is everywhere.
John Steinbeck once wrote of Bob, "There is a man. There really is a man." Sadly, though, little else has been written about him, and even less has been understood. In this piece I intend to reveal the truth about the real Bob, which has been covered up by media titans throughout the decades. They've had good reason. Bob Hope is perhaps our country's leading subversive, its most strident political radical. As the following timeline will indicate, if Bob had gotten his way over the years, America would have been a different place. Actually, if he'd really gotten his way, it would have been turned over to the Cherokee.
Happy Birthday, Bob!
1907
His livelihood crushed by a union lockout at United Stone and Steel, a British mason named William Henry Hope moves his family to Cleveland, Ohio, to seek a better life. The fifth of his seven children is Leslie Townes Hope, who becomes the Bob we adore. Bob later jokes, "I left England at the age of 4 after my father's dreams were crushed by the cruel machinery of capitalist enterprise."
1920
Bob begins amateur boxing as "The Battling Suffragette." He quits after dropping a bout to Emma Goldman.
1923
With vaudeville partner George Byrne, Bob debuts on Broadway in the revue Arise, Ye Children of Oppression. The show closes when Ruby Keeler breaks an ankle during the Potemkin dance. "I used to struggle to make ends meet," Bob later said. "I wouldn't have had anything to eat if it wasn't for the stuff the audience threw at me. That just shows you how a political system based on class stratification degrades the working man."
1933
Bob's first major career break comes when he's cast as the wisecracking union organizer Huckleberry Haines in the Broadway musical Roberta. That same year, at a Eugene Debs fund-raiser at the Vogue Club on 57th Street, he meets a young singer named Dolores, whose passionate anti-fascist speeches cause him to swoon with love.
1938
Fresh off his successful movie debut in The Big Broadcast of 1938, where he first sings his signature hit, "Thanks for the Memories, O Red Brigade Martyrs of Spain," Bob gets asked by Pepsodent to do his own radio show on NBC. He refuses the offer until the company agrees to stop selling toothpaste to the Nazis.
1942
After a vicious battle with the studio, a duet between Bob and Dorothy Lamour that decries the injustice of purdah is cut from The Road to Morocco. Hope tells Daily Variety, "Crosby is a dangerous reactionary."
1943
Bob gives his legendary USO concert during the battle of Stalingrad. He tells the troops, "Look at me, fellas, these are the kinds of clothes you'd be wearing if you lived in America." He quickly adds, "But you wouldn't want to live in America because it's a bourgeois democracy."
1950
A busy year for Bob, as he stages his first of many USO concerts in East Germany. Later, he makes his formal NBC TV debut on the Star Spangled Revue, co-sponsored by Frigidaire and Edmund Wilson. Bob's guests include Douglas Fairbanks Jr., Dinah Shore, and Julius and Ethel Rosenberg.
1963
On the steps of the Washington Monument, Bob declares: "Imagine, two hundred thousand people. This is the biggest march on Washington since the arrival of the Kennedy family. Not until all people see the Negro as equal under law will America achieve her true promise of liberty!"
1969
Bob does his annual NBC Christmas special in drag in tribute to what he calls "his brothers and sisters in Stonewall." With special guest Bobby Seale, he sings "Death to the Honkies." Gloria Steinem stops by for a rail against the patriarchy, which Bob says he despises. "You know," he says, "I'm still chasing women these days, but only downhill, and then only to get them to donate to the Fund for the Feminist Majority."
1972
"Hanoi Bob" does a USO show for the North Vietnamese, featuring Country Joe and the Fish, Joan Baez, and Soupy Sales. Jane Fonda begs off, calling Bob's politics "too extreme."
1981
Incensed by the election of Ronald Reagan, whom he calls a "false friend," Bob moves to Nicaragua, where he opens the first in a series of "revolutionary golf orphanages." He declines six honorary doctorates until American universities stop engaging in weapons research. "My favorite subject was ancient history," he says. "Of course, when I went to school it was all about white males, which just goes to show you that history is written by the victors." He sends a Native American to receive his Presidential Medal of Freedom, which the Native American declines.
1990
Bob spends the last half-hour of his final NBC special reading aloud passages from Frantz Fanon's The Wretched of the Earth with the University of Miami football team and Angie Dickinson.
1998
Upon receiving word that Queen Elizabeth II would bestow upon him an honorary British knighthood, Bob says, "Not until that withered old bag dissolves the desiccated, corrupt, inbred British monarchy."
1999
In Seattle, Bob burns himself in effigy and throws a rock through the window of a Burger King. Later, at the Smash the World Bank Rally for Atheism and Anarchy, he says, "You know you're getting old when the Black Bloc asks you if you were a busboy at the Last Supper."
---