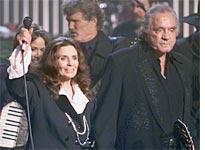 The late June Carter Cash is due an honest appraisal. That's what I'll try to give her. I have to say up front that I knew June and liked her very much. She was kind to me for some 30 years. So I'm biased, but I'll do my best.
You may have already heard that June was more important than anyone acknowledged or even realized during her lifetime: a more significant artist, a more gifted performer, a more influential innovator, a more important mover in the music and musical community she called home. True but not so true.
It depends on your frame of reference. June Carter was not just Johnny Cash's wife and sometime singing partner. She was also the daughter of Maybelle Carter of the Carter Family, the first major recording stars and foremost progenitors of Southeastern country/folk music. She was the sister of Helen and Anita Carter, with whom she continued the family act long after the first generation was gone. She was the mother of Carlene Carter, her greatest gift to country rock, and the stepmother, mother-in-law, and/or den mother of Rosanne Cash, Rodney Crowell, Nick Lowe, Marty Stuart, Kris Kristofferson, and many other seminal musicians of the '60s, '70s, and '80s. She was a stellar songwriter ("Ring of Fire"); an author of unsurprising skill and heart; an actress of sometimes uncanny accuracy (The Apostle); and a comedienne both instinctive and studied. And of course, she was a singer. In her private time, she ran a clan and several households, read voraciously, and brought joy and prosperity to Wal-Marts, boutiques, and fine antique emporia all over creation. There was nothing in the world like shopping with June.
The scope of her experience was spectacular. She hit the road as a newborn in the Great Depression, bouncing along in the back of A.P. Carter's Ford, and that road went on for 73 years. Presidents, preachers, pushers, prophets, the country, the city: singing in Vietnam, filming in Jerusalem, gardening in Jamaica, hoofing in Budapest, pressing on and on. She was tough—she played places Madonna couldn't even imagine and bettered people who'd scare Courtney Love. Elvis thought she hung the moon, and she was romanced by James Dean. Johnny Cash recognized her as the love of his life the day he met her, and he hasn't said anything different since.
The singing was a problem. June didn't trust herself around a microphone, as she admitted both readily and rightly, and unless she was in full growl (check out "Jackson"), the listening experience could be nerve-wracking. So she never really qualified as an underappreciated recording artist. She pressed on regardless, holding down her corner in the ensemble and ensuring that Anita, Helen, and a shifting selection of Carter offspring could work as much as they wanted, singing "Wildwood Flower" and the family anthem, "Will the Circle Be Unbroken," everywhere. Helen and Anita died before June, both quite recently.
June was known as a Christian and renowned as a pillar of strength. There again, true and not so true. She was in fact convinced that her salvation lay in the love of Jesus Christ, and she wasn't at all shy about that—people around her heard a lot of prayers—but she wasn't a very stereotypical pillar of strength, either. The oft-told tale of her rescuing Cash from pills and godlessness was true enough in its way but a beat or three off their real life's rhythm. Cash was rescued, all right, but not exactly by June, and not forever. June stood strong in the center of her blended family, but she was not immune to the addictions running in their blood. She was not always the good one. Cash was not always the bad.
Except, of course, that they were always good together. I've never known such a couple—him deep, quiet, and black-dog dark, she forcing light and speech, summoning chaos and imposing order. And they both knew how they worked and laughed at it. Cash is one of the funniest people I know, by the way, his style a dry, economical, deadeye irony, but June made me laugh more. Her comedy was physical, audiovisual, dynamic—she played the loony, and she loved it—and her tragedy was physical, too. It's interesting to muse on how Cash's death announced itself years ago through mysterious, almost abstract neurological malfunctions in his brain while June was felled by a sudden, brutal kick to the heart.
Her legacy? I believe it lies in the job she did with her family or, more accurately, the extended unit that revolved around her and Cash—not just those already mentioned, but hundreds of others, from never-famous Nashville pickers to Roy Orbison and Bob Dylan, Emmylou Harris and Elvis Costello, Bono and the boys in U2, Flea and the fellas in the Red Hot Chili Peppers. I think it was her centrality to the sustenance of these people that really mattered to her: how she lent them a home, put them together for company and creative cross-pollination, and stood by them when they were down. That was the job she chose over polishing her own star, and it was important. The people among whom she centered herself were themselves central—vital, really—to the sustenance of the music. Certainly the soul of country music could not have survived the past 30-plus years without them, and they surely didn't find care and comfort in many other places within the mainstream Nashville world.
Finally, there's the question we won't duck. What will become of Cash now that June is gone? In my imagination last night, I sidled up to him and whispered, "Hey, John, how soon do you think you can leave?" He just smiled.
---