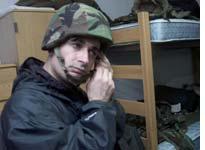 In case anybody forgot that the Marines had taken over our training, the slogan above the classroom was a reminder: "Retreat, hell. We just got here." Then there was the stocky general from Jersey City, N.J., standing in front of the lecture hall, who seemed to relish what lay ahead for the group who had just finished three days with the Navy. "Your days of clean sheets and hot meals will be over for you," said Brigadier Gen. George Flynn, commanding general of the Marines' training command. They spared us the angry drill sergeant banging on a trash can, but we did get a loud rap on our barracks door at 5 a.m.
We have yet to be asked what "our major malfunction" is, but the Marines must have figured that asking a group of journalists that question might result in a long answer. In reality, the Quantico experience thus far is less Full Metal Jacket than Stripes: an attempt to turn 58 pen-toting pantywaists into 58 … well, people who are less pantywaistish than when they arrived. The Marines are giving us an abbreviated version of the six-month course they give to young lieutenants. And while our trainers know it's impossible to stuff six months into five days, like good Marines, they're doing their damnedest to give it a shot.
Upon arrival at Quantico, we were issued helmets, canteens, camouflage jackets, and first-aid kits. On the packing list provided before we departed for boot camp, we were also told to bring a "1/2 roll of toilet paper in a Ziploc bag" for any contingencies that might arise during outdoor training. Some of the reporters confide that they secretly packed an entire roll, just in case. And, after a morning of briefings with one of the military's most lethal weapons, the PowerPoint slide, we finally got out into the field.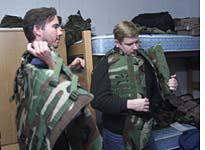 The first afternoon of training was composed of four hours of weapons orientation and land mine awareness. The Marines blew up rusted armored vehicles and wooden posts in a display of what millions of dollars of machinery could do but turned down the requests from some of the more gung-ho members of our group to test out the weapons themselves. Things turned sober when two Marines took shots at a Kevlar flak vest hanging on a post with a "squad automatic weapon"—the same flak vest all of us were decked out in. The .556 caliber bullets blew the stuffing out of the vest. Though comforting, the term "body armor" is less than accurate.
Although few of the military trainers mention the "I" word unless pressed by reporters in the group, Iraq was mentioned as among the four countries most densely populated with land mines (along with Afghanistan, Cambodia, and Angola). For the many of us who had received land mine awareness training before covering Afghanistan, Tuesday's training at Quantico confirmed what we already knew: Once you realize you are surrounded by land mines, it's probably too late. Your best bet is to poke around with a large stick to navigate the hazards. But, as Marine Capt. Nicole Dube admitted, "It's not ideal, and that's why it sucks."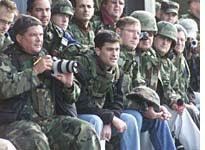 As the afternoon progressed, reporters dipped into their day packs and dined on an assortment of "Meals Ready to Eat." The four-course meals have a shelf life of more than a decade, and the menu includes pork chow mein, beef burritos, and something called "ham slice." (In Afghanistan, the MRE swap meet was a favorite pastime for reporters, who bartered freeze-dried bags of pound cake, peanut butter, and pasta alfredo like fourth-graders at recess. There, the military taught us some culinary delicacies of the forward deployed, such as "ranger pudding": one part crushed saltines, one part hot-chocolate mix, one part water. Emeril wouldn't eat it, but it goes well with goat stew.)
The first full day at Quantico concluded with two hours on first aid for shock, abdominal injuries, and "sucking chest wounds." And a helpful tip should we get to Iraq: Don't smoke while using a military latrine. The smoke could mix with the chemicals used to decompose human waste, and you might blow up. Our parting gifts after Tuesday's classes were tubes of camouflage face paint in three shades: mud brown, flat black, and leaf green. They are meant to outfit us for Wednesday's festivities of loading up in helicopters, dropping into a "hot" landing zone, tagging along as Marines assault a mock city, and sleeping out under the Virginia sky.
---