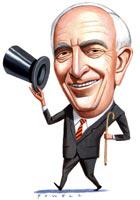 After a 2-year hiatus, Frank Lautenberg is about to return to his job as New Jersey's shadow senator. It's not a formal position—Lautenberg will cast votes and get paid, unlike the shadow senator who represents the District of Columbia. But he will once again be working in obscurity, in the shadows that have been cast by New Jersey's more glamorous senators, and in the murk that enshrouds the appropriations process at which he excels.
Lautenberg is accustomed to anonymity, or at least he should be. For 14 years after his election to the Senate in 1982, he labored quietly alongside the more famous, more thoughtful, more presidential Bill Bradley. Even when Bradley retired in 1997, Lautenberg still languished as New Jersey's junior senator in terms of media attention. His freshman colleague, Robert Torricelli, masterfully manipulated the press and wormed his way into the Democratic leadership (infuriating Lautenberg in the process and setting off their long-running feud). Now, the workmanlike Lautenberg—one of the "stealth senators," Hill versions of the B-2 bomber—prepares to return to the Senate following the Torch's flameout, and it's not clear whether he'll be the senior or junior senator from his state. There's talk that Lautenberg might be allowed to count his 18 years of past service for seniority purposes. But ultimately it won't make much of a difference. Jon Corzine will still be the Jersey senator who's invited on Sunday talk shows and whose opinion is thought to matter. Lautenberg will go back to funneling highway projects to the Garden State.
Because of this perpetual junior status—or perhaps simply by disposition—Lautenberg, despite his grandfatherly reputation, is scrappy, sometimes mean, unpopular, occasionally nasty, and insecure. In short, he's New Jersey. His fellow senators have always seemed more stereotypically New York: Bradley, playing basketball for the Knicks; Torricelli, the glib media star; Corzine, the Wall Street icon. But Lautenberg truly suits the state he represents.
Before his first run for the Senate, Lautenberg's most notable political credential was a $90,000 contribution to the McGovern campaign that landed him on Nixon's enemies list. He was born to immigrants in 1924 in Paterson, N.J., and he enlisted in the Army during World War II and served in Europe. When he returned, Lautenberg attended Columbia on the GI bill and then started selling insurance for Prudential. With two friends, he founded the Fortune 500 company ADP, which began as a business that computerized other companies' payrolls. When ADP went public in 1961, Lautenberg received $50,000 in shares. He is now estimated to be worth $40 million.
In 1982, Lautenberg dropped $5 million on an opportunistic gamble similar to the one he's taking now, though the odds were longer. New Jersey Sen. Harrison Williams had resigned in the wake of the Abscam scandal, in which FBI agents posing as Arab businessmen offered him bribes. Lautenberg campaigned for Williams' seat and defeated his Republican opponent, Rep. Millicent Fenwick, a legend who is immortalized in Doonesbury as Lacey Davenport. (At the time of his election, Lautenberg's wealth was tremendous for a U.S. senator. Now it's less than Corzine spent on one election.)
Politically, Lautenberg's most notable traits have been a fondness for nanny-state legislation and a win-at-all-costs campaigning style. During the '82 race, he used code words to express doubts about the 72-year-old Fenwick's age, referring to her as "eccentric" and a "national monument," and expressing doubts about her "fitness" and her "ability to do the job." (Lautenberg is now 78.) Six years later, he engaged in a notoriously dirty race with former Heisman Trophy winner and Rhodes scholar Pete Dawkins. And in 1994, according to the Bergen County Record, a newspaper in northern New Jersey, Lautenberg eked out a narrow win in part by trumpeting published reports that his opponent's wife, a beauty salon receptionist, had illegally taken money under the table at her job. (No charges were ever filed against her.)
As a legislator, Lautenberg became known for two things: nursing New Jersey with the bottle of federal largesse, and making sure the rest of America didn't stay out past curfew. He pushed laws that banned smoking on domestic airline flights, raised the national drinking age to 21, and nationalized legal intoxication for drunken driving at .08 blood-alcohol content. His instincts are reliably liberal—he's willing to federalize anything, he's liked by the Sierra Club, and he's loathed by the National Rifle Association. A 1996 amendment to the 1968 Gun Control Act bears his name: The Lautenberg Amendment prohibits anyone convicted of domestic violence, even a misdemeanor, from owning a gun. For that, the NRA dubbed him "an unprecedented danger to civil liberties."
Fortunately for Lautenberg, and unfortunately for his opponent, Doug Forrester, that's the kind of talk that gets you elected in New Jersey. Forrester, stripped of his "I'm not Bob Torricelli" campaign—he's still not Torricelli, but neither is Lautenberg—is now left to argue, as he did on this week's Fox News Sunday, that he's the better Democrat. "New Jersey is last among all states in terms of a return of federal resources, 67 cents on the dollar," Forrester complained. Like Forrester, that argument is a sure loser.
Democrats have won 10 straight Senate elections in New Jersey, and they're not about to stop now. Lautenberg isn't a perfect senator—he's not much of a speaker, or a statesman, or an expert on any particular issue—but he's good enough for the people of New Jersey. All that the Torch's poll numbers proved was that even yellow-dog Democrats won't vote for an orange jumpsuit.
---