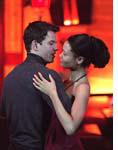 The Truth About Charlie (Universal). Fun or un-fun? "Fun to watch in a chaotic, everything-but-the-kitchen-sink way," writes Salon's Andrew O'Hehir. "It would be hard to think of a recent movie that has worked this hard to achieve this little fun," writes Entertainment Weekly's Owen Gleiberman. "So frothy and energetic that the fun starts to exhaust itself," writes Keith Phipps in the Onion. Mockery for "Easy" Mark Wahlberg and praise for perfect girlfriend Thandie Newton (a " sensual, butter-voiced … angel whose feet touch the ground," according to the New York Times' Elvis Mitchell) cancel each other out. (Buy tickets to The Truth About Charlie.)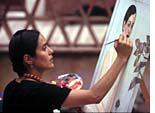 Frida (Miramax). "A revolutionary life has rarely felt less edgy, or the biography of an iconoclast more bourgeois," writes Lisa Schwarzbaum in Entertainment Weekly. But while many critics spy biopic conventions and sentimentality, a few defenders, like the New York Observer's Rex Reed, thrill at director Julie Taymor's visual sweep. "When the movie manages to break free—in bursts of color, imagination, music, sex and over-the-top theatricality—it honors the artist's brave, anarchic spirit," writes A.O. Scott in the New York Times. (Buy tickets to Frida.)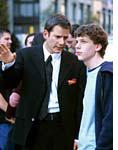 Roger Dodger (Artisan). A "cynical, and bracingly intelligent" independent flick starring Campbell Scott as "an arrogant bachelor who uses women like dental floss." The debut independent film has flaws, writes Noel Murray in the Onion, but its sharpest moments capture "the woozy feeling of a night of drinking, where too much is revealed and relationships stay in flux." Universal raves for Scott's performance as "the nonviolent version of Christian Bale's mad yupster in American Psycho" (Ella Taylor, LA Weekly). (Buy tickets to Roger Dodger.)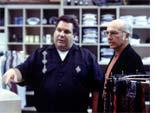 Curb Your Enthusiasm (HBO). In The New Yorker, Virginia Heffernan compares Larry David's cynical HBO sitcom with Seinfeld. "It's angrier, grimmer, more macabre. Watch the show too often and you might note a downturn in your mood or your sense of virtue. But comedy makes no room for qualms, and Curb Your Enthusiasm is, with discomfiting frequency, hilarious." (Indeed, over on Television With Pity, one poster calls it "the most uncomfortable I ever felt laughing my ass off.") But on PopMatters, Dan French suggests the show "is about a fifth as pleasurable as Seinfeld"— admirably experimental, but too slapdash, privileged, and sour to work.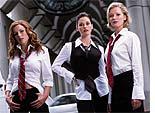 girls club (Fox). Searing notices for David E. Kelley's post-Ally legal-babe show, a " derivative, poorly cast mopefest." The show's deck is annoyingly stacked, argues Carina Chocano in Salon, with authority figures painted as " humorless, desiccated nags straight out of an Annette Funicello picture." In his Entertainment Weekly Hot List, Jim McMullen cuts to the chase: "Three female lawyers try to make it in a man's world by talking dirty. If that doesn't work they'll try being unpleasant and stupid."

You Shall Know Our Velocity, by Dave Eggers (McSweeney's Books). " MTV's Jackass, as scripted by Samuel Beckett," praises New York magazine's Jon Homans. " Numb schtick," says Joy Press in the Village Voice. Whatever their opinion of Egger's self-published road-trip novel, critics find themselves helplessly reviewing the man as well as the book. "Who is doing more, single-handedly and single-mindedly, for American writing? If his reclusive habits only fan the flames of media interest, so what? He should be left alone to go about his business and to do good works, of which You Shall Know Our Velocity is unquestionably one. And we will leave him alone. Very soon. Any minute now," writes Lev Grossman in Time.

The Lives of the Muses, by Francine Prose (HarperCollins). Most critics praise Prose for her "sad, glamorous and entirely riveting freak show" of artistic helpmeets (Susannah Meadows, Newsweek). But in the New Republic, Terry Castle spies a cynical prurience underneath, arguing that the author winds up "not-so-tacitly endorsing a view of female authority that is at once maudlin, reactionary, and in some cases … wildly contemptuous." The Chicago Tribune's Laurie Stone also sees vitriol inside the wit: "The reader gets the feeling that Prose enjoys disliking women." (Buy The Lives of the Muses.)

The Piano Tuner, by Daniel Mason (Knopf). "Immerses the reader in a distant world with startling immediacy and ardor," writes the New York Times' Michiko Kakutani. "A haunting, passionate story of empire and individualism that couldn't be more timely," states Regan McMahon in the San Francisco Chronicle. But despite these paeans to passion, in the Washington Post Jonathan Yardley discerns a " clinical, distanced quality" to Mason's prose that may challenge the market: "Readers will be impressed by it and engaged with it, but few are likely to love it." (Buy The Piano Tuner.)
The three big second novels of the season. Which Michiko Kakutani review is which? Play with your friends!
"It is a high-concept Hollywood notion that proves to be a poor showcase for this writer's rich and variegated gifts."
"Such desultory mimicry does not do justice to X's dazzling and highly original talents."
"Unfortunately this new novel is a pokey, pallid successor and a poor testament to its author's copious talents."
(Answers: Donna Tartt's The Little Friend; Dave Eggers' You Shall Know Our Velocity; Zadie Smith's The Autograph Man.)
---