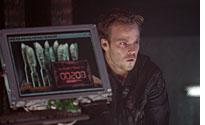 feardotcom (Warner Bros.). Is summer really "too fleeting to squander on offal like this" (Tor Thorsen, Reel.com)? Or is it the perfect season? "This tawdry, incompetent, six-years-too-late stinker couldn't be more lifeless if all its characters were already dead from Scene One," sighs Rob Blackwelder on Splicedwire.com. Insult to injury: Poor, classy Natascha McElhone stars in the slasher flick. (Buy tickets to feardotcom.)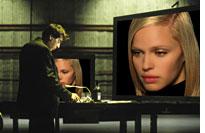 Simone (New Line). Reviewers are intrigued by the "virtual actress" premise, but the film—not so much. "[T]hough there are juicy themes here, they're thrown at the audience like bullets on a PowerPoint presentation," writes Ty Burr in the Boston Globe. The Christian Science Monitor's David Sterritt pinpoints a key bug: "The ironic commentary on show-biz superficiality is sabotaged by [director-writer Andrew] Niccol's failure to make his own story seem real." (Buy tickets to Simone.)
The Cathedral of Our Lady of the Angels, designed by Rafael Moneo. "Moneo is … an expert at setting traps for sunlight. When the light falls across the great central space and careens around the angled walls, it provides exactly the great climax that his long, hushed corridor promised," writes Richard Lacayo about Los Angeles' new Roman Catholic Church (Time). But if Cardinal Mahony's modern holy structure (Fueled by solar power! Built of translucent alabaster! "[D]esigned to withstand fire, flood and an earthquake with a magnitude of 8"!) is gorgeous, it's also a controversy-magnet: Critics have dubbed it "the Taj Mahony" and accused the cleric of undue extravagance.
Department of Critical Consequences. When classy Canadian authors attack! A National Post article on writers moonlighting as cartoonists reveals Margaret Atwood's revenger side: "In Atwood's rendition, Thomas Mallon, who reviewed her book unfavourably in The New York Times, is transformed into a pointy-eared pervert who exposes himself while muttering, 'I pooh-pooh on this book.' "

The Real McCoy, by Darin Strauss (Dutton). Every single reviewer labels Strauss' grifter's tale "ambitious"—which seems like code for "smart young writer who doesn't quite hit the mark." In the Washington Post, Jon Fasman calls the book "dazzlingly dead on arrival," stuffed with "excessively wrought, obfuscatory metaphors." But others relish the anti-minimalism. A contrived ending "is nothing compared to the many passages of cleverness, beautiful writing, memorable phrases and good old-fashioned storytelling," kvells Dan Santow in the Chicago Tribune. ( The Real McCoy.)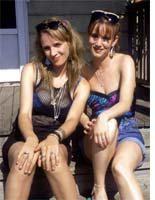 Hysterical Blindness (HBO). While a few critics bridle at the grimness of Mira Nair's Bayonne dating tragedy—calling Uma Thurman's needy Jersey girl a "self-dramatizing bore" (Hal Boedeker, Orlando Sentinel)—most admire this "piercing character study" of "a woman who has been hurt so many times, she can't see straight" (Bill Ervolino, Bergen County Record). "From beneath a helmet of Farrah hair and behind a raccoon mask of eyeliner, her eyes telegraph hunger, hurt and, every now and again, hope," writes Daryl H. Miller in the Los Angeles Times.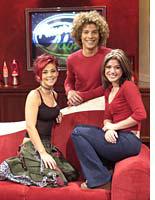 American Idol (Fox). After last Wednesday's SHOCKING! eviction, Entertainment Weekly weighs in with its weekly judgment of the judgment: "The judges seemed so relieved that [Nikki] hadn't put on a hideously off-key performance, they showered her with compliments." On Television Without Pity, Shack, the show's regular "recapper," goes third person with shock: "Tamyra has a slightly off night due to a sore throat and is tossed out by the voters like she's a screeching, baby-eating harpy. Yes, Shack is bitter." (American Idol on video or DVD.)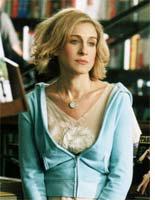 Critical star turn of the week: "Fuck Michiko Kakutani!" That's Sex and the City's Miranda, trying to be supportive while Carrie obsesses over one funky line in a rave review. In Sunday's episode, the New York Times book reviewer's name became a wacky mantra—most memorably when Samantha was crowned the "Michiko Kakutani of vibrators." (the first three seasons of Sex and the City on DVD.)
---