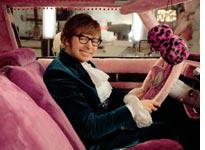 Movies Austin Powers in Goldmember (New Line). Mike Myers' cameo-studded spoof gets several surprising raves for its "sheer tonnage of puns, sight gags and winking parodies" (Stephen Holden, the New York Times). "Mike Myers is like a rich 12-year-old who rents out F.A.O. Schwartz, upends every toy in under two hours, and brings in strippers," says Slate's David Edelstein. Dissenters like Andrew Sarris in the New York Observer say it's a mess, "the most relentlessly scatological exhibition I have ever seen short of golden-showers pornography."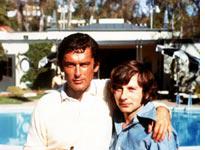 The Kid Stays in the Picture (Focus). An "aging version of Austin Powers" (Elvis Mitchell, the New York Times)—L.A. lizard-man Robert Evans—is the subject of this one-sided documentary, which most critics found both wildly enjoyable and "clearly 2,000 percent baloney" ( Stephanie Zacharek, Salon). In his hometown, the split is between those who take Evans at face value as a "colorful, glamorous gambler" (Kevin Thomas, the L.A. Times) and those who see his story as merely "the world's best pitch" (Robert Wilonsky, New Times L.A.).
The Country Bears (Gunn Films). Critics seem amusingly spooked by this Disney-inspired animatronic kiddie flick—"sort of an ursine The Last Waltz" (Lisa Schwarzbaum, Entertainment Weekly)—but subtext suggests that it might work for a different audience entirely. Josh Larsen in Sun Publications calls it "a bedtime story on acid" and describes bears that bound on stage and "for no apparent reason and with no explanation, begin to fly. From that point on I began to suspect someone had spiked the water bottle I had brought into the theater." Sean O'Connell at Filmcritic.com notes: "Bears is bad. Not 'terrible filmmaking' bad, but more like, 'I once had a nightmare like this, and it's now coming true' bad." Luke Y. Thompson at New Times L.A. simply lays it on the line: "This film is just too damn weird to pass up, and for the blacklight crowd, way cheaper (and better) than Pink Floyd tickets."
Television
Brian Lowry of the L.A. Times compares a fall-preview TV critics' convention to "a version of CBS' Big Brother minus the cash prize." Greg Braxton weighs in as well with a satirical day-in-the-life—and finally, on Jim Romenesko's MediaNews, the president of the Television Critics Association bridles at all the bridling!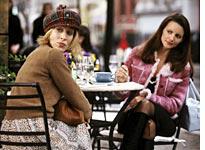 Sex and the City (HBO). Critics toast Sex and the City's "mellower, sweeter" fifth season (Robert Bianco, USA Today) and its skillful "juxtaposition of frivolity with serious concerns" (Julie Salamon, the New York Times). Entertainment Weekly's Ken Tucker says new episodes "brazenly address nearly every complaint any viewer or critic has suggested about Sex after all these years." (Well, any viewer or critic other than Steve Johnson at the Chicago Tribune, who disdains the show's "potty-mouthed man-bashing, cartoonish bedroom antics and glorification of the island of Manhattan"— so first season of him.)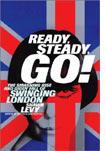 Books
Ready, Steady, Go (Doubleday). Even the New York Times'Michiko Kakutani has Austin Powers fever—catch it! In her review of Shawn Levy's Ready, Steady, Go, Kakutani unsteadily channels the spy's swinging persona, noting, "Is it me, baby, or are the stories about how the Beatles and the Stones took over the world just the tiniest bit familiar?" Actually, the persona thing itself seems oddly familiar: In 1998, she reviewed Bridget Jones as Ally McBeal. (For a mirrors-within-mirrors persona bonus, check out the classic " I Am Michiko Kakutani" by Colin McEnroe—featuring a strangely prescient jab at Dale Peck!)

Critical Times: The History of the Times Literary Supplements, by Derwent May (HarperCollins). A breezy British-style essay-review of this book laments the decline of breezy British-style essay-reviews: forceful, far-ranging literary critiques that skirt both glibness and obscurity, exuding instead "relaxed writing and a confident spirit." It's a tradition, suggests Benjamin Schwarz on behalf of May, that has been blotted out by "the rise of the academic professionals" and "their increasing and pernicious dominance of intellectual life."         
(In contrast, Mark Alan Stamaty's acerbic little comic—click on Boox at www.nytimes.com/pages/books/review/index.html—slags off those who read the reviews of reviews instead of reading the books themselves. Hey!)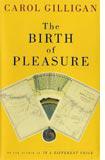 The Birth of Pleasure, by Carol Gilligan (Knopf). Margaret Talbot performs another in her series of necessary feminist exorcisms, this time on Carol Gilligan in the New Republic. "Well-meaning though she is, Carol Gilligan may be as guilty in her own way of revering—of fetishizing—young girls as the fashion and entertainment industries. No doubt she detests those industries for all sorts of distortions of a girl's life; but she, too, cannot let a girl be. Gilligan's image of American girls is different, certainly: she does not linger over (or even adequately note) their sexuality, their aggression, or their ambition. But in its own high-minded fashion, Gilligan's fascination with girlhood is just as constraining, just as laden with expectations, as any fan's (or promoter's) fascination with Britney Spears."
(Or Beyoncé Knowles, whose Allure profile is accompanied by one of the week's more charmingly oddball sidebars: a spot-critique of Destiny Child's lyrics by … Betty Friedan! Under the title "The Bootylicious Mystique," Friedan reveals that she adores "Independent Women, Part I" but finds "Nasty Girl," well, nasty: "It's antiwoman and moralistic." Right on.)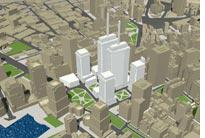 Architecture World Trade Center Development. Instant pans for blueprints to rebuild the World Trade Center area—and, for better or worse, everyone's a critic. At a Town Hall meeting July 20, more than 4,000 New York residents chimed in with responses to the six possible designs, citing the need for "bolder, more innovative" concepts with greater emphasis on noncommercial space. But as the New York Times pointed out, many citizen reviewers were self-contradictory: asking to preserve the symbolic footprints of the towers, for example, but rejecting plans that did just that.

Celebrity Michael Jackson. In the New York Observer, a sympathetic Stanley Crouch places Jackson's recent tantrummy travails within the big picture of black musicians ripped off by the Man. But in Canada's Saturday Post, Adam Sternbergh makes a Swiftian argument that Jackson has become a road show portrait of Dorian Gray, "a kind of superstar scapegoat, bearing the consequences not only of his own excesses, but those of other stars, as well. (Every time Melanie Griffith gets her eyes done, Jackson's nose collapses a little more.)"
---