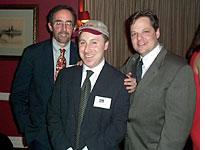 Six years ago, Michael Kinsley left CNN's Crossfire to pursue his vision for an interactive magazine where readers could connect immediately with writers and their ideas. This vision prevailed as writers came and went, departments were created and modified, and site designs changed. Even the business plan evolved from a subscription model to the free, advertising-backed site we offer readers today.
During this time, Slate readership grew to 3.2 million monthly unique users, with loyal members of "The Fray" contributing over 170,000 comments each month. Slate also began to receive public accolades, such as the 2001 Online Journalism Award for General Excellence and Online Commentary from the Online News Association and Columbia School of Journalism. Similarly, Yahoo Internet Life named Slate "Best Online Magazine," Time magazine included us in its annual list of the "Best 50 Web Sites," and this year the American Society of Magazine Editors nominated Slate for its "General Excellence Online" award. The advertising community has awarded Slate the honor of recognizing the value of our sophisticated audience with support from leading marketing companies including Lexus, Ben & Jerry's, Toyota, Absolut vodka, Qwest, and Procter & Gamble.
Our ultimate success lies in keeping our readers entertained and engaged. Your ongoing interaction with Slate inspires and sustains us.
This week the torch is passed to a new visionary who will continue to lead Slate along our successful path. Jacob Weisberg first worked with Michael Kinsley as an intern at the NewRepublic and joined Slate in 1996 as the original political correspondent. Jacob plans to continue Slate's approach to helping people understand the news, while expanding coverage to include more cultural and lifestyle content, such as music, media, pop culture, food, wine, travel, technology, and business. I know that Jacob will continue his—and Slate's—proven track record of success.
Since we couldn't invite all our readers to our recent party in New York introducing Jacob as Slate's new editor, we thought you'd enjoy seeing some of the people who contribute their work to Slate every week. Click here to see some photos from the party.
---