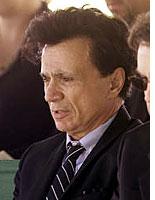 Actor Robert Blake pleaded not guilty Monday to the charge of first-degree murder with special circumstances in the killing of his wife, Bonny Lee Bakley. What are special circumstances?
Under a California law passed in 1978 with the reinstatement of the death penalty, special circumstances are felonies committed during the act of first-degree murder that may have aggravated the offense. Common examples include multiple murder, murder of a police officer, murder for financial gain, and murder during a rape, arson, or robbery. In Blake's case, the special circumstance is lying in wait, which typically refers to an ambush. Bakley was shot to death as she waited in Blake's 1991 Dodge Stealth after the two dined at a Los Angeles restaurant.
If the jury finds Blake guilty of murder without special circumstances, he faces a sentence of 25 years to life in prison with the possibility of parole. If the jury finds the special circumstance to be true, it must choose between life in prison without parole or a death sentence.
Explainer Extra: Other high-profile "special circumstances" murder cases: In 1994, O.J. Simpson was charged with two counts of first-degree murder with the special circumstance of double homicide. The Menendez brothers were convicted in 1996 of first-degree murder for financial gain and sentenced to life in prison without parole. Mikail Markhasev, who killed Bill Cosby's son Ennis in 1997, is now serving a life sentence without parole for murder during a robbery.
Explainer thanks Sandi Gibbons, public information officer for the Los Angeles County District Attorney's office.
---