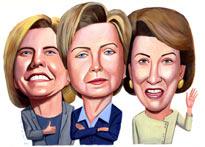 Hillary Clinton, Elizabeth Dole, and Tipper Gore share one thing in common: A dead husband. Not literally, of course. Blood still pumps through Al's and Bob's and Bill's veins. But their husbands' elective careers are dead, though each man may be in a different stage of grief: denial (Al), bargaining (Bill), and acceptance (Bob). Hillary, Liddy, and Tipper aren't just political wives. They're political widows.
These New Widows are accomplished, talented women who still waited until their husbands' careers were over to launch electoral lives of their own. After graduating from law school, Hillary Clinton bottled up her elective ambitions to follow her husband to Arkansas. Elizabeth Dole, a successful Washington lawyer who became a Federal Trade Commissioner and twice a Cabinet secretary, suppressed the dream ("I want to be the first woman president," she confessed to an old boyfriend in Salisbury, N.C.) to hit the campaign trail three times in support of her husband's presidential ambition. Tipper Gore never admitted to political aspirations of her own until this past week, when she toyed with running for the Senate in Tennessee, but she quit her job as a newspaper photographer and shelved her plans to use her Master's degree in psychology so she could promote her husband on his way to Washington. Now she's left the door wide open—"it is not right for me, right now"—to her own eventual political run.
Only once their husbands had either succeeded to death (Bill), failed to death (Al), or were simply near death (Bob) could the New Widows hit the trail in support of themselves. Each has her own reasons for that. Hillary Clinton followed her heart by moving to Arkansas, but she also followed her ambition while she was there, transforming herself into a more traditional wife (despite her husband's "buy one get one free" pledge) after Bill lost his first gubernatorial re-election. Elizabeth Dole didn't marry Bob until she was already a Washington fixture, having served in the Johnson and Nixon administrations, and she continued to wield power independent of her husband after their marriage. But she never ran for an elective office until Bob's presidential ambitions were thoroughly and irrevocably quashed. Tipper Gore always professed to be a reluctant political wife, ambivalent about her husband's success. For years, Al made decisions without her counsel. But over time, she became one of his key advisers, and now it looks like she'd like to run the family business for a while.
The New Widows provide a new twist on the old journey from candidate's wife to Candidate Wife. The first women to serve full Senate terms were actual widows who took office after their husbands' deaths. Decades later, classic political widows still make their way to Washington: Rep. Mary Bono, R-Calif.; Rep. Lois Capps, D-Calif.; and Rep. Jo Ann Emerson, R-Mo., all won special elections to succeed their late husbands and have been re-elected since. Sen. Jean Carnahan, D-Mo., was appointed to her position after Missouri voters cast their ballots for her late husband, Mel, knowing that Jean would go in Mel's place. She's running for election in her own right this fall.
The classic widows are as different from each other as the New Widows. Some, like Jean Carnahan, were powerful inside players before their husbands' deaths. Others, like Mary Bono, were political neophytes. What both types of widows share is an understanding that, while their husbands were in office, their political ambitions had to be restrained.
But there is a key difference (other than the obvious fact that one group's husbands are biologically alive): The New Widows don't run for hubby's most recent job. Bill was never a senator from New York. Bob was never president or a senator from North Carolina. Al hasn't been a senator from Tennessee for 10 years.
In this, a New Widow's campaign more closely resembles the dynastic tradition in American politics than it does the widow's mandate. A candidate with name recognition and the ability to raise cash doesn't need to work her way up from state rep to state attorney general before launching a senatorial bid. Women as well as men have long used this to their advantage: Kansas' Nancy Kassebaum, the first woman elected to a full term in the Senate who was not a political widow, was the daughter of a political icon: former Kansas Gov. Alf Landon, who had run for president against Franklin Roosevelt in 1936. If favorite sons (and daughters and brothers and sisters) can capitalize on the benefits of their political brand name, why not wives?
Already one political wife has decided that she doesn't need to wait until she's a New Widow to run for office. Janet Huckabee, wife of Arkansas Gov. Mike Huckabee, has announced that she's running for Arkansas secretary of state. The Arkansas Democrat-Gazette calls her the state's "First Tomboy," and she hasn't ruled out running for governor in 2006, when Mike Huckabee will be term-limited out of office. Who knows? Maybe she'll surpass him in popularity, and Mike will be the one who holds teas and eventually hits the campaign trail in support of Representative, Senator, or even President ("The Woman From Hope"?) Huckabee.
But if Arkansas voters decide this fall that they don't like the Guv, they can register their disgust at the polls not once but twice. Call it two for the price of one.
---