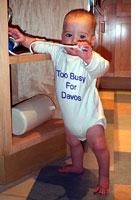 Hey, Sammy! You crawl up stairs. You chew on your crib rail. You've had two ear infections. Are you going to the World Economic Forum, familiarly known as "Davos," when it meets Jan. 31-Feb. 4 in New York City?
No, Chatterbox.
Why not?
Too busy!
Whatcha gonna do instead?
Nurse. Nap. Laugh if anyone amuses me.
That sounds a lot more important! Chatterbox has spent the last few days inviting prominent thinkers and doers in Washington to Don the Shirt. Are you too busy for Davos? Chatterbox is!
(Submitted by reader Sean Roche, Sammy's dad.)
"Too Busy for Davos" Archive:
Bruce Reed, Jan. 31, 2002
Robert J. Samuelson, Jan. 31, 2002
R. Emmett Tyrrell, Feb. 1, 2002
James Fallows, Feb. 1, 2002
Alice Rivlin, Feb. 4, 2002
Douglas Besharov, Feb. 4, 2002
Leon Wieseltier, Feb. 4, 2002
---