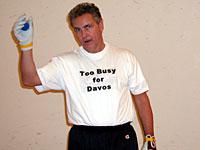 Hey, R. Emmett Tyrrell! You're the founder and editor in chief of the American Spectator, a syndicated columnist, and a contributing editor of the forthcoming New York Sun. You wrote Boy Clinton: The Political Biography, The Liberal Crackup, and The Conservative Crackup. Are you going to the World Economic Forum, familiarly known as "Davos," when it meets Jan. 31-Feb. 4 in New York City?
No, Chatterbox.
Why not?
Too busy!
Whatcha gonna do instead?
I have a handball game with a short bald guy. I plan to play even more handball and launch a new Web site, theamericanprowler.org, which goes online Feb. 4.
That sounds a lot more important!
Chatterbox will spend the next few days inviting prominent thinkers and doers in Washington to Don the Shirt. Are you too busy for Davos? Chatterbox is!
"Too Busy for Davos" Archive:
Bruce Reed, Jan. 31, 2002
Robert J. Samuelson, Jan. 31, 2002
James Fallows, Feb. 1, 2002
Alice Rivlin, Feb. 4, 2002
Douglas Besharov, Feb. 4, 2002
Leon Wieseltier, Feb. 4, 2002
Sammy Roche, Feb. 4, 2002
---