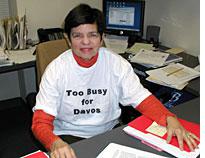 Hey, Alice Rivlin! You're a senior fellow at the Brookings Institution, a professor at New School University, former vice chair of the Federal Reserve, and former director of the Office of Management and Budget. Are you going to the World Economic Forum, familiarly known as "Davos," when it meets Jan. 31-Feb. 4 in New York City?
No, Chatterbox.
Why not?
Too busy! I considered going several times when it was in Davos, Switzerland, but I always seemed to have more urgent things to do.
Whatcha gonna do instead?
Teach my class, make a speech about the future of Washington, D.C., to a group of urban experts gathered at Brookings, meet with another group in New York about the recovery of that city, and meet with the director of planning for Washington on a project we are doing. On Sunday I was busy watching the Super Bowl.
That sounds a lot more important! Chatterbox will spend the next few days inviting prominent thinkers and doers in Washington to Don the Shirt. Are you too busy for Davos? Chatterbox is!
"Too Busy for Davos" Archive:
Bruce Reed, Jan. 31, 2002
Robert J. Samuelson, Jan. 31, 2002
R. Emmett Tyrrell, Feb. 1, 2002
James Fallows, Feb. 1, 2002
Douglas Besharov, Feb. 4, 2002
Leon Wieseltier, Feb. 4, 2002
Sammy Roche, Feb. 4, 2002
---