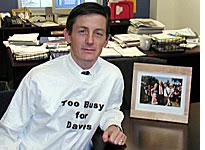 Hey, Bruce Reed! You're president of the Democratic Leadership Council. You were President Clinton's domestic policy adviser. You're the guy who helped end welfare as we know it. Are you going to the World Economic Forum, familiarly known as "Davos," when it meets Jan. 31-Feb. 4 in New York City?
No, Chatterbox.
Why not?
Too Busy!
My invitation appears to have been another target of the cowardly attack on our postal service. In times of war, all of us must sacrifice. 
Whatcha gonna do instead?
We should stop talking about economic growth and start doing something about it. I'm going to Disney World. 
That sounds a lot more important! Chatterbox will spend the next few days inviting prominent thinkers and doers in Washington to Don the Shirt. Are you too busy for Davos? Chatterbox is!"

"Too Busy for Davos" Archive:
Robert J. Samuelson, Jan. 31, 2002
R. Emmett Tyrrell, Feb. 1, 2002
James Fallows, Feb. 1, 2002
Alice Rivlin, Feb. 4, 2002
Douglas Besharov, Feb. 4, 2002
Leon Wieseltier, Feb. 4, 2002
Sammy Roche, Feb 4, 2002
---