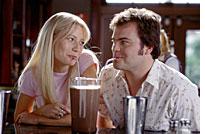 Movies
Shallow Hal (Twentieth Century Fox). Critics are split as to whether the new Farrelly brothers romantic comedy, about a man (Jack Black) who can see only inner beauty, is charming and funny or saccharine and insensitive. The New York Times' A.O. Scott is in the first camp: "There are enough moments of demented comedy to make you aspirate your popcorn, but by the end you may find yourself, with some amazement, sniffing back tears." But where Scott and others like the Chicago Sun-Times' Roger Ebert find touching sweetness, some find sentimental goo. "It's reminiscent of watching Robin Williams' entire career turn to mush," complains Kenneth Turan in the Los Angeles Times. All praise Gwyneth Paltrow's co-starring performance: In the role of an obese woman who Black sees as thin and beautiful, she "convincingly conveys a world of self-protection against pain" (Lisa Schwarzbaum, Entertainment Weekly). (Click here for an interview with Jack Black's rock band, Tenacious D.)—B.M.L.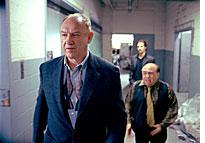 Heist (Warner Bros.). Critics dig David Mamet's new caper flick, in which a veteran criminal (Gene Hackman) reassembles his crew for one last score. Mamet's crime films have two elements: First, memorable tough guy dialogue "that ranges, as usual, from telegraphic abstraction … to streetwise koans" (A.O. Scott, the New York Times); second, a labyrinthine plot that makes each film "a prism that reflects different realities depending on where you're standing" (Roger Ebert, Chicago Sun-Times). The critics all applaud Hackman, whose "refusal to be stylized or singsongy gives the picture some amazing vitality" (Stephen Hunter, the Washington Post). (Click here to visit the movie's official site and here to read David Edelstein's Slate review.)­­—B.C.
Maze (Andora Pictures).Weak reviews for this film about an artist with Tourette's syndrome, starring and directed by Rob Morrow. The plot: Sculptor Lyle Maze (Morrow) falls for his friend's pregnant girlfriend, played by Laura Linney. Critics agree Morrow, famous for portraying Dr. Joel Fleischman in the TV series Northern Exposure, misses his mark here: His performance is all "narcissistic condescension" (Dennis Lim, the Village Voice). And his directorial tactics of "plunging inside Lyle's head by playing out point-of-view scenes with a jittery camera" display "grating conceit" (Elvis Mitchell, the New York Times). Worse still is Morrow's use of Tourette's as a plot crutch. Not only does he give us "frustratingly little information about the condition," but he also depicts it simply as an "obstacle that must be overcome" (William Arnold, Seattle Post-Intelligencer).(Click here for a serious Northern Exposure episode guide.)—A.B. Krazy Kicker of the Week:USA Today's Mike Clark has been writing kickers that grow more bizarrely nonsensical each week. Here's the last line of his review of the John Travolta thriller Domestic Disturbance: "With domestic disturbances, someone calls the cops. With this DOA, someone had better call the coroner." This week's review of the Farrelly brothers' new romantic comedy Shallow Hal continues this delightful new tradition: "If this movie were dating, it might not get asked out, either."—B.M.L.

Music
The Argument, by Fugazi (Dischord). Most critics dig this sixth album-length release by D.C.'s most famous punk quartet. It "features a community of tightly knit, thinking-man's angst" that switches between the "hard-charging scream and steady punk progressions of [the band's] youth to a dip into murky, lo-fi melodic vacation" (Bill Jensen, Newsday). "Guitars knife through the air and rock like hell; [singers] Ian MacKaye and Guy Picciotto spit out invectives on socio/political issues; and the overall combo of music and message remains true to Fugazi's high-minded ideals" (Jonathan Cohen, Billboard). Still, some curmudgeons hear flaws: 1) the album isn't new-sounding enough and 2) "somewhat less focused and intense than much of [the band's] earlier work, it falters when it reaches for subtle musical textures" (Rob Brunner, Entertainment Weekly). (Click here to learn more about Fugazi.)—A.B.

To buy this cd from amazon.com, click here.

Invincible, by Michael Jackson (Sony). No mercy for the "King of Pap's" first album in six years:"Jackson's music has effectively devolved into two styles: sputtery, herky-jerky rhythmic tracks and ballads with more sap than a syrup factory" (David Browne, Entertainment Weekly). "You don't need a music degree to tell 'N Sync from His Royal Shyness," but this record "all but invites confusion," produced as it is by Rodney Jerkins, who shapes the stylings of the aforementioned boy band as well as those of Britney Spears (David Segal, the Washington Post). For all of his character, Jackson is "unwilling to get too personal" and therefore remains "unable to escape his scars and ambitions" (Jon Pareles, the New York Times). (Click hereto visit Michael Jackson's Web site.)—A.B.

To buy this cd from amazon.com, click here.

Dark Days, Bright Nights, by Bubba Sparxxx (Beat Club/Interscope). Most critics welcome the debut of Warren Mathis, aka Bubba Sparxxx, the first hip-hop artist "representing for the white country boys" (Touré, Rolling Stone). Critics appreciate Bubba's slow, laid-back flow and like his beats even better. Like Eminem, Sparxxx's position as protégé of a legendary producer (Dr. Dre for Eminem, Timbaland for Sparxxx) delivers instant credibility and well-produced tracks. "With a drawl as thick as Georgia heat, Bubba has skills, but even more importantly, he has Timbaland, the best beatmaster in the business, backing him up" (Renee Graham, the Boston Globe). Complaints come from Entertainment Weekly's David Browne, who calls the album's tracks "hit-or-miss" and who wishes Sparxx's lyrics revealed more than just "an avid materialist." (Click here for the lyrics to Bubba's eponymous song "Bubba Sparxxx.")—B.W.

To buy this cd from amazon.com, click here.

Book
Germs: Biological Weapons and America's Secret War, by Judith Miller, Stephen Engelberg, and William Broad (Simon & Schuster). Positive reviews for this "impressive account of the evolution of biological weapons over the last 70 years" (Michael C. Gannon, the New York Times). Written pre-9/11 by a team of New York Times reporters—one of whom, Miller, was one of the first journalists to receive a suspicious letter in the mail—the book "is particularly revelatory about the history of American germ-warfare efforts and about more recent attempts to raise this country's military and civil preparedness (The New Yorker). Unfortunately, Germs' "chief culprit is bureaucratic empire-building among [the government] agencies responsible for coping with terrorism" (Jeff Stein, the Washington Post). "It is a testament to the authors that they maintain a tempered, dispassionate tone, even after uncovering such chilling material" (David Beard, the Boston Globe). (Click here to read Slate's "Book Club" on Germs and here to  read an excerpt.)—A.B.

To buy this book from barnesandnoble.com, click here.
---