Books
Theodore Rex, by Edmund Morris (Random House). Appreciation for the second installment of Morris' proposed three-volume bio of Theodore Roosevelt. After the mistake of Dutch, a life-story of Ronald Reagan featuring the author as a fictional character, the Pulitzer Prize-winner redeems himself by combining "the sweep of history and the complexities of statesmanship with the persuasive sense that you, the reader, are there" (Janet Maslin, the New York Times). Reviewers say Morris' fortes are his "novelist's instinct" for "significant scene and symbolic detail" and his ability to "deftly embroider his own narration with the responses of [TR's] contemporaries" (Michael Lind, the Washington Post). The main criticism: Morris' "indifference to the big picture" (Richard Lacayo, Time). (Click here to read an excerpt.)—A.B.

To buy this book from barnesandnoble.com, click here.
Trieste and the Meaning of Nowhere, by Jan Morris (Simon & Schuster). Excellent notices for this travel memoir by the celebrated Welsh transsexual-writer who first absorbed Italy's conflated Adriatic port as a male soldier in World War II and returns to it now as an aged woman. Morris' tome  "plumbs the mysteries of the city's melancholy" (The New Yorker), creating "a tapestry of interwoven history, description, observation, and reflection," in which each thread "adds light, shade, and dimensionality to the others" (Richard Dyer, the Boston Globe). Morris "finds a comfort in Trieste, a place which embraces outsiders with compassion and kindness. It is a city of transients and transience, and for Morris that epitomises life and her place in it" (Catherine Pepinster, the Sunday Independent). (Click here to read an excerpt.)—A.B.

To buy this book from barnesandnoble.com, click here.

The Complete Works of Isaac Babel, edited by Nathalie Babel and translated by Peter Constantine (Norton). Lit-crits lap up the terse, war-inspired words of this Russian raconteur, who, at age 40, was unfairly tried as a spy and killed at the hand of Stalin's NKVD. Yet opinions on Constantine's translation clash. Citing the book's description of an aggregate of stars as "urinating soldiers,"The New Yorker's John Updike claims Babel's "far-fetched tropes explode off the page." Conversely, Slate's Alex Abramovich argues Constantine's "tin ear" causes him to fall "short of the mark," taking "undue liberties with the text" and rendering certain passages "garbled and meaningless." Funny that the voice of reason should come from The Nation's kvetchy connoisseur of all things bookish, John Leonard: "There will doubtless be gripes about this or that … but not from me. I'm familiar with Babel only from previous translations." ( Listen to Constantine read from Roaming Stars, one of Babel's screenplays, on WNYC-FM's The Next Big Thing.)— A.B.

To buy this book from barnesandnoble.com, click here.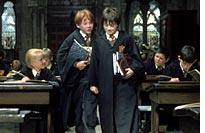 Movies
Harry Potter and the Sorcerer's Stone (Warner Bros.). Critics are slightly disappointed by the much-awaited first installment in the Potter series. All praise the actors, especially young Daniel Radcliffe, who shows "mature self-possession" in the title role (Lisa Schwarzbaum, Entertainment Weekly). Mixed reviews for the special effects; all critics weigh in on the "Quidditch" game sequence in particular, and while some praise the "gravity-defying action" (Roger Ebert, the Chicago Sun-Times), others say it's a "blur of mortifyingly ordinary computer-generated effects" (Elvis Mitchell, the New York Times). In general, the movie is unusually faithful to J.K. Rowling's book, and critics think this indicates a lack of creativity, a "dreary, literal-minded competence" (Mitchell) designed to satisfy the masses. "There's a palpable avoidance of risk as this new mythology is wheeled gingerly into the marketplace and carefully positioned to zap your pre-sold brain," says J. Hoberman of the Village Voice. But will the kids like it? Probably. "All in all I'd give the film 10 out of 10 because it was really good. My mum's already booked tickets to go and see it again and I'd recommend it to anyone," reports BBC News stringer Geraint, a 10-year-old resident of Newcastle, England. (Click here to "practise your wizarding skills" at the film's official Web site.)— B.M.L.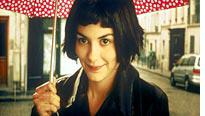 Amélie (Miramax). Critics savor director Jean-Pierre Jeunet's "sugar rush of a movie," a film jammed with "imagery that covers every square centimeter of the screen" (Elvis Mitchell, the New York Times). The title character (Audrey Tautou) spends her days finding ways to make people happy. Around her, Jeunet uses effects to create a vision of Paris that is "orderly, safe, colorful, has no social problems, and is peopled entirely by citizens who look like extras from An American in Paris" (Roger Ebert, the Chicago Sun-Times). Perhaps everything's too cheerful. The Village Voice's J. Hoberman says Amélie's "manic pace serves to mitigate the movie's cloying sentimentality." (Click here to visit the film's official Web site.)—B.C.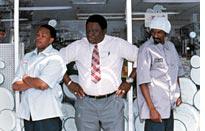 The Wash (Lions Gate Films). This "sloppy and shoddy piece of work" (Joe Leydon, Variety) is a wash with the critics. The plot, such as it is, involves rapper Dr. Dre getting a job as the manager of the car wash where his ne'er-do-well roommate (Snoop Dogg) works. USA Today's Mike Clark observes, "the projectionist could probably show the reels in any order and have the movie make just as much sense." One of the gentler adjectives employed by critics is "moronic" (Gene Seymour, the Los Angeles Times); Michael O'Sullivan of the Washington Post cautions that the film is aptly named: "you're likely to crave a shower after this profane and sophomoric exercise in 'humor.' " (Click here for information about Car Wash [1976], widely recognized as the greatest car wash movie.)— B.W.
Novocaine(Artisan). "I've had more fun at root canals," hoots the New York Observer's Rex Reed about this part-film noir, part-screwball comedy starring Steve Martin. The plot: An antiseptic dentist crosses the bridge from banality to carnage when a hot, junkie femme fatale (Helena Bonham Carter) rocks his chair and his world. Utilizing voice-over as an expositional tool, Novocaine "cheats wildly on p.o.v. and salivates over bad metaphors, while the wildly oscillating tone never finds its key" (Jessica Winter, the Village Voice). Martin fails in his dramatic portrayal of a "neo-Hitchcockian wrong man" (A.O. Scott, the New York Times). And despite David Atkins' attempt to "expose hidden moral decay" with a dental metaphor, "his slack direction fails to touch a nerve" (Peter Travers, Rolling Stone). (Click here to visit the film's official Web site.) —A.B.
---