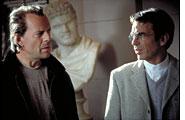 Movies
Bandits (MGM). Mixed reviews for this heist comedy starring Bruce Willis and Billy Bob Thornton as sweet bank robbers and Cate Blanchett as their daffy hostage-turned-accomplice. The film is attacked for being overlong and derivative: "[I]t steals from so many other sources that we're forced to realize that it has little of its own to offer" (Elvis Mitchell, the New York Times). Others sing the film's praises: "It's a rare romantic comedy/road picture that's not only flat-out funny, but also presents complex and well-developed characters" (Claudia Puig, USA Today). The cast gets universally positive notices; the Washington Post's Rita Kempley savors the "droll and delicious interplay among the actors." (Click here for information on Bruce Willis' music album The Return of Bruno. Read Slate's David Edelstein's review here.)— B.W.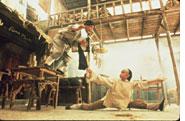 Iron Monkey (Miramax). Critics say this re-released Hong Kong kung-fu flick, lacking much in the way of plot or character development, "strives for no more or less than comic-strip thwack and thump," and in that succeeds (Dennis Lim, the Village Voice). Much praise for Yuen Wo Ping's direction of the plentiful fight scenes, described as "remarkably graceful" (Mike Clark, USA Today), "imaginatively staged" (Dave Kehr, the New York Times), "astonishingly acrobatic" (Kenneth Turan, the Los Angeles Times), etc., etc. Many single out the "audaciously choreographed" (Turan) final scene, involving long bamboo poles and a fire pit, as particularly entertaining. (Click here for the film's official site. Click here for the lyrics to another artistic work about metallic primates, the Beastie Boys' song "Brass Monkey." Read Slate's David Edelstein's review here.)— B.M.L.
Corky Romano (Buena Vista). Critics wince at this "crushingly conventional mob comedy" (David Kehr, the New York Times). The son of a mafia kingpin, Corky (Chris Kattan) must pose as an FBI agent, infiltrate the bureau's headquarters, and swipe some evidence to protect his family. In the process, he falls for a seductive female agent, which further muddles "this inane clutter of a story" (Desson Howe, the Washington Post). To sum up: "The physical gags are routine, the story is labored, [and] the actors look like they can barely contain their doubts about the project" (Roger Ebert, the ChicagoSun-Times). (Click here to visit the movie's official site.)—B.C.

Books
Misconceptions,by Naomi Wolf (Doubleday). Critics veto this narrative journey through pregnancy, but they can't agree why. Some call Wolf's first-person style "self-indulgent," and say the account proves the "precious insularity of her world" (Judith Warner, the Washington Post). Others rap Wolf for stepping outside the narrative to make larger points about culture. Her policy positions—"We need to overhaul the birthing industry"—are "so vague as to be airborne" (Claire Dederer, the New York Times). Even a supporter like the Guardian's Ian Sansom admits, "Like a visionary, or an idiot, she seems continually amazed at the way the world is."—B.C.

To purchase this book from barnesandnoble.com, click here.

Erasure, by Percival Everett (University Press of New England). Rave reviews for Everett's latest novel: "With equal measures of sympathy and satire, it craftily addresses the highly charged issue of being 'black enough' in America" (Jenifer Berman, the New York Times). The plot focuses on Thelonius "Monk" Ellison, a black writer whose family life unravels after a vicious novel he wrote as a mockery of ghetto fiction becomes an award-winning best seller. This "over-the-top masterpiece" (Publishers Weekly) is "[m]ore genuine and tender than much of Everett's previous work, but no less impressive intellectually" (Kirkus Reviews). A less enthusiastic response comes from Slate's "Book Club," where Erik Tarloff laments, "Despite its many strengths … I found it to be, ultimately, a disappointment." (Click here for Slate's entire Book Club discussion of Erasure and here for a Q & A with the author.)— B.W.

To purchase this book from barnesandnoble.com, click here.   

Music
Strange Little Girls, by Tori Amos (Atlantic). "How does the male gaze, articulated through music, alter when reflected back from the eyes of its feminine object?" ponders the San Francisco Chronicle's Neva Chonin. It's better, critics say, if this album is any indication. Amos covers songs written by famously sketchy guys— Lou Reed, Slayer, the Stranglers, Eminem—and boomerangs their arguments and re-imagines their purposes. David Fricke of Rolling Stone claims Amos "turns Eminem's wife-killing fantasy [" '97 Bonnie & Clyde"] inside out": Eminem may "get the royalties, but he no longer owns the song." Hear, hear, says Billboard's Barry A. Jeckel: Amos "succeeds in giving (sometime haunting) voice to the women who have been sung to and about, but remained silent all these years." You go, girl. (Click here to visit Amos' official Web site.)— A.B.

To purchase this cd from amazon, click here.   

The Blueprint, by Jay-Z (Roc-A-Fella). Mixed reviews for the prolific rapper's sixth album in five years. All acknowledge that Jay-Z's got talent—"a meticulous craftsman and an influential stylist" writes Neil Strauss in Rolling Stone—and that legal troubles and attacks from fellow rappers have given him a "sense of purpose that's been absent" from other recent recordings (Soren Baker, the Los Angeles Times). One problem is the limited subject matter: "One expects a bit more" than the "thug-life clichés" the album provides, complains Will Hermes in Entertainment Weekly. Another is Jay-Z's continually expanding ego: He "makes earlier rap megalomaniacs pale in comparison" (Strauss), probably a fair charge to level against a man who likes to refer to himself as "J-Hova."— B.M.L.

To purchase this cd from amazon, click here.
---