Book
Roosevelt's Secret War: FDR and World War II Espionage, by Joseph E. Persico (Random House). Critics recommend historian Persico's latest to all audiences. For academics it "fills a void in WWII histories" (Kirkus Reviews) by detailing the roles of Roosevelt and American intelligence during the war, but it also has enough color to interest general readers. Time's Lance Morrow praises the author with adjectives usually reserved for snack food, complimenting his "historical zest." Many identify tangential passages about the zany adventures of amateur spies as particularly entertaining—"Some of this stuff is beside the point, whatever the point, but none of it is boring" (Thomas Powers, the New York Times). Two common complaints: The book "contains no startling revelations" (Nathan Miller, the Washington Post); and it fails to explain what motivated FDR. (Click here to search the FDR library's online clothing catalog.)— B.M.L.

To purchase this book from barnesandnoble.com, click here.

Music
Beautiful Garbage, by Garbage (Sony). Critics trash this forced follow-up to Version 2.0 (1998). An "identity-crisis album,"Beautiful Garbage shows the band "sorely lacking on many of its cut-and-paste arrangements" (Steve Morse, the Boston Globe). Particular weaknesses include lead singer—"potty-mouthed alt-vixen" Shirley Manson—in "Androgyny": She "smells like teen pop, an R-rated Britney Spears knockoff with plenty of stop-start dramatics and breathy, faux-sexy vocalese." And the style-stealing continues in other songs: "Cup of Coffee" is a "slow-burning broodfest, complete with Theremin and a pensive, Radiohead-like melody" (Sharon Zimmerman, the Washington Post). "Trying to drop their old mask, Garbage haven't found a new face of their own yet but they definitely know where to look" (Jon Pareles, Rolling Stone). (Click here to read an interview with the band and hear tracks from the album.)— A.B.

To purchase this cd from amazon, click here.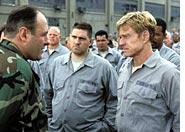 Movies
The Last Castle (DreamWorks). The critics fire slings and arrows at this Castle. Robert Redford, "in the nobly burnished self-mythologic perfection of his late-middle-aged golden god-ness" (Owen Gleiberman, Entertainment Weekly), stars as a disgraced three-star general who arrives at a military prison run by a sadistic warden (James Gandolfini) and spearheads an uprising. "Mr. Redford's motives can never be less than noble. … At its core, Castle is less about leadership than about the perquisites associated with movie-star power" (Elvis Mitchell, the New York Times). The film is also criticized for its heavy-handed symbolism, preachy tone, narrative holes, and slow pace. Roger Ebert of the Chicago Sun-Times writes, "[I]t grips us, and we shake away logical questions," but other reviewers don't shake away any complaints. (Click here for an interview with Gandolfini about The Sopranos.)— B.W.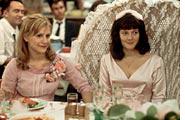 Riding in Cars With Boys (Sony Pictures). The only esteemed critic who likes this coming-of-age saga—starring Drew Barrymore, directed by Penny Marshall, and based on a memoir by Beverly Donofrio—is the Chicago Sun-Times' Roger Ebert: "It's a brave movie, in the way it centers on a mother who gets trapped in the wrong life, doesn't get out for a long time, takes her misery out on her son, and blames everything on her fate and bad luck." Others see only its "miscalculated and often superficial script" and a "wasted opportunity" (Kenneth Turan, the Los Angeles Times). Despite Barrymore's "special empathy" for her "headstrong, narcissistic" character, Marshall "regularly downshifts" the film's anger to "low-gear cute every time the road gets good and tough" (Lisa Schwartzbaum, Entertainment Weekly). (Click here to read Barrymore's letters at the film's official Web site.)— A.B.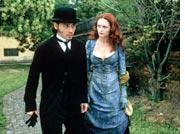 From Hell (Fox). Critics embrace the Hughes brothers' take on Jack the Ripper, "a conspiracy-theory thriller with brains and a heart" (Elvis Mitchell, the New York Times). The movie is a visual marvel: From Prague locations, the directors have created a vision of the Victorian underworld that is "dark, clammy and exhilarating" (Roger Ebert, the Chicago Sun-Times). Critics applaud Johnny Depp's turn as Inspector Frederick Abberline, who picks clues out of an opium haze. They're less enthusiastic about Heather Graham as a steely prostitute; she's a bit too "feminist of inclination to strike an authentic note" (Stephen Hunter, the Washington Post). (Click here to visit the movie's official Web site.)—B.C.
---