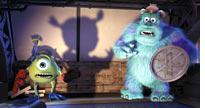 Movies
Monsters, Inc. (Disney). The critics scream for Pixar's latest animated offering. The pic follows the exploits of Mike (voiced by Billy Crystal) and Sully (John Goodman), two ghouls that haunt kids for a living. High marks all around for the animation, which the Chicago Sun-Times ' Roger Ebert calls a "tour de force." More plaudits for filling the screen with sly gags for the grown-ups; it's a "clean-burning engine that doesn't waste a joke or a thought" (Elvis Mitchell, the New York Times). A lone complaint: The film is "less charming and captivating" than its predecessors, Toy Story and A Bug's Life (Todd McCarthy, Variety). (Click here to visit the movie's official site and here to read David Edelstein's Slatereview.)—B.C.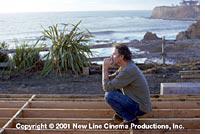 Life as a House (New Line Cinema). Contrarians cringe at this Kevin Kline "weepie" (Lou Lumenick, the New York Post) that's "so feel-sniffly-good it could make you revisit lunch" (Michael Atkinson, the Village Voice). The Oscar-caliber star plays George, a divorced ex-architect who learns he is terminally ill and, therefore, decides to build a house from scratch and, in the process, rekindle his relationship with his teen-age son. This is when the flick "abruptly changes its tune" to "a glossy swatch of inspirational stop-and-smell-the-roses kitsch" (Stephen Holden, the New York Times). The New York Observer 's Rex Reed sums it up perfectly: "The resolutions are too pat, the characters too predictable, [and] the situations too contrived to sustain even the most desperate desires for family entertainment." (Click here to visit the film's official Web site.)—A.B.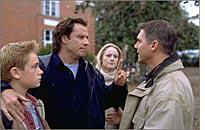 Domestic Disturbance (Paramount Pictures). Bad, bad, bad reviews for this thriller. Driven by "clichés as limp as spoiled fruit" (Gene Seymour, Newsday), the movie "gives everything away as soon as it possibly can," (A.O. Scott, the New York Times), "scuttles every bit of connective narrative tissue that would permit its characters to make any sense" (Mike Clark, USA Today), and features action scenes whose "physical details are so unlikely they seem contrived even in a thriller" (Roger Ebert, the Chicago Sun-Times). Many critics ask why star John Travolta would get involved: "It is hard to think of anyone who has wasted so much talent in so many bad pictures," says Scott. (Click here for the movie's official site. Click here for a Travolta fan site which asks the timeless question, "Are you ready to rumble this Travolta World?")— B.M.L.
Tape(Lions Gate). Thumbs aim north for this digitally filmed account of Stephen Belber's play about the reunion of three high-school pals and a suppressed date-rape. Belber's script "probes the vicissitudes of perception and memory while tweaking conceptions of culpability and victimhood" (Dennis Lim, the Village Voice). The "freedom" of director Richard Linklater's experimental shooting style "(preponderance of whip-pans aside) gives the movie an incredibly spontaneous feel; though it's bound to one location, it never once feels stagey" (Glen Kenny, Premiere). Stars Ethan Hawke, Uma Thurman, and Robert Sean Leonard are also "all at the top of their game." The "wrenching result," it seems, for most reviewers, is "impossible to shake" (Peter Travers, Rolling Stone). (Click here to watch the trailer.)—A.B.

Book
Half a Life, by V.S. Naipaul (Alfred A. Knopf). Critics admire the new Nobel laureate's 13th novel. The postcolonial plot: Willie, the son of a Brahmin father and a "backward" mother, confronts his conflicted identity amid a fledgling literary career in London and then married life in Mozambique. Reviewers applaud the tome's simultaneous exposure of caste and race distinctions as "nothing more than accidents" and "pathologically immoveable" (James Wood, the New Republic). Written in first and third person, the novel is a "masterpiece of implicitness divided in half" whose ironies "wind like a fugue into infinity" (Lee Siegel, the Los Angeles Times). The only minor criticism? An "inaccessible" self-referentiality that renders the tale's depiction of bohemian-immigrant life "oddly secondhand" (Michael Gorra, the New York Times). (Click here to read an excerpt.)— A.B.

To buy this book from barnesandnoble.com, click here.

Music
Fantasies & Delusions, by Billy Joel (Sony Classical/Columbia). Top music critics scoff at rock's favorite piano man as he says goodbye to Hollywood for an undetermined term with this album of classical music. Swathed in 19th-century Romanticism, Joel's derivative salon pieces sound like the middlebrow work of "an apprentice, one so determined to do nothing wrong that he has hardly a chance of making anything new" (Tim Page, the Washington Post). And yet despite "a tendency to ramble," Joel's lyric-less reveries often seem "disarmingly attractive" to Entertainment Weekly 's Scott D. Paulin. In fact, the less classically geared the publication, the better Joel's notice. Rolling Stone 's James Hunter even spotlights his "delicate French colorations" as evidence that he "doesn't let his delusions get the best of him." He may be right, Billy: You're only human. (Click here to buy the album's sheet music from publisher G. Schirmer.)— A.B.

To buy this cd from amazon.com, click here.

Here to Heaven, by Jamie-Lynn Sigler (Bab Music/Edel America). Billed "a better career move than getting arrested for robbery" (Rob Brunner, Entertainment Weekly), this teen-pop album is mainly interesting to critics because the singer is the 20-year-old actress who plays Meadow on The Sopranos (and who serves as the voice for a series of singing belly buttons in a Levis ad). Billboard 's Chuck Taylor predictably notes that the "curiosity factor here is high" and says the record works the "contemporary tip of R&B-inflected top-40 with varying degrees of success." Sigler, in addition to writing a book and "belting her way through the title role" in the touring company of Cinderella (Rebecca Traister, the New York Observer), also penned four of the album's songs. Let's pray "Bada Bing" wasn't one of them. (Read an interview with Sigler at The Sopranos ' Web site.)— A.B.

To buy this cd from amazon.com, click here.
---