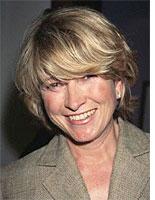 The American queen of domesticity, Martha Stewart, has announced plans to take to Western Europe next year with what she describes as "a full-blown four platform approach—magazines, television, merchandising and the Internet." Analysts here and elsewhere have gone to great lengths to emphasize that Martha's ambitions should not be understood as a future clash of civilizations and that Stewart has nothing against Western Europeans in general. Pentagon and State Department officials say they shall observe the Stewart campaign very closely; her endeavor could prove useful if their current battle in Afghanistan fails to unseat the Taliban and to lure Osama Bin Laden from his hiding place. A special-edition broadcast for residents of Kabul may be an option.
You can expect that nothing about Stewart's campaign will be traditional—this will be new kind of campaign—even if so much of what she espouses reflects the traditional values of American living. It will, you can imagine, begin with a propaganda war. Leaflets will fall through letter boxes from the Mediterranean to the Baltic to the Outer Hebrides, just as they fall from the sky in more traditional theaters of battle—part of what defense and retail experts call "pysch-ops." Overhead, Martha Stewart AWACS planes and sophisticated aerial radio platforms will monitor for signs of local resistance, which can then be taken out with elite ground troops—the Dinning Force or the 101st Garden Division. (Hawkish Stewartists, the Richard Perles of the trade, even advocate the outright abolition of French cuisine, although such individuals seem to be marginalized, much to the relief of the moderate Martha-ettes.) At the same time, so as to convince Britons, Germans, and the French of Martha's good will, Martha Stewart food bags and potpourri (specially prepared and as seen on American television) will be parachuted to select communities along with instructions on how to make "Stenciled Cakes," "Swanson Broth," "Mulled Apple Cider," and how to baste a better turkey. Yum, yum.
Yet there's one nagging question: When, if ever, will this war be won? More importantly, the grim, sunless European winter, expected any day now (and if the previous winter is anything to judge by, this may stretch into the last week of April 2002) may hamper Stewart's future ground operations. Winter is the season when the local kitchen mujahideen, the all powerful TV chefs, prove immensely effective at winning new recruits, and when the time comes for battle next spring, these kitchen-hardened troops shouldn't be underestimated. And then there's European public opinion. Many influential commentators argue that Martha's campaign is really all about olive oil and propping up regimes that produce the best extra virgine. Why no Martha Stewart Italy, Spain, Greece, they say? The streets of London, Paris, and Berlin may yet fill with anti-Martha demonstrators. Colin Powell, you could be needed.
---