Movies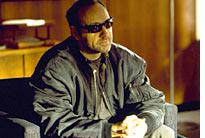 K-Pax (Universal). Critics yawn at Kevin Spacey's extraterrestrial heart warmer. A mental patient named Prot (Spacey) draws the attention of Dr. Powell (Jeff Bridges) by claiming he's a brother from another planet. Some critics think "the premise of K-Pax is so tired, and the direction so plodding and uninflected, that the actors rarely connect with each other" (A.O. Scott, the New York Times). Others tire of Spacey's cooler-than-thou shtick; he's "playing as if he's part of a private joke he's not going to share" (Robert Koehler, Variety). Virtually the only compliment: "It definitely rises above much of what passes for entertainment today" (Rita Kempley, the Washington Post). (Click here to visit the movie's official Web site.)—B.C.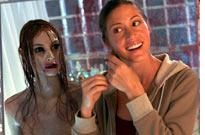 Thirteen Ghosts (Warner Bros.). The scariest thing about this remake of the 1960 William Castle horror flick is how bad it is. The plot concerns an inherited spooky glass house that turns out to be a ghost-storing portal-to-Hell. The cinematography and art direction are praised, but most reviewers agree with Mike Clark of USA Today 's assessment: "When a ghostbuster played by Embeth Davidtz eventually shows up to describe herself as one who 'frees trapped souls,' all but the most fervent fans of the horror genre may want to request her services." Blurb-o-riffic Kevin Thomas of the Los Angeles Times calls the film "a potent—and very tricky—treat," but other critics warn that the real trick is on the audience. (Speaking of Hell, click here for pictures of Scooby and the gang from next summer's live-action Scooby-Doo film, starring Ghosts ' Matthew Lillard as Shaggy. Zoinks!)—B.W.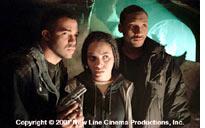 Bones (New Line). All agree this Snoop Dogg-starring ghetto horror film is trashy. But is it trashy fun or trashy bad? The New York Times ' Stephen Holden is in the first camp, praising its "special glee" and "unusual density of scary imagery," even identifying allegorical undertones about "escapees from the ghetto and its long shadows." Others demur, saying the film "feels transplanted from genre staples" (Richard Harrington, the Washington Post). Mike Clark of USA Today fires off this confusing but probably negative zinger: "There's more urban renewal than genre renewal in Bones, which at times suggests a kennel more than a movie." Even negative reviewers admit that the special effects, full of "oozy psychedelic zest" (Owen Gleiberman, Entertainment Weekly), are impressive and that Snoop makes an appealing if one-dimensional vengeful back-from-the-dead pimp. (Click here for the film's official site.)—B.M.L.
Donnie Darko(Newmarket Films). Critics clash on this black comedy-cum-sci-fi suburban phantasm about a maladroit teen-ager Donnie and his six-foot rabbit-friend. Coloring it a "[John] Hughes  version of a novel by Gabriel Garcia Marquez," New York Times reviewer Elvis Mitchell finds 26-year-old writer/director Richard Kelly "too infatuated with an aura of hand-me-down gloom." Nevertheless, the leads get excellent notices: Jake Gyllenhaal plays Donnie with "idiosyncratic grace," (Jan Stuart, Newsday) and has a "sympathetic mom" in Mary McDonnell and a "dynamite teacher" in executive producer Drew Barrymore (Michael Wilmington, the Chicago Tribune). In fact, says Village Voice critic J. Hoberman, this "part-comic book, part-case study high-school Gothic" feels "weirdly consoling" and "perfectly attuned to the present moment." (Let the film's trailer freak you out at Donniedarko.com.)—A.B.

Book
Roosevelt's Secret War: FDR and World War II Espionage, by Joseph E. Persico (Random House). Critics recommend historian Persico's latest to all audiences. For academics it "fills a void in WWII histories" (Kirkus Reviews) by detailing the roles of Roosevelt and American intelligence during the war, but it also has enough color to interest general readers. Time's Lance Morrow praises the author with adjectives usually reserved for snack food, complimenting his "historical zest." Many identify tangential passages about the zany adventures of amateur spies as particularly entertaining—"Some of this stuff is beside the point, whatever the point, but none of it is boring" (Thomas Powers, the New York Times). Two common complaints: The book "contains no startling revelations" (Nathan Miller, the Washington Post); and it fails to explain what motivated FDR. (Click here to search the FDR library's online clothing catalog.)— B.M.L.

To purchase this book from barnesandnoble.com, click here.

Music
Beautiful Garbage, by Garbage (Sony). Critics trash this forced follow-up to Version 2.0 (1998). An "identity-crisis album,"Beautiful Garbage shows the band "sorely lacking on many of its cut-and-paste arrangements" (Steve Morse, the Boston Globe). Particular weaknesses include lead singer—"potty-mouthed alt-vixen" Shirley Manson—in "Androgyny": She "smells like teen pop, an R-rated Britney Spears knockoff with plenty of stop-start dramatics and breathy, faux-sexy vocalese." And the style-stealing continues in other songs: "Cup of Coffee" is a "slow-burning broodfest, complete with Theremin and a pensive, Radiohead-like melody" (Sharon Zimmerman, the Washington Post). "Trying to drop their old mask, Garbage haven't found a new face of their own yet but they definitely know where to look" (Jon Pareles, Rolling Stone). (Click here to read an interview with the band and hear tracks from the album.)— A.B.

To purchase this cd from amazon, click here.
---