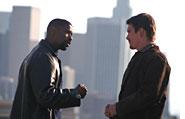 Movies
Training Day (Warner Bros.)."King Kong ain't got shit on me," barks Denzel Washington's Alonzo, a misanthropic narc that the goody-goody role model/actor clearly loved portraying. Reviews are mixed. As an evil-streaked mentor to Ethan Hawke's hayseed cop, Denzel's performance is a " bad-to-the-bone stunt, a glib dabble in malevolence; less character study than career move," says Entertainment Weekly's Owen Gleiberman. But the New York Times' Elvis Mitchell argues the opposite: Washington's "dry-ice grandeur" and "powerhouse virtuosity will almost guarantee him an Oscar nomination." "Who cares?" implies Amy Taubin's deeper critique of the "elegantly written thriller" in the Village Voice: "It's creepy to think that the hero you believed in for so many movies may be just as much a fiction as the villain." (Read Slate's David Edelstein's review here. Click here to visit the official Training Day Web site.)— A.B.
Serendipity (Miramax). The most common question facing critics: Is star John Cusack's latest loving-loser archetype (see Say Anything, High Fidelity) enough to save a contrived sap story? Not a chance, says Rolling Stone's Peter Travers: The plot (boy meets girl, boy and girl bond, boy and girl part without directly exchanging particulars, relying instead on destiny to decide their fate) strikes him as cute "enough to make you cringe." Of course, Cusack deservedly wins acclaim from fan/critics for his "winsome blend of affability, wit and sexiness" (Claudi Puig, USAToday). But that just isn't enough to make this "pretty and witty" Manhattan romance with a heavy dose of "happy accidents" seem anything but overtly "pre-planned" (Michael Wilmington, Chicago Tribune). (Click here to visit the official Serendipity Web site.)—A.B.
Joy Ride (20th Century Fox). Critics appreciate this trucker-on-a-rampage movie for not being as dumb as they expected: "more effectively terrifying than the usual overplotted, underwritten Hollywood thriller," says A.O. Scott of the New York Times. Particular praise goes to John Dahl's noirish direction, which is "stylized and referential without being arch or secondhand" (Scott). The cast also gets good reviews: "Joy Ride is a plus for all concerned, especially its actors," says Kevin Thomas of the Los Angles Times, which would be a blurb-worthy quote if it made sense. The most frequently identified flaw is a lack of plausibility: "Eventually, the picture degenerates, provoking groans of 'oh, come on, now,' " (Mike Clark, USA Today). (Check out the Joy Ride e-postcard selection at the film's official site.)—B.M.L.
Max Keeble's Big Move (Disney). Critics recommend this madcap bit of fluff only to children with a "sense of humor scarcely beyond fetal" (Lawrence Van Gelder, the New York Times). Grown-ups, like the Chicago Sun-Times' Roger Ebert, are more likely to be "consumed with certain indifference." To win his sweetheart, spiky-haired Max (Alex D. Linz) must overcome a bully, the school principal, and a sadistic ice cream man who is unfamiliar with, or unrestricted by, Megan's Law. At every turn, the filmmakers ratchet up the shtick to "burlesque-level inanity" (Jan Stuart, Newsday). (Click here to visit the movie's official Web site.)—B.C.

Music
Rockin' the Suburbs, by Ben Folds (Epic). Positive reviews for the solo debut of Ben Folds, "pop's most introspective wiseass" (Greg Kot, Rolling Stone). Critics love the album's combination of wistful lyrics and upbeat melodies, "a strangely festive mix of melancholy and bliss" (Steve Appleford, the Los Angeles Times). "[Folds'] quietly devastating portraits of teen ennui and middle-age anomie work bittersweet magic like arsenic candy canes," says Entertainment Weekly's Marc Weingarten, perhaps overreaching a bit. The satirical nü-metal title track "nails every trope" (Jesse Barrett, Spin), but Rolling Stone's Kot wonders if "Folds may someday yet be able to get through an entire album without smirking." (Click here for the official Rockin' the Suburbs online arcade game, allegedly coming soon.)—B.M.-L.

To purchase this cd from amazon, click here.  

No More Drama, by Mary J. Blige (MCA). Critics all say the Queen of Hip-Hop Soul's excellent new album is misnamed: "Blige without drama is like Abbott without Costello, kibbles without bits" notes Ken Capobianco of the Boston Globe. Her fifth studio album finds her collaborating with a bevy of producers while incorporating some soul and gospel into her usual hip-hop and R&B. Everybody notes how healthy and happy Blige seems to be. Her typically emotionally honest vocals show her "taking care of Mary without worrying about others' opinions" (Steve Jones, USA Today), and, though there's definitely still drama in her life, "much of the album becomes a celebration" (Jeff Chang, the Washington Post). (Mary J.'s official site includes samples of all the album's tracks.)— B.W.

To purchase this cd from amazon, click here.
---