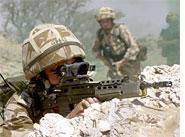 U.S. troops may be on the ground in Afghanistan. USA Today reported that commando groups of three-to-five members each entered the country on Sept. 13 to find Osama Bin Laden; they have yet to find him. On Thursday, the U.S. said a military attack against terrorists is not imminent. Reports portrayed the White House as divided between hawks, who stress public impatience and the impending Afghan winter, and doves, who stress the importance of gathering intelligence about Bin Laden's whereabouts. Earlier this week, the Bush administration said it will punish Afghanistan's government for harboring terrorists but won't necessarily install a new regime. Meanwhile, Iran refused a U.S. entreaty for assistance in its war on terrorism. The U.S. has ordered 630 warplanes to the Afghanistan region—three times the number used in the Gulf War. Defense secretary's spin: "Everybody who is waiting for military action … needs to rethink this thing." Analysts' spins: 1) The U.S. is bluffing to catch the Taliban off guard. 2) The U.S. is buying time to build up troops in the region. 3) The U.S. is backing off from an outright invasion. (For Slate's complete terror attack coverage, click here.)
Rudolph Giuliani threatened to run for third term if he does not get a three-month extension. The New York City mayor, whose second and (by law) final term ends Jan 1, asked the city's three mayoral candidates to support his plan to continue in office until April. If they refuse, Giuliani said he would get the state legislature to overturn a term-limits law and would run for a third term on the ballot of the Conservative Party, which offered him its nomination yesterday. Democratic candidate Mark Green and Republican nominee Michael Bloomberg agreed to the three-month extension, which would need approval by the state legislature. Green's rival for the Democratic nomination, Fernando Ferrer, did not. Fifteen percent of Tuesday's primary voters wrote in Giuliani's name on the ballot. Giuliani's spin: The mayoral transition is already too short. I'm just asking for a longer transition. Pundits' spin: "No one wants to say that he hasn't done a great job, but let's move on."
President Bush gave two military generals approval to shoot down passenger planes in emergencies. The directive will allow two Air Force generals to order fire upon commercial jets if they are minutes from striking targets and Bush cannot be contacted. Separately, Bush outlined his airport security plan, which includes: 1) fortifying cockpit doors; 2) putting armed air marshals on planes; and 3) installing surveillance cameras aboard aircraft. Meanwhile, Pan Am announced it would ban all carry-on luggage except wallets and purses. Bush's spin: "Get on the airlines, get about the business of America." Other airlines' spin: Don't worry, America, we don't intend to ban carry-ons.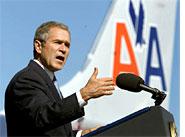 Airlines complained that the government is delaying its $5 billion bailout. A week after Congress approved $5 billion in cash subsidies to the air industry, carriers threatened bankruptcy once again, citing a delay in the payout. (The bill also guarantees $10 billion in loans.) Since Sept. 11, United Airlines and American Airlines have fired 20,000 workers each (nearly a fifth of their work forces); Northwest has fired 10,000; British Airways, 7,000; Delta, 13,000; and Boeing, 20,000 to 30,000. Airlines' spin: The feds are trying to hold onto their money until the new fiscal year begins Monday. Government's spin: No, we're simply figuring out how to allocate the money fairly. (For an "Everyday Economics" on why the bailout is good for shareholders and bad for taxpayers, click here.)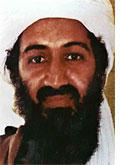 Osama Bin Laden may have tried to buy a Boeing 727. His front men tried to buy a retired commercial jetliner about six months ago, the New York Post reported. Meanwhile, Attorney General John Ashcroft warned of possible truck bombs after revealing that the FBI has arrested 20 people who fraudulently tried to obtain licenses to transport hazardous materials. (It is not known whether they have a connection to Bin Laden.) Trucking lobby's spin: "It's hard to keep our eye on every single truck."
Israel and the Palestinian Authority agreed to restart peace negotiations. A meeting between Palestinian leader Yasser Arafat and Israeli Foreign Minister Shimon Peres was marred by street fighting in the Gaza Strip. Peres agreed to relax Israeli policing of Palestinian borders, and Arafat pledged to crack down on militants. Palestinian Authority's spin: "We realize the extent of the changes around us. … Peres and Arafat want to give [peace] every possible chance."
Congress will try to stimulate the economy with tax cuts. The Senate Finance Committee tentatively agreed on a package of $100 billion, about 1 percent of the Gross Domestic Product. Meanwhile, the stock market improved slightly. The Dow rose 4.5 percent Monday and stayed about the same Tuesday and Wednesday after falling 14.3 percent last week, its biggest loss since the Great Depression. Last week the Fed lowered interest rates by half a percentage point to 3 percent (the lowest rate in nine years). Meanwhile, the insurance industry reported losses of $14 billion to cover insured World Trade Center property. Alan Greenspan's spin: I'm confident that the market can recover. Analysts' spin: "When there is so much uncertainty, people don't want their money at risk."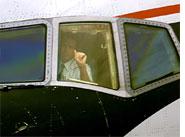 A pilots' union will ask that pilots be allowed to carry guns in the cockpit. The Air Line Pilots Association will ask the Federal Aviation Administration to let pilots voluntarily carry pistols in flight. FAA administrator's spin: "That's an idea that probably, two weeks ago, I would not even have considered. Now we are challenging every assumption." Gun proponents' spin: There are special bullets that will not penetrate fuselages, and one or two holes in an airplane will not depressurize it. Opponents' spin: Guns on planes would introduce as much risk as they would eliminate.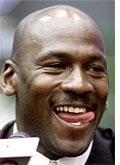 Michael Jordan will play in the NBA again. He announced that he will play for the Washington Wizards this season. He will donate his entire year's salary to Sept. 11 relief efforts. In order to play, Jordan was forced to sell his ownership stake in the Wizards, whose poor play has frustrated him. Sportswriters' spin: MJ may be a wizard, but even he can't turn a team that won 19 games last year into a champion. Jordan's spin: "Winning isn't always championships." If I can help younger players improve, I will have succeeded.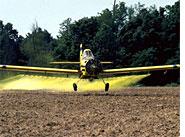 The United States grounded all crop-dusting planes for two days. The order came after investigators discovered that the Sept. 11 hijackers had researched the use of crop-dusters to release biological or chemical weapons. Hijacker Mohamed Atta, a suspected mastermind of Sept. 11, may have sought a loan to buy a crop-duster, the Miami Herald reported. Meanwhile, leaders in Congress urged a government takeover of airport security, and stocks for biometrics companies (which make face- and fingerprint-reading equipment) soared. Oracle CEO Larry Ellison urged the government to mandate a national ID card with fingerprints and offered to donate fingerprint-reading software. British Prime Minister Tony Blair has tentatively endorsed the ID card concept, now supported by 85 percent of Brits. Last week, the FBI obtained e-mails exchanged between hijackers on public computers in Kinko's and libraries. Pundits' spins: 1) The electronic trail proves that we need more Internet surveillance. 2) No surveillance could have prevented the attack. Ellison's spin: "This privacy [that ID opponents] are concerned about is largely an illusion."
---