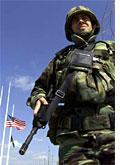 The United States prepared to wage a "campaign" against terrorists. Several Arab countries pledged their support, including Saudi Arabia, Egypt, Jordan, and even Pakistan— which has ties to Afghanistan's Taliban government. On Wednesday, the 19 NATO countries invoked, for the first time, a mutual defense clause that equates an attack against one member with an attack against all. Congress offered President Bush $40 billion to wage his anti-terror war. Pundits' spin: Prepare for a possible U.S. occupation of Afghanistan, with help from Pakistan and Russia. French prime minister's spin: "We are not at war against Islam or the Arab-Muslim world." Afghanistan's spins: 1) "We appeal to the United States not to put Afghanistan into more misery." 2) If the United States invades despite our innocence, we will take revenge. (For Slate's complete terror coverage, click here.)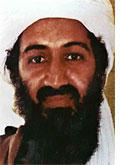 Colin Powell named Osama Bin Laden as a prime suspect in Tuesday's attacks. The feds are also probing connections to the Palestinian-backed fatah group and the Iranian-backed Hizbullah. Attorney General John Ashcroft said that 18 hijackers were on the four planes (they used only knives and the threat of bombs to commandeer the jets) and may have had help from up to 50 others from four terrorist cells. The government has identified all 18 hijackers. At least one hijacker on each plane had taken flight courses in the United States. The Bush administration announced that it had "specific credible information" that the White House and Air Force One were possible targets. Officials recovered the voice and data recorders of the Pentagon plane and the data recorder of the Pittsburgh plane. Meanwhile, Belgium and the Netherlands arrested six Islamic fundamentalists (apparently unconnected to Tuesday's plot) suspected of planning attacks on U.S. targets in Europe. White House's spin: More attacks are "possible if not probable."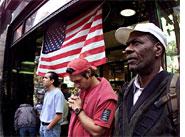 Americans struggled to resume normal life. In the aftermath of Tuesday's bombings, all major professional sports canceled their schedules for a week, the stock market shut down until Monday, the FAA halted all U.S. air traffic for 48 hours, and bomb threats continued in many cities. New York firemen's spin: We lost 350 colleagues. Financial community's spin: Everybody has dead friends; some companies lost half their workers. New Yorkmayoral candidates' spin: Our primary has been rescheduled for the 25th, but the campaign is over.
AngryU.S.citizens harassed Arab-Americans. Several mosques and Arab-owned businesses around the nation became targets of protests, arson, and firebombing after Tuesday's terrorist attack. President Bush's spin: "We should not hold one who is a Muslim responsible for an act of terror." Arab-American store owners' spin: Look at our big American flags. We are one of you.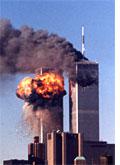 Three hijacked jets collapsed  New York's Twin Towers and destroyed part of the Pentagon. Based on a preliminary list of 4,700 people missing in New York, 126 in Washington, and 266 aboard the four planes that crashed, Tuesday was likely the bloodiest day in American history. (The fourth plane hijacked Tuesday crashed near Pittsburgh. Some evidence suggests that passengers struggled with the hijackers after learning about the World Trade Center crashes via cell phone.) President Bush visited the Pentagon on Wednesday and the World Trade Center on Friday. New York mayor's spin: This is still a rescue mission. People are still cell-phoning from underneath the rubble.
---