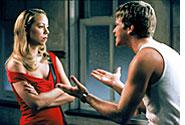 Movies Glitter (20th Century Fox). As her former collaborator Ol' Dirty Bastard might put it, critical animus toward Mariah goes back like babies with pacifiahs, and her film debut is no exception. She stars as a singer in this retread of A Star Is Born, set in the early-'80s New York City disco scene and featuring a DJ/producer/love interest named "Dice" (Max Beesley). Robert Koehler of Variety thinks this one should be called "A Star Is Dull," and USA Today's Claudia Puig notes that "[e]ven the soundtrack doesn't rescue the movie from its tedious banality." Carey's performance is as underwhelming as the film it anchors: She "is simply inadequate as an actress to the relatively undemanding emotional range of the story" (Lawrence Van Gelder, the New York Times). (Click here for the lyrics to the remix of Carey's "Fantasy" featuring ODB.) — B.W.
L.I.E. (Lot 47 Films). Critics call this indie about the relationship between a Long Island teen-ager and a local pederast promising but flawed. They praise the film's intelligent handing of a provocative theme: It "isn't afraid of ambiguity or confronting an audience's preconceptions" (David Ansen, Newsweek). Many complain, though, that metaphors such as the titular acronym (L.I.E. = Long Island Expressway) "puff the movie up rather than deepening it" (A.O. Scott, the New York Times). There is also universal disdain for the conclusion, which "feels utterly phony in its bleakness" (Charles Taylor, Salon.com). The Onion's Scott Tobias thinks the whole suburban-rot theme has grown trite: "If [director] Cuesta really wanted to shock, he should have made a film extolling the convenience of strip malls and the comforts of cul-de-sacs." (Click here for a history of the Long Island Expressway.)—B.M.L.

Music Love and Theft, by Bob Dylan (Columbia). Devout praise for Dylan's first opus since his 1997 hit Time Out of Mind. It features rock's famously raspy rapscallion "fretting about age, treachery, and the galling puzzle of mortality" (Ben Greenman, The New Yorker). Time's Christopher John Farley calls it "charged with rollickingly good music and enlivened with some of the best lyrics Dylan has spun out in decades." In fact, the album's only weakness is its secret weapon: "These songs aren't anywhere as personal as the ones on Time Out of Mind," says David Brown of Entertainment Weekly. "Instead, Dylan adopts the roles of ornery characters—backwoodsmen who marry their cousins, millworkers embittered by love. They're grizzled weirdos, and Dylan's voice is, for once, the right instrument at the right time." (Click here to visit the official Bob Dylan Web site.)— A.B.

To purchase this cd from Amazon, click here.

The Id, by Macy Gray (Epic). "Is Macy Gray a nutcase, or does she just play one on TV awards shows?" asks Entertainment Weekly's David Browne. Response to the latest from the funkstress is equally confused. "The tracks are brassy and effusive," but "at their best, they deflect attention from Gray's often irksome voice. 'The Id' is marred by self-consciousness." Or, perhaps, the superego of a pop-music critic. New York Times jazz writer Ben Ratliff diagrees: "There's more of everything on her new album that was good the first time around: hooks, instrumental layers, weird song titles." Yet The Observer's Neil Spencer cries kitsch: "The sunny, acoustic [song] 'Forgiveness' simply lacks shape and tune, a fact which stretching it into a warp zone filled with jazzy horns and scratching can't disguise." (Click here to learn about the cartoon series Macy Gray is planning, which will be based on her own life.)— A.B.

To purchase this cd from Amazon, click here.

Books
Middle Age: A Romance, by Joyce Carol Oates (The Ecco Press). The wildly prolific author's latest novel gets a mixed reception from the critics. The typically Oatesian event that sets the wheels in motion is the death of Adam Berendt, a mysterious, pudgy sculptor who the women of chic Salthill-on-Hudson were all in love with. Some say "This is Oates in an unexpected mode, kicking up her heels in a delightful comic romp" (Dan Cryer, the Washington Post) while others feel this is "creaky, contrived and not remotely persuasive" (Michiko Kakutani, the New York Times). As ever, reviewers grapple with Oates' graphomania: This is either another superlative effort or it's "clear that again she has written a novel too fast to be meaningfully good" (Lee Siegel, the Los Angeles Times). (Click here for links to Oates' incisive writings on boxer Mike Tyson; perhaps she anticipated his ear-biting when she wrote that he "suggests a savagery only symbolically contained within the brightly illuminated elevated ring.")— B.W.

To purchase this book from barnesandnoble.com, click here.

Savage Beauty: The Life of Edna St. Vincent Millay, by Nancy Milford (Random House). Critics call Milford's biography of the scandalous poet "essential" (Kirkus Reviews). The Boston Globe's Jane Vandenburgh describes "the pleasure of finding serious writers writing well about the glamour-trashiest subjects," such as a listing of Millay's consumption of morphine, two gin rickeys, one martini, a beer, and half a pack of cigarettes before lunch one day near the end of her life. A problem: Does Millay's work warrant this much attention? Savage Beauty"is poised to become the definitive Millay biography, if we have need of such a thing," Vandenburgh says. A few are unimpressed with Milford's writing, saying it lacks "literary finesse" and "insight into Millay's work" (J.D. McClatchy, the New York Times). (Click here to see the view that inspired Millay's first well-known poem, "Renascence.")— B.M.L.

To purchase this book from barnesandnoble.com, click here.
---