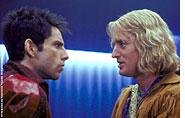 Movies
Zoolander (Paramount Pictures). Critics divide on this fashion-world farce starring Ben Stiller as Derek Zoolander, a doltish male supermodel on the descent. The plot: The CIA's fashion-designer operative (Will Ferrell) programs Zoolander to assassinate the president of Malaysia, a predominantly Muslim country where the fashion world's finest creations are sewn by severely underpaid children. The Chicago Sun-Times' Roger Ebert calls it a "tasteless victim of bad timing" after Sept. 11. But Entertainment Weekly's Lisa Schwartzbaum faults the flick itself as "Pret-à-Porter on laughing gas" whose shtick has "been stretched beyond wearability." Maybe the New York Times' Elvis Mitchell and Los Angeles Times critic Kenneth Turan, who stamp Zoolander "unspeakably funny" and full of "satiric thrust" respectively, simply appreciate their freedom to laugh. (Click here to visit the official Zoolander Web site.)—A.B.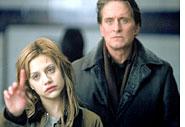 Don't Say a Word (20th Century Fox). The Los Angeles Times' ever-effusive Kevin Thomas calls this psychological drama "smart, stylish and, most important, satisfying," but most critics disagree. The thriller-by-numbers plot about a psychiatrist trying to find his abducted daughter is "confusing at first, then just irritating" (Mike Clark, USA Today). A.O. Scott of the New York Times says director Gary Fleder masks implausible twists with hyperactive editing: "As if counting on the audience to be distracted by the constant back-and-forth, [Fleder] allows some pretty silly stuff to transpire." Michael Douglas' performance in the main role gets lukewarm reviews—"there is nothing wrong with Mr. Douglas's acting except that we never for a moment lose the awareness that he is doing it" (Scott). (Click here for a list of Michael Douglas' favorite Web sites.)—B.M.L.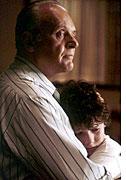 Hearts in Atlantis (Warner Bros.). Adapted from two Stephen King short stories, this heart-tugger gets mostly favorable notices. Set in the late 1950s, it tells the story of a young boy who bonds with a mysterious boarder with supernatural abilities, played by Anthony Hopkins in "a masterful performance" (Kenneth Turan, the Los Angeles Times). The movie delights in period details, to the point that Entertainment Weekly's Owen Gleiberman complains that the film is "nostalgia for nostalgia." But most reviewers agree, "Yes, it's corny and reemerging cynics need not apply. But it is blissfully heartwarming" (Rita Kempley, the Washington Post). A notable exception is the New York Times' Stephen Holden, who thinks "the only responses the movie elicits are twinges of acute embarrassment." (Inconceivable! Click here for a fan page with sounds from The Princess Bride, which was adapted by Hearts screenwriter William Goldman from his own novel.)—B.W.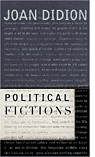 Book
Political Fictions, by Joan Didion (Knopf). Generally positive reviews for Didion's political diary/polemic. None challenge her observational skills, "her black conceit, her sonar ear, her radar eye and her ice pick/laser beam/night-scope sniper prose" (John Leonard, the New York Times). Critics also praise her "steel spine of political argument" (Jonathan Schell, the Washington Post). But some say the combination of observation and argument is occasionally dissonant, "as if a lecturer had stood up on a soap box in the middle of a play" (Schell). A few complain also about her narrow focus. Kirkus Reviews calls the book "blindingly brilliant—and sometimes just blind" and criticizes its lack of historical context: "Didion's vision is like a searchlight that throws light into dark corners while leaving other areas inexplicably illuminated." (Click here for a parody of Joan Didion and Slate.)— B.M.L.

To purchase this book from barnesandnoble.com, click here.

Music Is This It?,by the Strokes (RCA). Rock critics and fans alike are crazy for this early-twentysomething gang of cocky New York scenesters. Describing the Strokes' sound as "frantic,"Rolling Stone's Joe Levy calls Is This It?"the stuff of which legends are made." The debut album "bows down before all the trademarks of pre-1977 rock: off-kilter guitar solos, half-buried vocals, attitude-heavy slurring, primitive tom-tom rhythms, and the raw, muddy sonics of garage-band 45s" (David Browne, Entertainment Weekly). While it's great that their "vocals recall a young Iggy Pop's throaty rasp and evoke all the N.Y.C. swagger of vintage [Lou] Reed" (Paul Fontana, Seattle Weekly), some say the homage borders on becoming derivative: They're still "far from breaking ground" of their own (Steve Hochman, the Los Angeles Times). (Click here to visit the official Strokes Web site.)— A.B.

To purchase this cd from amazon, click here. 

Songs From the West Coast, by Elton John (Universal). Cynicism meets esteem for Elton John's return to "a more serious … lower-key piano-driven pop" (Robert Levine, New York). Take, for instance, the views of Rolling Stone's Barry Walters. He's far from sold on the bespectacled Brit's ability to recapture the poignancy of his '70s hits: "John c an't always send his music soaring the way it used to, but its spirit and ambition have finally come back home." But across the pond, David Sinclair of London's Times is humbled: To him, the album comes "from the heart," and "recorded without pantomime bluster, it is a surprisingly successful attempt at re-establishing John's credentials as one of the most talented performers in the history of English pop." (Click here to visit the official Elton John Web site.)— A.B.

To purchase this cd from amazon, click here. 

Love and Theft, by Bob Dylan (Columbia). Devout praise for Dylan's first opus since his 1997 hit Time Out of Mind. It features rock's famously raspy rapscallion "fretting about age, treachery, and the galling puzzle of mortality" (Ben Greenman, The New Yorker). Time's Christopher John Farley calls it "charged with rollickingly good music and enlivened with some of the best lyrics Dylan has spun out in decades." In fact, the album's only weakness is its secret weapon: "These songs aren't anywhere as personal as the ones on Time Out of Mind," says David Brown of Entertainment Weekly. "Instead, Dylan adopts the roles of ornery characters—backwoodsmen who marry their cousins, millworkers embittered by love. They're grizzled weirdos, and Dylan's voice is, for once, the right instrument at the right time." (Click here to visit the official Bob Dylan Web site.)— A.B.

To purchase this cd from amazon, click here.

The Id, by Macy Gray (Epic). "Is Macy Gray a nutcase, or does she just play one on TV awards shows?" asks Entertainment Weekly's David Browne. Response to the latest from the funkstress is equally confused. "The tracks are brassy and effusive," but "at their best, they deflect attention from Gray's often irksome voice. 'The Id' is marred by self-consciousness." Or, perhaps, the superego of a pop-music critic. New York Times jazz writer Ben Ratliff diagrees: "There's more of everything on her new album that was good the first time around: hooks, instrumental layers, weird song titles." Yet The Observer's Neil Spencer cries kitsch: "The sunny, acoustic [song] 'Forgiveness' simply lacks shape and tune, a fact which stretching it into a warp zone filled with jazzy horns and scratching can't disguise." (Click here to learn about the cartoon series Macy Gray is planning, which will be based on her own life.)— A.B.

To purchase this cd from amazon, click here.
---