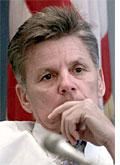 A third of all TV viewers watched Rep. Gary Condit's first interview since Chandra Levy's disappearance. Condit, the California Democrat besieged by the media over the missing 24-year-old woman, denied that he killed Levy or knows anything about her disappearance. He deflected nearly a dozen questions about the nature of his relationship with Levy, but while talking about his marriage, he mentioned that he was "not a perfect man." (Condit has reportedly admitted to the police that they had a sexual relationship.) Overnight polls show that most viewers were "very unsatisfied" with Condit's answers. Condit's spin: "We had a close relationship. I liked her very much. … I'm entitled to try to retain as much privacy as I can." Voters' spin: Yes, but you're not entitled to remain in office.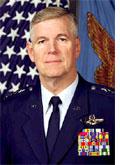 President Bush will name an Air Force space-weapons expert as chairman of the Joint Chiefs of Staff. Richard B. Myers will become the first Air Force general to oversee the Joint Chiefs in two decades, and the first non-Army chair in a decade. Myers, currently the Joint Chiefs' vice chairman, was head of the Air Force's space command for over a year. Pundits' spin: If Defense Secretary Donald Rumsfeld's clamoring hasn't convinced you of the White House's seriousness about missile defense and space weapons, Myers' appointment will.
NATO troops entered Macedonia. British, Italian, and Dutch troops (Germans may follow) entered the country to seize weapons from Albanian rebels. The mission has a 30-day deadline and comes during a tentative cease-fire after months of fighting. It is NATO's third Balkan mission in a decade. Russian President Vladimir Putin's spin: Destroying weapons won't solve anything. NATO's spin: If the rebels surrender their weapons, it will begin a cycle of trust that will end the conflict.
An American diplomat warned Russia that the United States will withdraw from the ABM Treaty soon. In a Russian radio interview, Undersecretary of State John Bolton said that the United States hoped to negotiate a joint withdrawal of the 1972 Anti-Ballistic Missile Treaty but would give the required six-month notice to withdraw unilaterally, possibly as early as November, if Russia balked. The Pentagon has already signed a contract to clear land in Alaska for a treaty-busting missile test facility. Bolton's spin: I didn't set a November deadline. We're flexible on the date. Russians' spin: The United States said it will withdraw in November, with or without us. (To learn the difference between "withdrawing" from a treaty and "abrogating" it, click here.)
The White House's budget office projects almost no non-Social Security surplus. The Office of Management and Budget forecast a $158 billion surplus in fiscal year 2001, $157 billion of which will go to Social Security. (April's OMB projection was $128 billion more.) It projects a similar $1 billion non-Social Security surplus for FY 2002. Last year's surplus was a record $237 billion. Democrats' spin: More realistic projections of economic growth would show that Bush's tax cut has not only squandered the surplus, it's put us in the red. Republicans' spin: The surplus is low because the economy has slowed, but the tax cut will speed it up.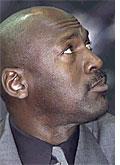 Sports roundup: Six months after Dale Earnhardt's death, a NASCAR committee announced that no single factor was responsible. (Among the culprits—a seat belt weakened by Earnhardt's own adjustments and a sideways collision that exposed his head at the base of his helmet.) … The NBA commissioner, the Washington Capitals owner, and a representative for Michael Jordan met to discuss Jordan's possible return to the NBA, the New York Post reported. Before returning, Jordan would sell his partial ownership of the NBA's Washington Wizards in exchange for partial ownership of the Capitals, a hockey team.  … NFL owners began hiring replacement referees while contract negotiations with the union continue.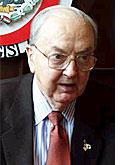 S en. Jesse Helms will retire. The North Carolina Republican and conservative icon will announce his decision Wednesday, news reports said. Helms was a Democrat until 1970, serving as a Senate aide and TV commentator. The 79-year-old was elected in 1972 and became known for his dogged anti-communism and criticism of U.S. foreign aid. Pundits' spins: 1) This will allow Elizabeth Dole to run for the Senate. 2) This will make it easier for Democrats to solidify their one-seat majority in the '02 elections. 3) No, this will allow Elizabeth Dole to become his GOP heir.
The FBI charged eight people with stealing $13 million in McDonald's game prizes. The fraud scheme allegedly began in 1995, when Jerome Jacobson, an employee of the firm that promoted the game for McDonald's, pilfered winning prize tokens. He gave the winning game pieces—worth up to $1 million each—to friends, who recruited fronts who claimed the prizes. The fronts then kicked back a percentage to Jacobson and his friends. McDonald's spin: We've canceled the marketing company's contract and announced a new $1 million legitimate prize program. No McDonald's employees were involved.   
Sharks attacked eight people in a week. All the attacks were non-fatal and occurred in Volusia County (Daytona Beach), which accounts for almost half of the 37 shark bitings recorded in the world this year. Earlier this month sharks bit two in the Bahamas; one, a Wall Street banker who lost his leg, has hired Johnnie Cochran to consider a lawsuit against his resort. In July a Florida shark severed the arm of an 8-year-old boy, who remains in a coma. Shark-bitten surfer's spin: "I stuck my hand back in the water and it just grabbed my hand and started tugging and pulling. The next thing I know, I'm missing a nice chunk out of my skin." Shark advocates' spin: Chill out, press corps. There's no shark-attack epidemic. You're much more likely to get killed by lightening than by a shark. (To learn the relative risks of a shark attack, click here; for Slate's take on the biting bull shark, click here.)
The Bush administration will not give an amnesty to illegal Mexican immigrants. The White House also signaled that no major immigration reforms will come until after the 2002 election, the Washington Post reported. Instead of an amnesty or seasonal entry visas for agricultural workers, the president will probably propose a credit system that would allow about 1.6 million undocumented seasonal farm workers to obtain temporary and then permanent residency based on documented employment status. There are an estimated 8 million illegal aliens in the United States, most of them Mexican. Hispanic lobby's spin: We're disappointed but also realistic. The only long-term solution, of course, is economic development in Mexico. Pundits' spin: Bush has to do something bold, or he will lose the 2004 Hispanic vote—and thus the election.
---