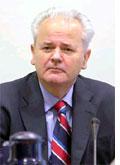 The United Nations will prosecute Slobodan Milosevic for crimes in Bosnia and Croatia. The former Yugoslav dictator had previously been charged with committing war crimes in Kosovo. In early August, Bosnian Serb Gen. Radislav Krstic was found guilty of genocide for his role in massacres around the Bosnian town of Srebrenica. Prosecutor's spin: "There will be one trial [of Milosevic] for the three wars." Skeptics' spin: This just proves that "war crimes" prosecutions are about politics, not justice.(To read Slate's "Explainer" on the difference between genocide and crimes against humanity, click here; to read Anne Applebaum on why Milosevic should be tried in Belgrade, not The Hague, click here.)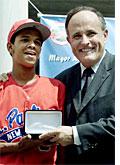 The Dominican government puts Little League World Series phenom's age at 14. The announcement comes several days after Sports Illustrated discovered two birth certificates for Danny Almonte, star pitcher of the third-place Rolando Paulino All-Stars. Almonte's parents say that he is 12 years old, the maximum age for Little League competition. Almonte moved from the Dominican Republic to the Bronx last year. On Tuesday, New York City Mayor Rudolph Giuliani presented the All-Stars with the key to the city, despite the controversy. Little League officials are expected to strip the All-Stars of their third-place finish. All-Stars' spin: Almonte's father lied to us and to the league. Almonte's attorney's spin: "This is a very difficult time for Danny Almonte and his family and we ask that everyone respect their privacy."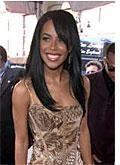 Crash investigators determined that Aaliyah's plane was overloaded and her pilot was unauthorized. The FAA announced that the plane was hundreds of pounds overweight and that the pilot, who was also killed, was licensed to fly but not authorized to fly the plane that he crashed. (In early August the pilot pleaded no contest in a Florida court to cocaine possession and theft.) Aaliyah was killed at age 22 when the Cessna 402B crashed shortly after takeoff from the Bahamas last week. Born Aaliyah Haughton, she began performing at age 11 and released a platinum-selling album at age 15. She made her film debut last year in Romeo Must Die. Fans' spin: Aaliyah was a classy R & B star, not a hip-hop ho. Her death hurts more than Tupac's or Biggie's because she never courted it.
The economy grew at the slowest rate in eight years. The Commerce Department's figure—0.2 percent annual growth in the second quarter—is a revision of its original estimate of 0.7 percent. Despite recent economic troubles, the U.S. economy has been growing since 1993. Economists' spin: This may be a good sign. The numbers fell because inventories are being reduced, which means consumers are spending. Stockbrokers' spin: "The difference between plus 0.2 and zero is really nothing." Sell! President Bush's spin: This is the low point. Now my tax cut will kick in and the economy will recover.
A later start time may increase high-school attendance. Researchers found that attendance, dropout rates, depression, and sleepiness declined after a Minneapolis school district switched its start time from 7:15 to 8:40 a.m. Skeptics' spin before the study: If you start school later, kids will just go to bed later. Scientists' spin: The study showed that the students went to bed at the same time and thus got more sleep. This is consistent with prior research on teen-age sleep patterns.
A study linked pheromones to sexual response in the brain. Brain scans of two dozen male and female subjects showed increased activity in their hypothalamus when they were exposed to an odorless form of estrogen and testosterone, respectively. (The hypothalamus has been associated with sexual response in non-human animals.) The subjects' brain activity did not increase when they were exposed to their own gender's hormone. Scientists' spin: This doesn't prove that odorless chemicals trigger sexual attraction, but it sure comes close.
Congressional budget analysts project that the government will dip into the Social Security surplus. The nonpartisan Congressional Budget Office predicts a $153 billion surplus for fiscal year 2001, $9 billion short of what is needed to protect Social Security revenues. Last week, the White House's budget office forecast that the 2001 surplus would be $1 billion more than is needed to protect Social Security. Last year's surplus was over $50 billion more than Social Security revenue. CBO's spin: Two-thirds of the budget reduction results from Bush's tax cut, while one-third results from a slowing economy. Republicans' spin: Yes, but the tax cut will ignite the economy, which will make up the difference.
Iraq may have shot down an unmanned U.S. surveillance plane. Iraq claims to have destroyed the Predator, an Air Force drone that photographed military installations in the southern "no-fly" zone. The Defense Department says it does not know, and may never know, whether the plane was hit by Iraqi weapons or suffered a mechanical failure. If shot down, it would be the first U.S. plane lost to the Iraqis since the Gulf War. Pentagon's spin: Iraq is getting better at hitting targets, "so there is a risk and we'll take steps to mitigate that risk."
NATO troops entered  Macedonia. British, Italian, and Dutch troops (Germans may follow) entered the country to seize weapons from Albanian rebels. The mission has a 30-day deadline and comes during a tentative cease-fire after months of fighting. It is NATO's third Balkan mission in a decade. Russian President Vladimir Putin's spin: Destroying weapons won't solve anything. NATO's spin: If the rebels surrender their weapons, it will begin a cycle of trust that will end the conflict. We've collected more than 400 so far.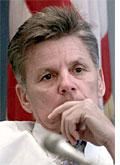 A third of all TV viewers watched Rep. Gary Condit's first interview since Chandra Levy's disappearance. Condit, the California Democrat besieged by the media over the missing 24-year-old woman, denied that he killed Levy or knows anything about her disappearance. He deflected nearly a dozen questions about the nature of his relationship with Levy, but while talking about his marriage, he mentioned that he was "not a perfect man." (Condit has reportedly admitted to the police that they had a sexual relationship.) Overnight polls show that most viewers were "very unsatisfied" with Condit's answers. Condit's spin: "We had a close relationship. I liked her very much. … I'm entitled to try to retain as much privacy as I can." Voters' spin: Yes, but you're not entitled to remain in office.
---