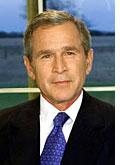 President Bush will allow some federal funding of stem-cell research. Bush announced that the government would subsidize research only on stem cells that have already been derived from embryos. He will appoint a conservative bioethicist to oversee funding guidelines. Bush's decision does not affect privately funded research. Scientists' spin: There are not enough stem cells already extracted from embryos to permit productive research. Pundits' spins: 1) Bush's policy will frustrate both sides, but it's the only one that could have avoided interparty warfare. 2) Bush's policy is the same as Clinton's, yet Bush managed to mollify pro-lifers. Pro-lifers' spin: Actually, many of us feel betrayed.
The United States and Mexico agreed to legalize 3 million illegal immigrants. The two governments agreed in principle to give permanent residency to aliens who have jobs in—and children born in—the United States. Current law allows some agricultural workers to gain residency; the proposed changes would extend that program to many service industries. Governments' spin: This is just an agreement in principle. The details won't be worked out for months. Pundits' spin: Such a change could end up being one of Bush's permanent legacies.
Israel occupied 10 Palestinian Authority offices in Jerusalem. The takeovers came a day after a Palestinian bomber killed 15 Israelis and wounded nearly 90. The suicide blast in a Jerusalem pizzeria was the second-deadliest terrorist attack in Israel since the Palestinian uprising began last year. Hamas and Islamic Jihad took responsibility. Palestinian Authority President Yasser Arafat denounced the bombing. Israel, which had assassinated several Palestinian leaders last week, also began shelling empty Palestinian buildings in reprisal. Witnesses' testimony: Police had to pick baby flesh off of strollers with tweezers. Israeli protesters' spins: 1) "Death to Arabs!" 2) "No to revenge." (To read an eyewitness account of the bombing, click here.)
Authorities arrested 100 people in the biggest child porn bust ever. A Texas couple masterminded the operation by purchasing content, mostly from overseas, and selling it, mostly over the Internet, to customers in the United States and abroad. The site had about 250,000 subscribers, many of whom looked only at its adult content. "Operation Avalanche" nabbed customers in the United States who replied to undercover solicitations for more child porn. (The couple has already been convicted and sentenced.) Attorney General John Ashcroft's spin: This may be the tip of the iceberg. Unfortunately, child porn isn't even illegal in Indonesia, where most of it was made. 
The American Bar Association loosened strictures on attorney-client secrets. The ABA's old rule suggests a lawyer should disclose confidences when the client intends to commit "a criminal act that the lawyer believes is likely to result in imminent death or substantial bodily harm." The new rule suggests that a lawyer should disclose client confidences when doing so prevents "reasonably certain death or bodily harm"; the acts need not be imminent or criminal. The guidelines are not binding, but many states use them to create disclosure laws. Advocates' spin: This change will save the lives of customers who might otherwise be killed by legal but defective products. Critics' spin: This change will force clients to keep secrets from their lawyers, which will hinder their representation.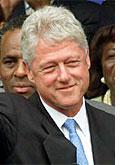 President Clinton received an advance of $10 million to $12 million for his memoirs. It is reportedly larger than the pope's advance of $10.1 million (in real dollars), the record for nonfiction. Clinton says he will write the book without a ghost writer; Robert Gottlieb, who edited Katherine Graham's Pulitzer-winning memoirs, will edit. Clinton's book will be published the same year as that of his wife, who received over $8 million. Knopf's spin: "[Clinton] has lived an extraordinary life, and he has a great story to tell." Critics' spin: That depends on how he tells it. No matter what, Knopf will be hard pressed to earn back the advance.

Two scientists promised to start cloning humans in November. Italian Severino Antinori and American Panos Zavos said that 1) they have over 200 couples as customers; and 2) they have a secret offshore laboratory. In 1994 Severino gained notoriety for helping a 63-year-old woman have a child. Separately, George Lucas announced that the title of Star Wars: Episode 2 would be Attack of the Clones. Cloners' spin: People have the right to use their genes any way they want. Cardinal Joseph Ratzinger's spin: Fascists! Dolly (the sheep) creator's spin: "What we would expect [from Antinori's experiments] is late abortions either spontaneously or induced to prevent the birth of abnormal children." 
The House voted on July 31 to ban human cloning. The measure, which passed 265-162, would make all human cloning—including cloning for stem-cell research—punishable by up to 10 years in prison. (The House rejected a compromise that would have allowed cloning for research but not for procreation.) President Bush supports the bill, which faces uncertain prospects in the Senate. Bush is weighing whether to permit federal funding for embryonic stem-cell research. Stem-cell advocates' spins: 1) Stem-cell therapy often requires an exact DNA match, so the ability to harvest cells from clones, rather than from discarded embryos, is vital. 2) Yes, but banning stem-cell cloning may be the only way to get any stem-cell research approved.
Immigration levels are the highest since the 1930s. The Census Bureau reported that 11 percent of Americans are foreign-born (29 percent of them came from Mexico) and that the  percentage settling in California is declining. (Immigrants make up more than 5 percent of the population in each of 26 states). Twenty percent of Americans speak no English at home (40 percent in California), but children in such homes are far more likely to speak English than they were 10 years ago. Since 1990, incomes, house sizes, and commuting times have increased, while poverty has decreased (13 percent of the nation is poor). The percentage of Americans with a high-school diploma increased from 75 to 82 percent, and the percentage with a bachelor's degree increased from 20 to 25 percent. The statistics come from a survey of 700,000 people conducted in conjunction with the 2000 Census. Spin: As California went in the '70s and '80s, so went the nation in the '90s.
The Irish Republican Army presented a last-minute disarmament plan. The report, which was not made public, was praised by Ireland, Britain, and an international commission overseeing the disarmament. It comes days before the threatened withdrawal of the Ulster Unionists from the Northern Ireland Assembly, the power-sharing body created by the 1998 Good Friday peace accords. (Withdrawal would destroy the accords.) Ulster Unionists' spin: "The I.R.A. has taken a significant step towards decommissioning, but it hasn't actually begun decommissioning." It must disarm completely before the peace process can continue. We have to read the report.
---