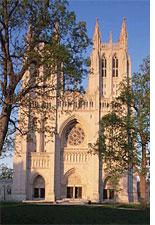 More than 3,300 people attended Monday's funeral for Washington Post Co. CEO Katharine Graham at the Washington National Cathedral. What is the National Cathedral, and who gets to have a funeral service there?
The National Cathedral isn't a government institution. It's the chief church of the Episcopal Diocese of Washington, and it's the seat of both the Episcopal bishop of Washington and the presiding bishop of the Episcopal Church USA. The cathedral's formal title is "The Cathedral Church of St. Peter and St. Paul."
The church considers itself the "great church for national purposes" that Pierre L'Enfant proposed in his 1790 plan for Washington. (Thomas Jefferson, among others, nixed L'Enfant's idea, and the U.S. Patent Office occupies the site where L'Enfant envisioned America's version of Notre Dame.) President Theodore Roosevelt was present in 1907 when construction began, and President George Bush attended in 1990 when the cathedral's final stone was set.
The church's interior celebrates American history's secular saints. There are statues to George Washington and Abraham Lincoln, and there are honored spaces for both Martin Luther King Jr. and Robert E. Lee. A stained-glass window containing a piece of moon rock commemorates the first manned visit to the moon. The War Memorial Chapel pays tribute to the nation's veterans, and the kneelers in another chapel display symbols that recognize the accomplishments of historic Americans. Woodrow Wilson is interred at the cathedral, and so are more than 150 others, including Andrew Mellon and Helen Keller.
Although the cathedral offers an array of Episcopalian services, its staff emphasizes that it is home to ecumenical and interfaith events and that it is open to people of all faiths and denominations. The cathedral, which is the sixth largest in the world, was built with private donations.
Most people who get married or have a funeral service at the cathedral have some tie to the church or its affiliated schools, the National Cathedral School (for girls) and St. Albans (for boys). Katharine Graham's children attended both.
Explainer thanks Margaret Shannon and Carrie Tydings of theWashingtonNational Cathedral.
---