The House passed a version of the "Patients' Bill of Rights." The House version would allow patients to sue their HMO in state court but would cap their awards at $1.5 million in punitive damages and $1.5 million in pain and suffering. A Senate version passed earlier this year would not cap awards. Only three Democrats voted for the House bill, and only six Republicans voted against it. A conference committee will try to resolve the differences between the versions; last year, similar legislation died in conference. Republicans' spin: This bill gives rights to patients without rewarding greedy trial lawyers. Democrats' spin: "This bill … ought to be called the H.M.O. bill of rights." It limits the liability of HMOs but not of doctors and hospitals.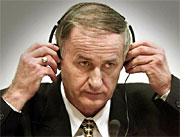 The Hague convicted a Bosnian Serb general of genocide. Soldiers commanded by Radislav Krstic executed 7,500 Bosnian Muslims, mostly unarmed men, during a five-day invasion of Srebrenica in 1995, prosecutors argued. Krstic, who was sentenced to 46 years in prison, was also convicted of deporting 25,000-35,000 people. The prosecution presented tissue samples, photographs of corpses, radio intercepts, and more than 100 witnesses. Krstic's is the first genocide conviction for the U.N. tribunal, which was established in 1993. Four other Bosnian Serb generals have been indicted for genocide; captured former Yugoslav President Slobodan Milosevic may be charged with genocide before his trial next year. Krstic's spin: Another general, who took over my command, ordered the killings. Besides, we didn't commit genocide, since we killed only men. I will appeal.  
The FDA approved generic Prozac. The agency gave a six-month exclusive marketing license to Barr Laboratories a week after a federal judge ended Eli Lilly's patent. Lilly, which sold $2.7 billion of the drug last year, estimates that 40 million people have taken it since its 1986 introduction. Barr's version will cost about 30 percent less than Lilly's; when more companies enter the market next spring, the price will be about half of Lilly's. Patent expirations over the next four years could double the size of the generic drug industry, to $20 billion annually. (To read a debate between Merrill Goozner and Andrew Sullivan on patent protection and other pharmaceutical issues, click here.)
The House voted to ban human cloning. The measure, which passed 265-162, would make all human cloning—including cloning for stem-cell research—punishable by up to 10 years in prison. (The House rejected a compromise that would have allowed cloning for research but not for procreation.) President Bush supports the bill, which faces uncertain prospects in the Senate. Bush is weighing whether to permit federal funding for embryonic stem-cell research. Stem-cell advocates' spins: 1) Stem-cell therapy often requires an exact DNA match, so the ability to harvest cells from clones, rather than from discarded embryos, is vital. 2) Yes, but banning stem-cell cloning may be the only way to get any stem-cell research approved.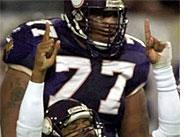 A professional football player died of heatstroke in training camp. Minnesota Pro-Bowl tackle Korey Stringer died of heat stroke after a 90-degree practice in full pads. He vomited several times during the workout before alerting the trainer. On arrival at the hospital, he was unconscious with a body temperature of 108 degrees. It is the first heat-stroke death in the NFL since 1979. A college freshman died of heat stroke last week, as have 18 high-school or college players since 1995. Sportswriters' spin: At least coaches allow players to drink fluids during practice, which used to be considered unmanly.     
The company behindTampa's face-recognition surveillance cameras is also working for the military. The Defense Department gave Visionics Corp. $2 million to help it scan the faces of possible terrorists near military bases, according to the Washington Post, and the Justice Department gave it $800,000 to develop a program that would scan Internet pornography sites for missing children. Last month Tampa police came under fire from privacy advocates for using Visionics' FaceIt technology to scan pedestrians in search of wanted criminals. (A similar technology was employed at last year's Super Bowl.) The technology creates a mathematical formula for a face and matches it to photographs in a database. Visionics' spin: Our goal is to help society "benefit from our technology and to ensure that the technology cannot be misused."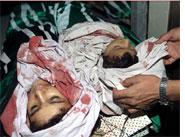 Political violence killed 16 Palestinians in two days. On Tuesday an Israeli helicopter bombed an office in the West Bank, killing eight. The dead included two leaders of the terrorist organization Hamas and two children on the street. Israel also shot to death an armed Palestinian, and the PLO accused Israel of killing a second one. On Monday, six Palestinian leaders were killed by a bomb; Israel denied responsibility. The same day an Israeli helicopter injured seven Palestinian policemen. At least 508 Palestinians, 130 Israelis, and 13 Israeli Arabs have been killed in the last year. Israeli Prime Minister Ariel Sharon's spin: "The army acted in order to prevent acts of murder" by Palestinians. Palestinian leader Yasser Arafat's spin: "This is a very dangerous conspiracy to liquidate our cadets." Former Israeli PM Ehud Barak's spin: Arafat has not negotiated in good faith. Israel must stand tough.
AT&T claimed to have created "voice cloning" software. The company said its technology can re-create the voice of any living person who records a 10-40 hour reading sample in their studios. AT&T's spin: "If ABC wanted to use Regis Philbin's voice for all of its automated customer-service calls, it could." Skeptics' spin: The simulated voice still doesn't sound perfect. Brave New World spin: In several years voice technology will not only sound perfect, it will recreate the pre-recorded voices of dead people. Actors may gain immortality and put themselves out of business at the same time. (To hear a sample of the technology, click here.)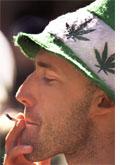 Canada will let people grow and smoke marijuana with a doctor's permission. The new regulations will exempt from federal drug laws patients with severe illnesses for whom conventional therapies have not worked. Canada created the law under a court order, which also mandates that the government supply marijuana to patients who cannot grow it. The government awarded a $3.5 million contract to a private firm to grow cannabis in a former copper mine in Flin Flon, Manitoba. Approved patients will get their pot in 30-day supplies. Canadian doctors' spin: This is unfair. We shouldn't be allowed to prescribe a drug we know nothing about. Flin Flon's spin: We're proud to call ourselves the marijuana growing capital of Canada.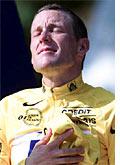 Lance Armstrong won his third consecutive Tour de France. The American bicyclist posted the third-fastest time ever. (He posted the fastest time during his 1999 victory, accomplished shortly after recovery from testicular cancer.) The record for lifetime victories is five. Armstrong's spin: "This is a good time to be Lance Armstrong." Lifetime record holder's spin: "Nobody can beat him. He can win six, seven Tours de France, he can win as many Tours as he wants." Sportswriters' spin: Armstrong is the Tiger Woods of bicycling. Grumblers' spin: He's probably doped up, just like half the tour.
---