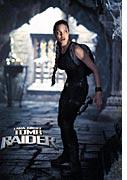 Movies
Lara Croft: Tomb Raider (Paramount). A video-game-turned-popcorn-pleaser starring a stacked, packed Angelina Jolie backed by nifty special effects. It's a young boys' movie, but most older critics find Jolie—"rolling her shoulders with the cockiness of Shaquille O'Neal," "smirk[ing] more in this movie than Bob Hope did in his entire career" (Elvis Mitchell, the New York Times), cocking an eyebrow, and letting her quips rip—a sight for sore eyes, since the rest of the movie bites. The pretext: Jolie needs to keep a powerful time-trinket away from a bad group called Illuminati. The Washington Post's Stephen Hunter raises the stakes of lip criticism forevermore: "After carefully monitoring all 184,000 Angelina Web sites … I have concluded that her lips appear even bigger than they were one or two movies ago. Once they were puffy comfort pillows to make all the boys hate the thin-lipped gals they married. … Now they are acres of rolling terrain with their own texture and climate, their traditions, their hopes, their fears, their culture." (Click here for one of those Web sites, here for David Edelstein's review in Slate.)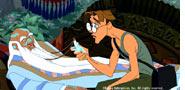 Atlantis: The Lost Empire (Walt Disney). Reviewers split on the merits of this comic book- and anime-inspired adventure about an expedition to Atlantis. They say the film is different from Disney's usual cartoon fare: edgy and angular (no singing teacups) with a mix of digital and hand-drawn art and some New Agey touches about life-force crystals. Also, "[m]ost of the girl-friendly bait is gone, replaced by a boys-will-be-boys sensibility with plenty of loud toys" (Susan Wloszczyna, USA Today). But many say it's not nearly different enough: It's "a new-fashioned but old-fangled hash" (Rita Kempley, the Washington Post); "we might be watching 20,000 Leagues Under the Sea starring the cast of Scooby-Doo. … Atlantis, with its gee-whiz formulaic characters, is the essence of craft without dream" (Owen Gleiberman, Entertainment Weekly). A few insist old can be made hip and say it's "one of the most eye-catching Disney cartoons since Uncle Walt institutionalized the four-fingered glove." (Click here and here to read about the myth of Atlantis.)

Book
Thinks …, by David Lodge (Viking). Most reviewers think that Lodge's academic satire is a hoot but that his ideas about consciousness and cognition sound a bit dumbed down. A randy, savvy don of science (Ralph) and a sensitive, widowed novelist and writing professor (Helen) engage in a battle of wits about the nature of thought and end up in bed. The Lodge-is-at-his-most-cutting-edge camp say "he has concocted a smart, seductive novel of ideas. … [H]is smooth gift for narrative has never been more in evidence; neither has his easy way with the theoretical" (Brooke Allen, the Atlantic Monthly). The Lodge-is-clunky-and-canned camp complain "its experimentalism feels almost endearingly quaint" (Lisa Zeidner, the New York Times), and its "banter more often than not devolves into tired and predictable exchanges about art and technology, religion and behavioral science. … [B]oth Ralph and Helen … feel like stick figures, spouting their respective views in the Two Cultures debate" (Michiko Kakutani, the New York Times). Lodge clearly takes Helen's side, which, critics say, partly accounts for the simplistic science. (Click here for a sample of Lodge's style.)

To purchase this book from barnesandnoble.com, click here.

Music
Spike, by Puffy Amiyumi (Sony). The first stateside release for the cutesy Japanese duo Ami and Yumi gets decent reviews. (Back home they have their own kids TV show, video game, and collectible dolls—take that, Britney!) This "15-course, three-chord pilfered-pop banquet" of "uncanny sideways covers of forgotten Top 40 hits" has only one English song (Jay Babcock, LA Weekly). Will you like it? Depends on your tooth for a "sugary sweet tour through four decades of American pop" (Roni Sarig, New Music Monthly). Critics agree, however, that it is a shade above other mod imports and many native efforts. (Click here for a taste of their bubbly stuff.)

To purchase this CD from Amazon.com, click here.

Amethyst Rock Star, by Saul Williams (Columbia). The slam poetry star's first full-length album of spoken word is set to cello, funky guitars, and DJ drum and bass. The critics are impressed: It's "the ultimate thinking man's rap album" (Sam Molineaux, New Times Los Angeles); "all substance and no singles" that's "armed with an old-soul fierceness and enough conviction to leave posturing rappers quaking in their half-laced Timberlands" (Kathryn McGuire, Rolling Stone). Some aren't as upbeat about the high concept: "Yes, hip-hop is dead, and yes, that's Saul Williams in the funeral, unsure whether to gloat in joy or wail in agony" (Jon Caramanica, Spin). (Click here for Williams' official site.)

To purchase this CD from Amazon.com, click here.

Próxima Estación: Esperanza, by Manu Chao (Virgin). Latin alternative music star and former Mano Negra front man, Manu Chao likes his lyrics in lots of languages and backed by street sounds, snippets from radio programs, and reggae. He did this on his smash Clandestino (1998), and he does it again here, though this album is less political and somber. This one is more hopeful and light, with touches of Arabic folk, vaudeville, sound effects (chipmunk voices, ringing phones, birdsongs), and a bossa-dub track sung in a Portuguese-Spanish mix called portuñol. Billboard calls it a "multicultural marketplace, attractive and colorful, if a bit chaotic." (Click here for samples and an interview with Chao.)

To purchase this CD from Amazon.com, click here.
---