MEMORANDUM
TO: David Pecker, CEO, American Media Inc.
RE: June 12 and 19 issues
Dear Mr. Pecker,
This week marks my second anniversary as a careful reader of the three tabloids under your corporate umbrella. In general, the view from here is good: There is outstanding work being done across the board, especially, in my opinion, by the Globe. Hiring Charlene Tilton as the gossip columnist was a truly inspired decision. And last month's Star spread on celebs' armpit hair? Priceless!
Anyway, I hope you won't think me too bold, but I thought I'd use the occasion to share some thoughts on the last two weeks' worth of magazines, with hopes that my commentary might enhance the future tabloid experience for all of us.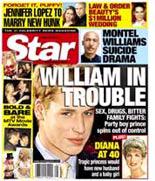 1) While overall I've been delighted by the work you've been doing on the post-breakup lives of Jennifer Lopez and P. Diddy Combs, I was perplexed by last week's Star; on Page 21, in Jose Lambiet's "Hollywood Confidential" column, you report that Combs is "looking toward the West Coast for inspiration. He just signed a one-year $900,000-lease on a Beverly Hills home, where he plans to write his autobiography." But just 30 pages later, in the "Puff's Blowing Town" story, you report that Combs is "dumping the $2,695,000 Beverly Hills mansion he'd planned as a love nest for himself and Jennifer Lopez. And he's moving out of California to concentrate his energies on the East Coast." Readers might find this confusing, as I did. Perhaps there's an "insider" you could invent—I mean find—to explain the discrepancy? And in general, should we be concerned that just two months ago the Globe said that the crew on Jennifer Lopez's tour called her new boyfriend Cris Judd " 'Dead Man Walking' behind his back" and claimed that it was "only a matter of time" before he was "history"? Because this week's Star says the two are actually engaged and quotes a source as saying that Lopez "knows he's the one!" It's so hard to keep up!
2) I was a teensy bit concerned by the Globe's story, about country star Tim McGraw's assault trial, which claimed that he was acquitted because the jury was "charmed … so thoroughly" by McGraw's wife, singer Faith Hill. McGraw's advisers, says the Globe's source, "trotted out lovely Faith" because they knew he was in "deep trouble." Says another insider: "The jury members saw how much Faith loves Tim and decided that he couldn't be the kind of person that cops said he was. She was irresistible. The jury would have had to have hearts of stone to ignore Faith's lovely face and soulful glances." Am I being oversensitive, or might this send the wrong message about the American justice system?
3) As for those wacky Bush twins, all I can say is, keep it coming. I especially liked the cornucopia approach you took this week after the girls' recent brush with the law. It's like you covered all your bases by having the three magazines take totally different tacks. I'm sure you recall: The Globe suggests that former first lady Barbara Bush—"known within the family as 'The Enforcer' "—has been assigned to "straighten those girls out before it's too late," because apparently, "of all the people in the family, Grandma Barbara is the one to fear. She's got a way of saying things that can make your knees knock together." Indeed, the Globe says that young Barbara and Jenna broke down and cried after their grandmother's "dressing down," because "they both love their daddy so much and know they have let him down," according to an insider. The Enquirer didn't say anything about Grandma reducing the girls to tears at all, focusing on how the president and first lady Laura Bush are "at loggerheads" over how to deal with their daughters. "This is no minor squabble," says a family insider. "It's more like a battle royal." And that part about how "the twins have even told their dad that they wished Al Gore had won the election because they both hate living in a fishbowl"? Good one! (Big props to the Enquirer for scoring photos of the actual citations. You left People magazine in the dust!) The Star went the roundup route with that story called "What's Wrong With Our First Family? Sex Scandals, Booze & Death Rock Bush Dynasty." Personally, I'm of the opinion that you can't ever have too many troubled dynasty stories. My only request: The drinking stuff is fine, but can't we get into the twins' love lives at all?
4) While we're on the first family, loved the computer wizardry that let you do that "makeover" on Laura Bush in the Enquirer. But you might want to check whether "Chicago stylist" Karen Lynn, whom you consulted for beauty tips, has an ulterior motive—like, maybe, selling makeup. "To give her face a bright, healthy glow, I'd use a blush with more pink in it—like Prism from MAC Cosmetics," says Lynn. Lynn's choice of lip tint for the first lady? "I'd use a pink lipstick with a soft brown undertone, like Fresco from MAC, to emphasize her eyes."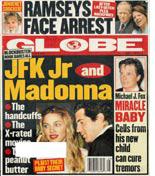 5) Loved—loooooved—that Globe coverline "JFK Jr and Madonna: The handcuffs*The X-rated movies*The peanut butter*Plus! Their Baby Secret" It's nice to know that somebody out there in the media world realizes that salacious stories about Kennedy will never be out of style! I had no idea (as reported by the Globe) that "John told pals he loved combining sex with food—smearing the singer's sultry body with peanut butter and then licking it off." But I scoured the story—really, I did—and the only "baby secret" of theirs I could find was a comment from a source claiming that Madonna "even fantasized about having John's baby and becoming a Kennedy bride." That must have been what you meant, right? And I feel pretty confident that despite what I thought it would turn out to be, the "New Clinton Rape Shocker" on the cover of last week's Globe actually referred to a story about a man who charges that he was "raped, castrated and then railroaded into serving 14 years in prison by Bill Clinton and his Arkansas cronies" for allegedly raping Clinton's teen-aged cousin. Also, while I'm still awed by that exclusive interview you got with Farrah Fawcett about her son's drug problem (I almost wept at the part where you say she's like a "blonde lioness protecting her cub"), I'm still looking for the part where she attacks his dealer. (You remember—the cover headline says "Farrah Attacks Son's Drug Dealer.") Is the "attack" the part where she says, "I stormed over to his home all by myself and confronted him. … I threatened the creep and told him to stay away from my kid!" Or was the "attack" the part where she said, "I was ready to go back in and strangle him"? Inquiring minds want to know.
---