Sony admitted using its employees in "man-on-the-street" TV movie ads. One week after Sony subsidiary Columbia Pictures disciplined two marketing executives for inventing blurbs from a fictional critic, Daily Variety reported that two Columbia staffers were interviewed for a TV ad. Posing as a couple, the two employees called Mel Gibson's The Patriot a "perfect date movie!" Sony's spins: 1) Inventing the critic was wrong, but using employees and paid actors in TV testimonials is standard practice. 2) Wait, no it's not. Critics' spins: 1) This is just deserts for the studios, which quote us out of context all the time. 2) But what's the difference between fictitious "critics" or "viewers" and corrupted real ones?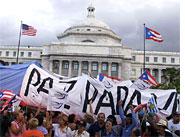 The Navy will stop bombing exercises on Puerto Rico's Vieques island. President Bush ordered the Navy to end operations there by May 2003. The Navy says that the 60-year-old training site is irreplaceable. Residents have protested the Navy's presence for decades. In April, 180 protesters, including four New York City politicians, were arrested for protesting on the island (Al Sharpton is serving a 90-day prison sentence). Pundits' spin: The GOP sympathizes with the Navy but needs Hispanic votes. Rep. Charles Rangel's, D-N.Y., spin: 2003 isn't good enough. "It's like me telling you that I'm going to stop beating you in the head with a hammer in two years."
The Justice Department's crime report conflicts with the FBI's. The Bureau of Justice Statistics' annual survey of 160,000 Americans concludes that violent crime dropped by 15 percent last year. Two weeks ago, an FBI summary of police data indicated that violent crime had leveled off after an eight-year drop. Statisticians' explanations: 1) The BJS survey, because it interviews victims, doesn't count homicides. 2) The FBI report doesn't count simple assault (such as pushing and shoving), which accounts for 60 percent of the crimes in the BJS survey. 3) The FBI report doesn't count unreported crimes (which decreased, according to the BJS) and collects data from only 80 percent of police departments. 4) We'll have to wait until next year to figure out whether the 1990s crime decline has ended.
Israel and the Palestinian Authority agreed to a cease-fire. CIA Director George Tenet brokered the truce, which calls for Palestinians to halt attacks on Israelis and for Israel to remove tanks and soldiers from Palestinian-controlled territory. Israelis and the Palestinians' spin: We're skeptical, but we'll try it. President Bush's spin: I'm cautiously optimistic. Hamas and Islamic Jihad's spin: "Intifada and resistance will not be aborted."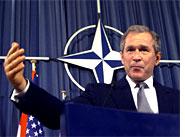 President Bush called the ABM treaty "a relic." In Europe for his first NATO meeting, Bush 1) reiterated his opposition to the Kyoto global warming treaty, saying it was "not based on sound science"; 2) urged allies to support U.S. missile defense, which would involve scrapping the Anti-Ballistic Missile Treaty; and 3) pledged to enlarge NATO. Bush's spin: "In today's meeting we saw a new receptivity towards missile defense." French president's spin: A missile shield would be "a fantastic incentive to proliferate" weapons. Spain's prime minister, whose name Bush mangled in a TV interview, said he wouldn't reject a missile shield out of hand.
The Kenyan Embassy bomber was spared the death penalty. A Manhattan federal grand jury gave a life sentence without parole to Mohamed Rashed Daoud Al-'Owhali, a Saudi man who killed 213 people with a truck bomb at the U.S. Embassy in Kenya in 1998. It was the first time the United States had sought the death penalty for terrorism committed against Americans in another country. Khalfan Khamis Mohamed, a Tanzanian who killed 11 with a simultaneous bomb at the U.S. Embassy in Dar es Salaam, could also face the death penalty next week. Prosecutor's spin: Al-'Owhali "prepared for [the bombing], studied for it, he trained for it, and he carried it out." Dissenting jurors' spins: 1) Killing him would make him a martyr; 2) it wouldn't alleviate the victims' pain; and 3) prison is a greater punishment.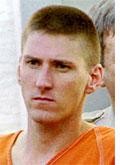 T imothy McVeigh was executed. His last statement was an 1875 poem by William Ernest Henley, "Invictus," which ends, "I am the master of my fate:/ I am the captain of my soul." Several dozen witnesses watched from an adjoining room; hundreds more watched in Oklahoma on closed-circuit TV. Shortly before his death, McVeigh, who was raised Catholic, received last rites. McVeigh to the Buffalo News on Sunday: "I'm sorry these people had to lose their lives. But that's the nature of the beast. It's understood going in what the human toll will be." President Bush's spin: "The victims of the Oklahoma City bombing have been given not vengeance but justice." Witness accounts: He just stared at the ceiling and never said he was sorry. Media critics' spin: He's now an international celebrity.
Jennifer Capriati won the French Open. As a 14-year-old phenom she reached the semifinals of the French Open and Wimbledon, then spent years coping with drug problems and losing streaks. Now 25, she has won the year's first two Grand Slam tournaments and rivals Venus Williams (who won last year's Wimbledon and U.S. Open tournaments) for dominance of women's tennis. Fans' spin: This comeback story is even greater than Monica Seles'. The only thing more exciting than a tennis prodigy (Williams) is a wasted prodigy (Capriati) who gets her groove back. Bring on Wimbledon!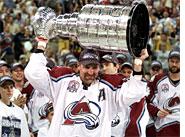 The Colorado Avalanche won the Stanley Cup. Their seventh-game victory over the defending champion New Jersey Devils was their second title in five years. They are the first hockey team since 1971 to come back from a 3-2 deficit. The winning goal came after a Devil was put in the penalty box for punching an Avalanche player in the face. Heartwarming spin: 22-year vet Ray Bourque won his first title in what is likely his last season; he's Denver's new John Elway. Devils' coach's spin: Our team is undisciplined. "If you can't suck it up in the seventh game of the finals, then you've got problems." Sportswriters' spin: The Devils have the talent to win the Cup next year. Free agency and retirement will destroy the Avalanche.
The Supreme Court ruled that police need a warrant to use heat-sensing devices to peer into homes. The 5-4 decision, which split the court's usual liberal-conservative voting blocks, found that using a heat-sensing device was an invasion of privacy similar to a physical search. In 1992 police found suspicious heat patterns in Danny Lee Kyllo's house while staking out the house of his neighbor. Using that evidence, they obtained a search warrant and found marijuana-growing lamps. The spin from Justices Scalia, Thomas, Souter, Ginsburg, and Breyer: "It would be foolish to contend that the degree of privacy secured to citizens by the Fourth Amendment has been entirely unaffected by the advance of technology." Minority's spin: "The ordinary use of the senses might enable a neighbor or passerby to notice the heat emanating from a building."
---