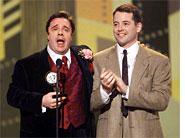 Event The 55th Annual Tony Awards. Predictions of a sweep by The Producers come true. The "profoundly suspenseless" (Michael Phillips, the Los Angeles Times) telecast began with a PBS "infomercial" (Charles Isherwood, Variety) for The Producers. (Daniel Sullivan, who won best director for Proof, quipped, "There must be some mistake. I had nothing to do with The Producers.") Matthew Broderick tried to get into the game by calling his show a "Sopranos of musical comedy," but his co-star Nathan Lane beat him for best actor. The Full Monty came up zero awards for 10 nominations, though its striptease number got Gwyny Paltrow to blush and giggle. By the end of CBS's segment (deemed by-the-numbers by most critics, though the excerpts from the dramas were done better than usual), The Producers broke Hello Dolly!'s record for most awards, Gary Beach yelled "Heil Mel!" as he accepted best featured actor, and Mel Brooks donned a Hitler 'stache and thanked the "avalanche of Jews" who made the show possible. Best revival of a musical went to 42 nd Street; One Flew Over the Cuckoo's Nest managed to snag best revival of a play; actors Richard Easton and Robert Sean Leonard won for their rolls in The Invention of Love; Mary-Louise Parker won for Proof; Viola Davis for King Hedley II. Go to the official Tony Awards site for more details.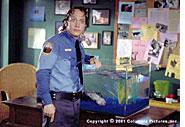 Movies
The Animal (Columbia). Silly Saturday Night Live shtick, starring Rob Schneider as a wimpy underdog cop who becomes heroically beastly after he's implanted with animal parts. The critics are split. The good-natured gigglers: It's a "transcendently dumb but very funny comedy. Its relative modesty lends Mr. Schneider's deft, ingenuous performance an unexpected glow of innocence" (Stephen Holden, the New York Times); "[i]nstead of mean-spirited stupidity or a gush of gross-outs, Schneider … engenders goodwill. … the resulting physical comedy is bound to trigger your laugh instinct" (Susan Wloszczyna, USA Today). The mature snobs: "[T]hrough it all, Rob Schneider comes off as a jackass" (Larry Worth, the Boston Globe); "[t]he only people who could like The Animal are those who laugh hysterically when they see the words 'pu-pu platter' on a menu" (Megan Rosenfeld, the Washington Post). Cute Colleen Haskell of Survivor also stars; Adam Sandler and Norm Macdonald cameo. (Click here for a Schneider fan site.)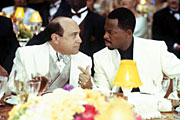 What's the Worst That Could Happen? (MGM). This caper film is too crowded and no fun to watch, most critics say. The main talents are Martin Lawrence (a professional thief) and Danny DeVito (a rich businessman) who go to war after a botched burglary. This is a "comedy [that] needs a strong narrative engine to pull the plot through to the end, and firm directorial discipline to keep the actors from trying to act funny instead of simply being funny" (Roger Ebert, the Chicago Sun-Times). Or as Lisa Schwarzbaum writes in Entertainment Weekly, "everyone involved stop[ped] giving a damn" and made a film that's "all over the map." (Slate's David Edelstein says he laughed a lot anyway. Click here for the official site.)

Music
Miss E … So Addictive, by Missy Elliott (WEA/Elektra). Great reviews for this comeback album "that will freak you something fierce" (Rob Sheffield, Rolling Stone) by one of the "rulers of the hip-hop avant-garde" (Keith Harris, Blender). Critics say it's both flirty and nasty, with plenty of boasting and house music, and that it also experiments with eclectic sounds, instrumentation, and collaborations. The album draws on bhangra futurism, progressive electro-dance, p-funk, dancehall, swinging R & B, and Southern hip-hop. Missy and producer Timbaland Mosley mixed up trademark stuttering beats with a vocoder, Indian tablas, techno bass, plucked strings, and echoed screaming. " 'Get Ur Freak On' is the weirdest, loudest, funkiest and just plain best single of the summer so far, a sonic orgasmatron" (Sheffield). (Click here for links to video and audio samples.)

To purchase this CD from Amazon.com, click here.

Books
John Adams, by David McCullough (Simon & Schuster). A lively, absorbing read by the popular, centrist American historian—"think Ken Burns with hair"—that aims to boost the reputation of the second U.S. president and make him seem a lot like "Truman in knee breeches" (Ted Widmer, the New York Observer). Reviewers say the biography reads like a well-researched novel, complete with lots of good human touches. Many also agree the time has come to give the pudgy, blunt, dedicated New England intellectual-diplomat his due, especially if it means knocking Jefferson down a peg or two. "McCullough makes no attempt to disguise his unabashed admiration for his subject … which lends his book a freshness and enthusiasm that are hard to quibble with" (Douglas Brinkley, the Boston Globe). A few do quibble: "McCullough's reckoning all but ignores the irascibility that undermined Adams's reputation among his contemporaries. … The result is an admirable but curiously flat John Adams" (Pauline Maier, the New York Times); "the chewy difficulty of Adams's thought has been rendered smooth in the blender of McCullough's literary elegance" (Simon Schama, The New Yorker). (Click here for the first chapter, here for an assortment of John Adams audio-visuals.)

To purchase John Adams from barnesandnoble.com, click here.

Choke, by Chuck Palahniuk (Doubleday). Mixed reviews for the fourth installment of punkish, pornish writing about a bitter bad boy from the author of Fight Club. Victor Mancini is a sex addict and medical-school dropout who pays for his senile mother's medical care by working at a theme park and scamming money off people who save him from fake choking in restaurants. He's also trying to find out who his father is and sometimes believes he's God. "Mr. Palahniuk is hard to beat if you'd like a working definition of the adolescent male state of mind" but "is not well served by semiserious notions of characters trying to save themselves and others" (Janet Maslin, the New York Times). "Palahniuk's powers are … infantile and labile" and "concerned … with the angst of the post-'60s, postfeminist Western male" (Tamara Straus, the San Francisco Chronicle). Other critics agree, finding the novel wry and funny but also immature and forced. "His characters nakedly lament their meaningless lives over and over. … Much of the material comes off as a lesser writer's efforts to imitate Palahniuk's obsessions and tone" (G. Beato, the Washington Post). (Click here for an excerpt, here to read about the cult the author has spawned.)

To purchase Choke from barnesandnoble.com, click here.  
---