Movies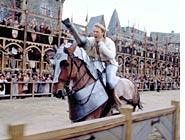 A Knight's Tale (Columbia). Some reviewers are charmed by serf dude Heath Ledger (10 Things I Hate About You) who, with some flack from young Chaucer, gets to Xtreme joust with the big irons to Queen's "We Will Rock You" and falls hard for a well-born babe. Some say it's just silly anachronism and sincere "high fun" (Roger Ebert, the Chicago Sun-Times) that "doesn't have a pretentious bone in its body. Its disarming lightheartedness, its complete belief in its own conceit, could appeal to any audience" (Desson Howe, the Washington Post). Others say it goes on too long, gets mired in sentiment (there's an old blind father), bad romance, a "draggy follow your dream theme" (Elvis Mitchell, the New York Times), and is only fun for Gen Y. Critics warn grown-ups: This is not Monty Python. It's "Knight Lite" (David Ansen, Newsweek) with boring classic rock, good costumes, and WWF intonations. (Click here for the official site and here for Chaucer's original.)— Y.S.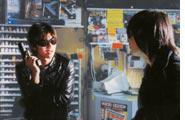 Time and Tide (Columbia). A music video-ish Hong Kong actioner about young urban gangsters (played by real-life recording stars) that's so fast and flashy it's hard to follow. Director Tsui Hark sticks to his guns—"visual pyrotechnics" and combat scenes "that make John Woo flicks look positively tame" (Lewis Beale, the New York Daily News). (Critics say Hark not only parodies Woo shootouts but Won Kar Wai melodrama and Jackie Chan car chases.) Critics have trouble figuring out the plot, but they like the rush. "This is more than an exercise in style; it's a 113-minute Soloflex workout—the movie-est movie of the year"(Richard Corliss, Time). Others focus on Hark as the ultimate insider action auteur: "In mid-gunfight he will stop things, and the camera will then move through and around the frozen-in-time objects and men and find a new location from which to observe the action, at which point speed returns. Amazing stuff, if that's the kind of stuff that amazes you" (Stephen Hunter, the Washington Post). (Click here for more on Tsui Hark.)— Y.S.
The King Is Alive (IFC Films). A Dogme 95 movie about a production of King Lear staged by tourists stranded and behaving badly in the African desert. Critics say it's well shot and mostly well-acted, though a few call it too high-minded; all say it will put you in a bad mood. Keyword: bleak. Director Kristian Levring's "vision of hell is vivid and stark. … The unsparing, invasive naturalism of digital video, which seems specially calibrated to register the play of anxiety and distress on human faces, also records an inhuman landscape of undulating dunes and blinding sky. … Plays … can't save anyone's life, Mr. Levring suggests. Nor can they offer anything like redemption from evil or comfort in times of mortal anguish" (A.O. Scott, the New York Times). (Click here for Dogme's dogma.)—Y.S.



Books

The Dying Animal, by Philip Roth (Houghton Mifflin). An elderly, lonely David Kepesh, the libidinous hero of Roth's The Breast and The Professor of Desire, returns to tell of his infatuation with a much younger woman who is eventually diagnosed with breast cancer. The familiar Roth theme of relying on sex and art to fend off death is revisited, and Roth reverts to the confessional monologue with patches of eroticism and didacticism. Those who disapprove say either it's anomalously bad—"curiously flimsy and synthetic" with the characters "clumsily stage-managed by the author to underscore philosophic points he has made many times before" (Michiko Kakutani, the New York Times); or it attests to Roth's steady deterioration into self-parody—"as Roth's style has become crystalline and mature … his content has grown increasingly outmoded and banal and unfeeling. … Roth is simply too in touch with the alternative universe of his oeuvre to be greatly in touch with American culture now" (Lee Siegel, the Los Angeles Times). The Roth-is-our-best-living-novelist camp believes either he has never faltered or that this novella cements his comeback. Michael Dirda, writing in the Washington Post, and Jason Cowley, in the Atlantic Monthly, are shaken by the book's bleakness, finding its existential urgency reminiscent of Dostoevsky. (Click here to read an excerpt.)

To purchase this book from barnesandnoble.com, click here.
The Wind Done Gone, by Alice Randall (Houghton Mifflin). Gone With the Wind from the slave perspective, squashed by Margaret Mitchell's estate. Miscegenation and homosexuality—two subjects nowhere to be found in the original book and central to Randall's story—are mixed in with melodrama and 15 familiar characters who live on a plantation called Tata. An Atlanta federal court judge has stopped publication in the name of Mitchell's "beloved characters and their romantic, but tragic, world." Many have rallied behind the songwriter-turned-author in the name of free speech and the need for a revised mythology of the Old South. Critics who actually read advanced galleys (which became pricey on eBay after publication was barred) say it's "middling" at best (David Kipen, the San Francisco Chronicle) and veers too close to the romantic mush of the original. It's more revealing to the literary theorists. The book shows our "desire is not so much to deromanticize the romantic classic … as to make a new romance, in which somebody more like you does the romancing" (Adam Gopnik, TheNew Yorker), or the "desire for storytelling, for historical scene and for characters both grand and recognizable … in function each is, crucially, a surrogate for our own age's relation to an earlier literary moment" (Marjorie Garber, the New York Times). (Click here for the author's response to the suit.)
Music

Agaetis Byrjun, by Sigur Ros (FatCat-PIAS). This widely acclaimed album by the Icelandic atmospheric rock band ("kind of like Radiohead on tranquilizers" says Beth Wawerna in Spin) is finally getting U.S. release. They use bowed electric guitar, flute, organ, strings, drums; the pace is serene and glacially slow; lyrics are chantlike Icelandic and gibberish; the singing done in melancholic, sexually ambiguous falsetto (that "sounds like Latin and drowning in psychedelic syrup" says Pat Blashill in Rolling Stone). Reviewers note the ecstatic praise (the "Dirk Diggler-proportioned hard on being wagged by the international press") the band has received but go on to wag their own: The music is "sublime"; "grand, shimmering compositions as precious and alluring as they are vast, bleak and foreboding," influenced—as nobody neglects to point out—by "the melancholic glow of Icelandic sunrise" (Colin Helms, CMJ) and its remote landscapes. Critics also say the music's beyond compare—"otherwordly" says Marc Weingarten of the Los Angeles Times—but offer My Bloody Valentine and Godspeed You Black Emperor! as points of departure. (Click here for the band's site, which includes song samples and a video of the band live at the Iceland opera house.)

To purchase this CD from 800.com, click here.
---